An hours' bicycle ride from Padua or one and a half hours from Vicenza gets you to La Buona Terra near the village of Cervarese Santa Croce, an organic farmstay, popular party location with families, educational farm for kindergardens and farm restaurant. You can stay either in one of the clean, rustic guest rooms and holiday homes located inside various farm buildings (advanced booking required), or on the camping site on the farm. A popular place with children -- there are not only pigs, cows, chickens, horses, donkeys, dogs (not cats), rabbits, goats, and frogs here, but also a spacious swimming pool. (Less popular among the kids: to ask the farmers, Luisa and Domenico, to remove the cleaning robot in the mornings.) If you do not come by bicycle you can lend one to explore the surroundings, or to have an ice-cream or coffee in Selvazzano Dentro.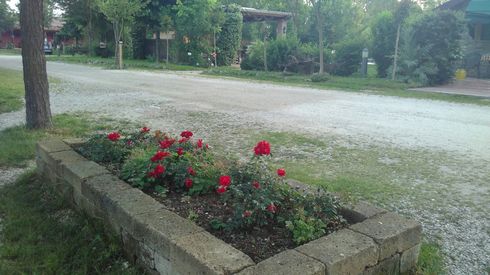 After breakfast (organic with a few exceptions, and usually with freshly home-made crostata cakes) you may pre-order lunch and/or dinner (around 8 pm), except on Mondays. Expect hearty home-made farmer's kitchen, home-made pasta, left-over soups, a grilled chunk of home-made bread topped with olive oil and an equally thick slice of sopressa salami from the farm's own pigs, freshly grilled vegetables, rustic meat courses from the farm (you may even be served a hearty stew of chicken necks) and (often) organic wines from nearby wineries. On weekends the farm restaurant is open to the public, but you are asked to phone in in advance (+39 328 077 0977). Vegans will probably stay away, but vegetarians are gladly catered for: The vegetarian four-courses dinner ("menu verde") comes at 25 €, the omnivore "menu rosso" at 28 € (prices without wine), and children pay 15 €.
There's also a farmshop selling the farm's home-made products: eggs, sopressa, preserves and liquors. Officially it keeps open on weekends between 15:30 and 19:30, but unless there's a bigger party of visitors around take this with a grain of salt and ask Luisa or an employee if you want to buy something.
One of the bicycle tours may lead you to the South-Western slopes of the Euganean Hills, to Ca' Orologio in Baone. Among vineyards and olive groves you will find Maria Gioia Rosellini's dedicated organic winery, producing natural wines of exclusive taste. You may enter the 16th century Venetian villa to taste and buy, or decide to rather stay in these magical surrondings and make use of the bed-and-breakfast offer (better book in advance, though). The breakfast itself is only partially organic, depending on the availability of organic products in the village supermarket (which is rather limited). You have the opportunity to cook lunch and dinner yourself, and serve it with a glass of Ca'Orologio wines.
2018-06-18 07:10:01 [Italy, Veneto, Colli_Euganei, Euganean_Hills, Padova, Padua, Cervarese, Baone, organic, biologico, accommodation, farms, agriturismo, camping, cycling, wine, breakfast, lunch, dinner, restaurant] link

This work by trish is licensed under a Creative Commons Attribution-NonCommercial-ShareAlike 4.0 International License. For commercial use contact the author.