If you prefer to set out on a shopping spree on a bicycle and prefer a rented bike that is not tracking you pay a visit to Fahrrad Schieber, a more than one hundred years local bicycle workshop located a few steps from the Wasserturm landmark within the squared part of town, the "Quadrate". For 10 EUR a day you will be provided with a well maintained used bike. If it against all odds breaks during your trip, do not hesitate to step by, it will be fixed promptly.
Founded almost 25 years ago your first stop could be HautNah, a fashion boutique specializing in ecologically and fairly produced clothes made from natural materials. The shop is a member of the International Association of Natural Textiles (iVN) and aims at those looking for classical long-living cuts rather than at cutting-edge fashionistas (for trending fashion you may try the shops listed below). Needless to say that HautNah also offers an assortment of healthy outfits for babies and toddlers.
Leaving the ring road and entering the Quadrate through Kunststraße you'll find a tea shop of the Tee Gschwendtner franchise. Although this specialist chain is selling conventionally produced teas and tisanes in the first place its shops have proved to be a trustworthy source of organic teas and herbal infusions for years. You can buy all kinds of loose teas and herbal infusions as well as high quality tea bags and even pre-fab iced teas, and there will usually be organic options. Although most teas will be filled into bags before your eyes there's always a minimum quantum you have to buy (usually 50 or 100 grams), and you have to buy standardized packages (bigger sizes being 250 or 500 grams).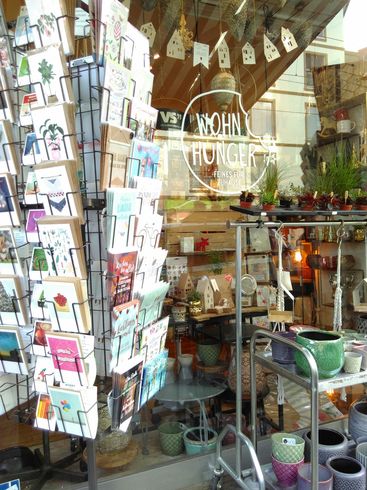 Leaving the Quadrate for the eastern part of town the Wohnhunger gift shop next to Eddie's zero waste supermarket offers a selection of organic delicatessen like coffee, soups, chocolates, liquors, herbs and spices, some zero-waste items like natural soap and cotton dish washing clothes and a lot of other cosy things. Unfortunately the organic coffee isn't used at the coffee bar, and the milk for the coffee drinks isn't organic. About two years ago the shop also offered an organic soup or stew for lunch, but these are songs from the past.
More to try
Here's a list of shops which I had on my list for research but didn't manage to visit myself. Let me know about your experience!
Greenwashed
The city's online tourist guide suggests to get yourself a "bio" picnic basket for a stroll at the embankments. Don't fall for it! The only organic items that come with this "Wellness-Korb für Vegetarier" are two bottles of the organic bionade soft drink:
Die Metzgerei, Rheinparkstr. 4 (bistro in the Lindenhof neighbourhood)
Closed
The following places do no longer exist, although you still might find references to them on the web:
Fairbrothers, C8, 18 (fairly traded organic fashion)
Mannheim
,
organic
,
shopping
,
organic
,
fair
,
fashion
,
spices
,
delicatessen
,
gifts
,
bodycare
,
coffee
,
tea
,
cycling
,
zero_waste
]
Link
Sunday, 18 November 2018
The easiest way to get around in Heidelberg is by bicycle, and whether you need to repair your own bike, to rent or to buy (a cheap) one, you can do this right on arrival at the main train station: Follow the signs to the exit and descend the stairs at the right hand (eastern) side to track 1b. Here, in rather unpolished surroundings you'll find the Radhof bike repair shop, a socially responsible enterprise which will happily help you. To rent the bike at 15 EUR/day present your ID card or passport, hand them your mobile number and a deposit of 50 EUR, and off you go with a well-kept second hand bike. On return you will not only get your deposit back but also the paper copy taken from your ID. Unfortunately the workshop is closed on weekends.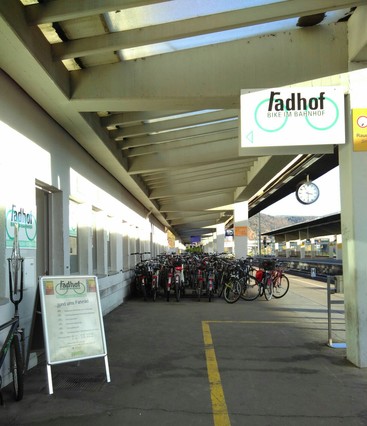 Cocooning and body care
As a tourist you will most certainly head for the old town, walking down the Hauptstraße ("main street") pedestrian street. While the western part of this street is inhabited by the ever-boring major chains, the eastern part with its small-scale owner-run shops is definitely worth a shopping spree, preferably to enterprises striving to sell sustainable, often fairly traded goods. Looking for dedicated environment-friendly kitchen and bathroom utensils, toys, fashion accessories, stationary, gifts or design items you must not miss out the green design department store GOODsHOUSE a little west of Schiffsgasse. The shop itself isn't visible from the main street -- walk down a little aisle into the backyard to find a lovingly arranged two-storey shopping paradise. The staff is friendly and helpful, yet not intrusive and will happily offer to order items not in stock.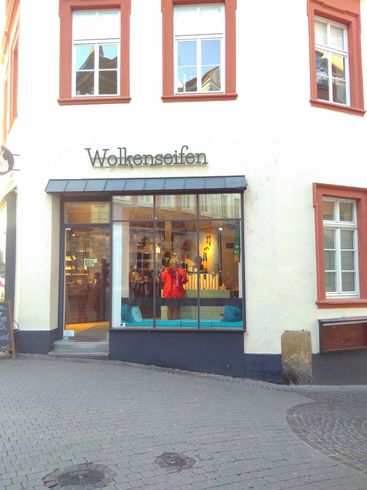 A few steps further west, at the corner with Heumarkt an equally carefully designed cosmetics boutique dubbed Wolkenseifen ("cloud soaps") is the flagship store of a local near-natural cosmetics manufacturer. In addition you'll find (certified) organic and natural cosmetics brands usually not to be found in your nearest organic supermarket -- among them Chia, Madara, or Khadi --, and a great selection of zero waste body care like hair and body soaps, solid shampoos or solid toothpaste.
Shoes and fashion
Fair and slow fashion seems to be quite strong in Heidelberg where even otherwise conventional clothes boutiques like Bofinger in the main street trade in fair and organic labels like Armedangels. My stay was too short to pay a visit to all the places on my short list, but I managed to have a glimpse inside Tutta Natura selling sustainably produced French shoes and women's clothes for lovers of classic eco-design in the Plöck running parallel with the main street.
A larger selection of natural shoes is to be found at Die Ahle Naturschuhe which can easily be missed with its modest shop-window front hiding a pleasant shoe shop in Sankt-Anna-Gasse linking Plöck and Hauptstraße at the western-most border of the old town. During the cold season you may also step by for knitted organic head and foot wear and other woolen accessories.
If you prefer German sculptural shoe design to French elegance Heidelberg also has a shop of the sustainably and socially responsibly producing Berlin-based shoe manufacturer Trippen. Their carefully designed store can be found at Heumarkt.
November 2018 sae the re-opening of former fair fashion store cum cafe Friedrich as a Glore concept store offering organic fashion for all, women, men and kids as well as a small selection of organic body care.
Fair trade shops
Unsurprising Heidelberg is home to a number of community-driven one-world shops selling fairly traded fashion accessories, household items, dry food, sweets, coffee and tea, the latter often certified organic. One of them is Una Tierra at the market place Neuenheim, another one the Weltladen in the old town with a small cafe, offering fairly traded coffee drinks, cocoa or tea while you crawl the shop or let you inspire by the bookshelf.
More to try
Here's a list of shops which I had on my list for research but didn't manage to visit myself. Let me know about your experience!
Coccon, Brückenstr. 10, Mon–Sat 11–19 (fair fashion)
Freudenhaus, Plöck 7, Mon–Fri(Sat) 11–19(18) (fair fashion, including interesting labels like widda berlin which partially use eco-friendly textiles like tencel, but also viscose, and conventional cotton)
Closed
Heidelberg, shopping, organic, fair, fashion, spices, herbs, delicatessen, gifts, upcycling, bodycare, coffee, cafe, cycling, shoes] Link
Monday, 27 August 2018
Dresden's Wilhelminian neighbourhood of Neustadt is dominated by independent shops and venues, many of them run by female entrepreneurs as recently documented by an art project of local photographer Christine Starke. So it comes as little surprise that it is here where you have the best chance to discover a lot of gems, driven in accordance with the personal principles of the shop keeper which often include social and environmental aspects. Keep your eyes open, and you will discover a lot more than I have to suggest here.
Herbalists and beauty
If you're on the outlook for herbs, remedies, bodycare and food items based on ingredients described by medieval healer nun Hildegard of Bingen pay a visit to the Marone herbalist shop on Bautzner Landstraße directly located at the east-bound tram stop Pulsnitzer Straße. Not all of the products on sale (which among others include chestnut products and a small selection of biodynamic wine) in this small specialist shop are certified organic though.
When entering the quieter parts of the neighbourhood and head for Martin Luther church stop by a tiny herbalist shop dubbed Un-kraut ("weeds") directly opposite the organic cafe Kuchenglocke. Even when open the shop easily goes unnoticed, and its interior does not show all the herbal treasures hidden in the backoffice. Ask for any herb or spice, and the knowledgeable shop keeper will truly find it for you, in organic quality if possible. She will also happily answer all the questions you might have concerning the use of herbs. On display are an assortment of organic spices and tisanes, essential oils as well as some gift items. Although the regular opening hours are restricted to weekdays you might find the place open on Saturdays, occasionally.
Surrounding the church natural and organic bodycare products can be found at Touch of Nature beauty parlour cum shop in Böhmische Straße east of Görlitzer Straße. Note that also this shop is closed on weekends.
Bicycles
Just opposite there's a second hand bicycle shop cum workshop, Elbcycles, where you can buy a used bike if you're staying longer, or get your own one fixed.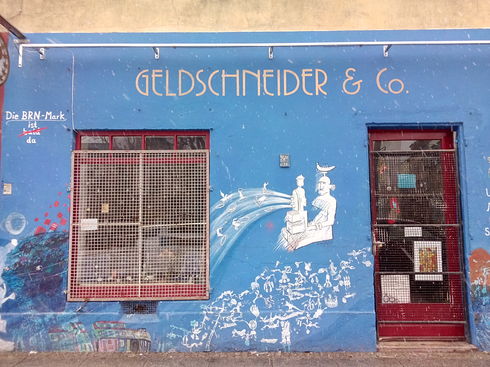 Jewellery
Heading further west cross Görlitzer Straße and follow Böhmische Straße until it ends at Alaunstraße. A luminous blue wall indicates the location of the Geldschneider & Co. steam-punk workshop. Among others you will find beautiful jewellery made from recycled parts of abandoned analog wrist watches. The place has somewhat erratic opening hours, so step by when nearby (if you need to plan ahead: Saturdays seem a safe bet). If closed during regular German shop opening hours you may call the phone number given on the entrance door.
Fair trade
As in many other German cities the first address for colourful gifts as well as organic sweets, spices and condiments are fair-trade shops founded as grassroots activities by Christian parish members in accordance with the conciliar process of mutual commitment (covenant) to justice, peace and the integrity of creation (JPIC). As the host for pioneering regional ecumenical plenums in 1989 and 1990 the city of Dresden has been playing an important role in this process. The spirit of this movement lives on in local fair trade initiatives like Quilombo which for almost 25 years had run a fair-trade shop in the entrance area of Dreikönigskirche in Hauptstraße which played host to the first democratically elected local parliament in Saxony after East Germany's peaceful implosion in 1989. Today the initiative still has a shop in the neighbourhood of Löbtau while their former place in the "Haus der Kirche" ("house of the church") has been converted into fair-trade Cafe Dreikönig.
Sharing their roots with the Quilombo NGO the team of Cafe Aha opposite Kreuzkirche runs a fair-trade shop in the heart of the city. It is located in the basement of the cafe and offers an impressive selection of fairly-traded gifts, body care and dry goods. This initiative also runs a fair-trade ...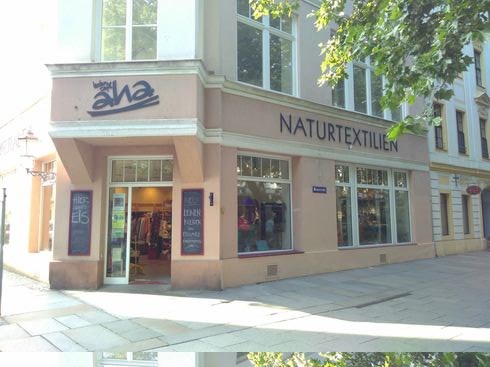 Fashion
... boutique, Aha Naturtextilien, on Hauptstraße, offering a great selection of fairly traded fashion made from natural materials. Here you will also find a good selection of stationary, jewellery, eatable fair-trade goods and more. By the way: the name "Aha" is an abbreviation for "trade/act differently" ("anders handeln" in German), and implies a huge effort in not only selling fairly traded goods but offering fair conditions to their own employees.
Another centrally located fair-trade shop specializing in fashion and household accessories as well as coffee and chocolates is Contigo near the central train station.
For more ethically produced and sustainable cocooning items visit Tranquillo, likewise colourful fashion-and-things boutique cum fashion label in the Neustadt neighbourhood, at the crossroad Louisenstraße/Rothenburger Straße. They produce their own women fashion entirely made from organic textiles focussing on basic colours -- if you like Aha Naturtextilien don't miss this one.
Dresden's first fashion boutique exclusively selling fairly produced clothing from fairly traded, organically grown materials is dubbed Populi and can be found at the Western end of Louisenstraße, just before you reach the tram tracks of Königsbrücker Landstraße. Both, streetware, denim and designer labels can be found here, for men and women. The interior of the shop is to a great deal made from upcycled furniture.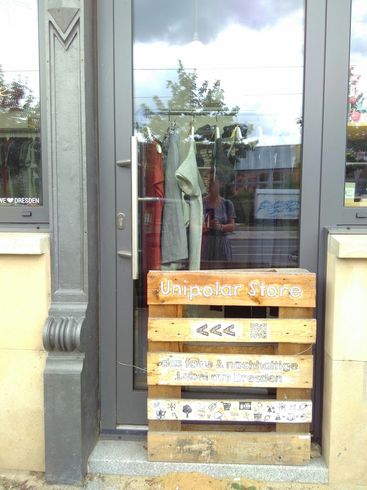 Students and nerds find fairly traded organic cotton t-shirts and sweaters with unique scientific prints at Unipolar, and everyone else organic streetware for both, men and women, aside fairly traded and sustainably produced accessories and kitchen items. This small, Dresden-based fashion label is the brain-child of a former physics student, and has two outlets (in addition to the on-line shop). The original store is located between the Bahnhof Mitte train station and the "Carl Maria von Weber" College of Music, next to the VG warehouse with its well-assorted organic fashion section upstairs. The second Unipolar shop in located in the Neustadt neighbourhood and can easily be found by spotting a bath tub opposite a tram stop in Rothenburger Straße.
If you have a crush on individually made upcycled fashion accessories pay a visit to Ex Animo at Martin-Luther-Platz. The shop specializes in clothes and accessories for babies, toddlers and younger children, but you will find nice gifts for grown-ups (like cigarette wallets), too. Note that it is (like the Unipolar stores) closed on Mondays.
Those on the look-out for beautiful, not overly sweet organic fashion for toddlers and smaller children should step by Elvida in Louisenstraße approximately opposite Planwirtschaft pub and cafe. There you'll find the small flagship store of a Dresden-based sustainable kids fashion label. Unfortunately it currently has quite restricted opening hours: Due to illness the shop may or may not be open on Fridays and Saturdays from 10am, so make sure you are in the vicinity anyway.
Ever fancied a nice custom-tailored dress, blouse, skirt or shirt made from natural materials? On Bautzner Straße at tram stop Pulsnitzer Str. gentlemen's tailor Hüpenthal and ladies' tailor Naumann share a shop formerly known as "Mein schönes Kleid" where they sew pret-a-porter items as well as custom orders from linen, silk, cotton and wool, both evening and casual dresses. Some of the linen is even woven in the greater vicinity of Dresden, in the region of Niederlausitz near the border to Poland. If you take the opportunity to hear a classical concert in Dresden chances are high to meet musicians wearing shirts by Herr Hüpenthal which, although custom-made are recognisable by their unique signature collars. Prices for men shirts start approximately at well invested 175 EUR, and cards are not accepted. The opening hours listed below usually apply but since the shop also serves as workshop you may be lucky enough to find one of the tailors at work on Mondays and Saturday afternoons, too.
Ceased to exist
The following places shut down, so don't be mislead when you find references to them on the web:

Dresden, Neustadt, shopping, organic, fair, fashion, spices, herbs, delicatessen, gifts, upcycling, steampunk, bodycare] Link