To no surprise Padua has a branch of the artisanal ice-cream parlour chain Grom: The Grom in the city center is located at Piazza dei Signori and serves gorgeous ice-cream flavours made from organic milk, and often (though never guaranteed) more organic ingredients as well as iced lollies (ghiaccioli) and natural slushes (granite). They have a second branch in Via Roma.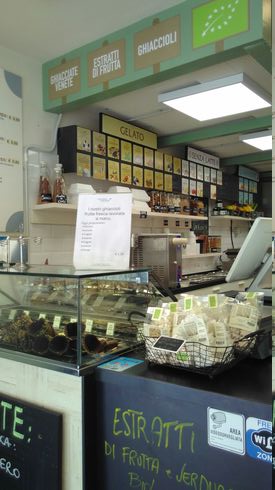 But it gets even better! About 50 meters east from the Grom at Piazza dei Signori you'll find the city's only fully organic ice-cream parlour, Gelateria Gnam Gnam, and so you can compare the taste of partially and fully organic fare. I was amazed how much delight one can still add when restricting oneself to 100 percent organic ingredients. The ice-cream was extremely delicate, with a lot of surprising flavours such as "cinnamon and ginger" or "pineapple and ginger", about one third of them vegan, the smallest portion for 1.80 EUR. For additional 60 cents you can choose the flavour of your wafer cone: plain of course, or perhaps ginger, cinnamon, liquorice...? The (vegan) slush goes here under the name Venetian ghiacciate, and can be had in eight different flavours, small, medium, and large (small for 2.60 EUR, medium for 3.60, large for 5). My coffee ghiacciate was a deliciously melting dream, ways better than the extremely tasty one I had a couple of years ago at a Grom branch in Florence. Apart from this you can have a freshly pressed fruit juice or a chocolate-coated ghiacciolo. If you find it difficult to part buy a package of their organic meringues or a small glass of the organic spices they use (like cinnamon, liquorice, curcuma or ginger) for you or as a small gift.
For a change you may also try ICream.it North of Prato della Valle. Their ice-cream is hidden in locked containers instead of openly presented, an important sign for high quality ingredients and no fuzz processing. Flavouring ingredients like basil or matcha often are organic and play the most important part in extremely smooth non-diary ice-creams (I had an intense yet delicate lemon-basil which unfortunately isn't always available). The milk used in the non-vegan flavours is not organic, but feel free to enquire about the origin of the ingredients: When I was there the staff was both friendly and knowlegeable. A single scoop goes for 2 EUR.
2018-05-28 21:00:01 [Padova, Padua, biologico, organic, vegan, ice-cream, gifts] link

This work by trish is licensed under a Creative Commons Attribution-NonCommercial-ShareAlike 4.0 International License. For commercial use contact the author.