Uneasiness with industrial agriculture often starts with the brutal reality of how we treat animals, and consequently eggs and meat often are the first ingredients restaurants use from organic farming. In many cities this means that conscious omnivores have a better chance to find a place to eat than vegetarians or vegans. With Padua this is different: All organic or partially organic restaurants I found within the city boundaries focus on vegetarian courses, and all of them are vegan-friendly.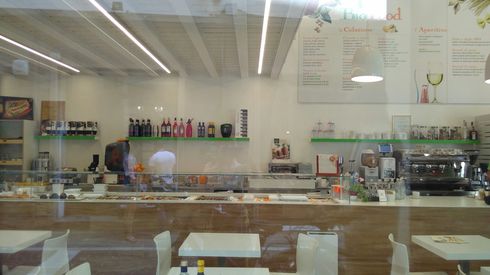 For breakfast, coffee, lunch or a small meal until late in the afternoon head for BioFood RistoBar located between Piazza Garibaldi and Piazza dei Frutti. Although the place looks like a self-service eatery it is not. Take a seat, and you will be served salads, pasta, and a few side dishes from the buffet bar inside. Most of it is vegetarian or even vegan, and everything very healthy, though not 100 percent organic. Taste comes from the goodness of the ingredients, there's little seasoning to it. In the morning it is a pleasant place to have breakfast, and later in the afternoon you'll probably want to drop in for an aperitif or an apericena -- a little snack before dinner time. Needless to say that the coffee is good at any time of the day. Organic drinks are clearly marked "bio" on the menu. However, don't be fooled: Although the opening hours at the entrance suggest that the place keeps open on Sundays -- it is most definitely closed this day of the week.
More to try
Unfortunately my time in Padua was very limited, so here's a number of places I'd like to try but haven't had the opportunity yet:

Fully organic and vegetarian (needless to say these days: vegan-friendly) restaurant Vegetariamoci a little North-West and over the bridge from the Giardini dell' Arena park is the brainchild of organic pioneers in the region. Unfortunately closed Mondays through Wednesdays.

Also in the neighbourhood of Arcella, North of the main train station, the Osteria di Fuori Porta offers uncomplicated organic dinner, and, on weekdays, lunch, the latter also at a fixed price for 12 EUR including a beverage and coffee. If you take the tram leave at stop "Borgomagno".

Food, art, and concerts -- that's the concept of the Ca'Sana cultural space offering organic brunch on Sundays, and apart from Mondays, late night food. The place is situated a little out of town, near the airport.

If you fancy a pizza Daltrocanto seems to be the place to go. There's more on the menu, all vegetarian and vegan-friendly.

2018-06-09 05:30:00 [Padova, Padua, biologico, organic, vegetarian, vegan, eatery, restaurant, breakfast, lunch, dinner, coffee] link

This work by trish is licensed under a Creative Commons Attribution-NonCommercial-ShareAlike 4.0 International License. For commercial use contact the author.