The origin and home of the world-famous Bauhaus is both, conveniently located at the Elberadweg bicycle route and conveniently reachable every hour by urban train no. 2 and regional trains from Leipzig main train station. From the train station simply follow the signs to the Bauhaus university, and there, in the self-service Café-Bistro im Bauhaus in the basement, you may order an organic tea or lemonade. Unfortunately this is all you may expect of organic food or snacks on a Saturday afternoon, Sunday or public holiday.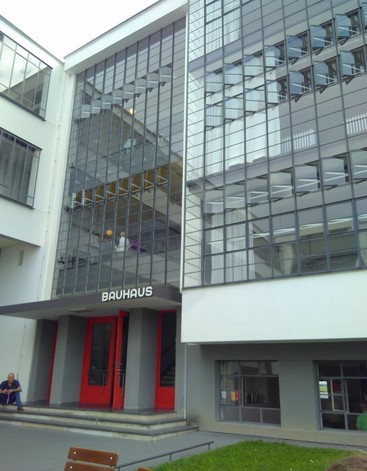 On weekdays the prospects are brighter, but since I was there on a Sunday, I am unfortunately not able to verify my upfront research which I'm presenting here nevertheless. If you visit any of the places mentioned below (or find more) let me know about your experience.
Breakfast and lunch
The only at least partially organic restaurant is located east of Dessau main train station (i.e. on the opposite side of the tracks than the Bauhaus building and the famous Masters' Houses by Walter Gropius). According to a usually reliable German organic customers' journal the Essbar cafe cum bistro inside the Schwabehaus cultural centre uses organic ingredients to prepare its predominantly vegan and vegetarian food. Unfortunately it serves breakfast and lunch only and is closed on weekends.
Organic provisions
Every second Saturday of a month there's a farmers' market a little further in north-eastern direction, the Bio-Regionalmarkt on Lidice-Platz between the monuments of Dessau-born composer Kurt Weill and playwright Bertolt Brecht. There you should be able to buy organic fruit and veges, simply watch out for the "bio" keyword and organic labels as there are also conventional market boothes.

From Lidiceplatz follow Karlsstraße further east to the Biopur grocery on the premises of the old slaughterhouse of Dessau-Nord. It's a small traditional organic convenience store which offers a good selection of both, organic fresh and dry food as well as bodycare and household items.

There's another small organic grocery on the Bauhaus side of the train station, the Bibernelle ("burnet") which also has a booth at the Bio-Regionalmarkt. It's conveniently located right in the vicinity of the Bauhaus and the Masters' Houses, serves organic coffee, tea, snacks and cakes and has only one disadvantage for the Bauhaus visitor: It's closed on Saturdays and Sundays.

Dessau, Rosslau, Bauhaus, Elbe_cycle_route, Elberadweg, organic, snacks, lunch, coffee, supermarkets, grocery] Link