The impression may be due to my lack of command of the Hungarian language, but most places in Budapest advertising the use of organic produce surely aim at the affluent tourist -- carefully designed places offering sophisticated Hungarian kitchen, vegan food or the ubiquitous expensive Italian coffee machine and hand-made organic sandwiches and cakes. What they all have in common: gorgeous food, a relaxed and (family-) friendly atmosphere and the complete absence of red-nosed binge-drinking tourists.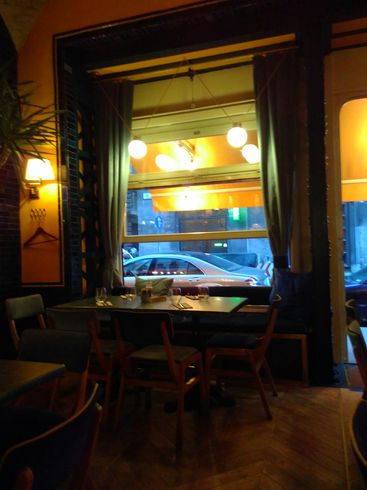 To dine in style head for the golden-blue shimmering premises of Hilda Food and Mood in Lipótváros serving carefully modernized standards of the Hungarian farmers' kitchen like the goulash soup or chicken paprikash with dumplings as well as advanced sandwiches or salads. The focus here clearly is on organic meat from responsibly raised animals, grilled to the point, but vegetarians are catered for with equal love, with often organic greens, crisp or perfectly done. There's also a selection of organic soft drinks and wines. Unfortunately the restaurant is closed on Sunday evenings but you may also come here for breakfast, brunch or lunch, and if only to marvel at the grand-hotel flair, the mosaic walls, and the dusky pink-golden restrooms.
Just a few corners in Eastern direction you'll find Naspolya Nassolda, a light and clean cafe serving raw, vegan, gluten-free sweets, savoury snacks, healthy drinks and coffee, using a great deal organic ingredients. Prepackaged wafers and cookies from the shop can also be bought from the BioABC supermarket.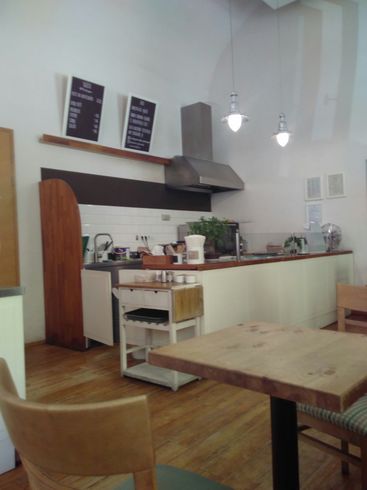 If you feel for a more lively coffee house atmosphere find your way to the Vörösmarty utca metro station in Terezváros and enter a stunning neo-renaissance building of the World Heritage Site of Andrassy avenue to find the Ecocafe. This cafe could be transfered to any other Western metropolis, and you wouldn't notice -- the Italian-style coffee drinks, the wooden tables, the hand-made croissants and sandwiches, the freshly pressed smoothies and small glass bottles with juice, the clean and understated eco design, the families, the students and the digital nomads, a welcoming, yet non-intrusive atmosphere -- it's all here, and you'll feel at home at once. And the best of it all: The place keeps open on national public holidays like St. Stephen's day when everything else (including the main post office within Keleti pu.) is closed.
Right in the vicinity of Keleti station you may check out the Mennyország Szíve Bio Bolt for lunch or snacks, or -- hopefully soon again -- the Házikó Bisztro ("farm bistro") which currently is closed. Both are closed on weekends and public holidays. The Házikó has a second branch in Buda on the premises of the socially and environmentally responsible MagNet bank. Here you can have not only a coffee, but also lunch, snacks or an early dinner made from predominantly organic local produce according to season.
More to try
During my research I also found the following places that seemed likely to (at least partially) serve organic food and drinks, but I did not had the time to try them myself. If you do so let me know whether they are worth to be listed here!
Temporarily closed
Budapest, organic, lunch, dinner, coffee, restaurant, cafe, eatery, vegan] Link