Nuremberg has a lot of independent small shops worth visiting in the main pedestrian area of the city centre (as long as you avoid the lanes occupied by global chains), and quite a number of them care about sustainability, fairness and the environment in some way or the other. The following shops except one are all located within walking distance within the city walls, and the list is totally biased, doing injustice to shops I simply did not recognise.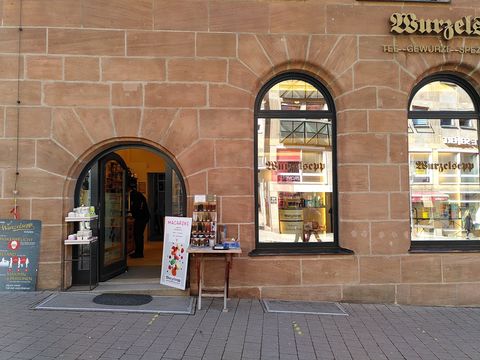 Nuremberg traditions
Drawing from Nuremberg's history as an important medieval trade centre on the crossroad of horizontal and vertical trade routes is the Wurzelsepp herbalist shop. In fact the shop was established in 1933, and you may question whether this should be positively connoted advertisement. I at least would have preferred to find a discussion of the shop's history in the Third Reich on their website. It's missing, so all you are left with is this beautiful shop, a realm of spices, teas, dried herbs, natural body care and perfumes, real frankincense, hand-made sweets, and more. Roughly estimated a quarter of it is organic, so check for labels or ask the helpful staff.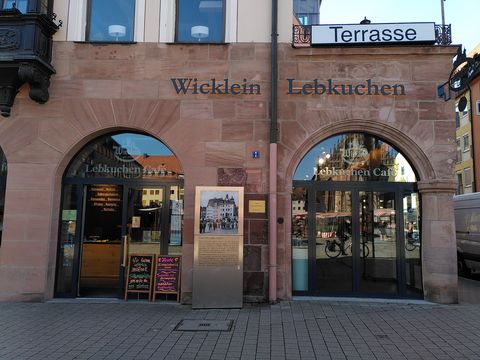 The abundance of exotic spices from the spice route traders and honey from the nearby forests caused the rise of the profession of the honey cake bakers ("Lebküchner") in the medievals. So even though Pfefferkuchen or Lebkuchen are a Christmas tradition you probably do not want to leave Nuremberg without locally produced gingerbreads. From end of October through December they are easy to find in every organic grocery, but off-season your best bet is the gingerbread shop Wicklein which offers a small selection of organic varieties. They can be distinguished by their packaging with a fir green "bio" label. Unfortunately none of the tempting gingerbreads by the piece are organic.
Both shops are directly located on Hauptmarkt and keep open on Sundays during Christkindlesmarkt advent market.
Fair trade
Nuremberg proudly presents itself as a Fairtrade Town, and unlike in other cities fair trade shops can be found in the middle of the urban city centre. They are run by volunteers from church parishes, and traditionally offer a selection of sweets, herbs, spices, tea and coffee, dry goods, jewellery, fashion items, body care, stationary, home textiles, candles and other colourful gifts. Eatable items are predominantly organic, gifts and household items often made from recycled materials. Fresh food is not available, though both of the following shops sell bananas.
Lorenzer Laden (often referred to by its abbreviated form, Lola) is an intimate place. Tucked away in a small alleyway East of Lorenzer Kirche it is totally secular in its presentation, and although its product range overlaps to some extend with that of Fenster zur Welt, you will find a lot of things only in this shop. The Lola shop is also a hub for customers of a Community supported organic farm.
Probably easier to find is Fenster zur Welt ("Window to the World") near Hallplatz. It's also the bigger one of the two, and consequently offers a bigger selection. They do not hide the fact that they are a parish enterprise but there's definitely no proselytisation ongoing.
More sweets, wines, coffee and gifts
The cosy confectioner's shop Chocolat close to Weißer Turm is a paradise for chocolat lovers. They offer a huge range of high quality chocolates of international provenience, often fairly traded, and to a noteworthy part organic. Check for labelling or ask the friendly ladies behind the bar. You can also treat yourself with a hot chocolate, though it's not organic. The entrance is facing Hutergasse, so do not be fooled by the address.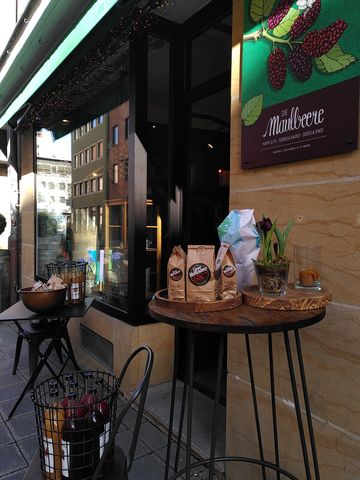 Another of the many small individual shops in the old town is Die Maulbeere, a florist's cum coffee cum sweets shop cum cafe.
Once a start-up, nowadays a veritable organic specialist's chain, MyMüsli has a store near Hauptmarkt where you can buy dozens of cereals and porridges, and of late tea and coffee. They also offer free wifi.
Regional food specialities, wines, condiments and more, all produced by small-scale farms and artisanal manufacturers can be found at delikatEssen at the Weinmarkt around St. Sebald church, another small owner-run delicatessen. If you insist on organic certifications you have to select carefully, as seems still to be the norm for this type of shop. Note that it is closed on Mondays.
If you fancy wine and a bicycle ride to the North-Eastern edge of town step by Die Weinhalle near Nordostparkt which I personally have not visited yet -- it was recommended by a friend. They specialize in natural wines, and a good selection of organic ones are among them. Alongside you can choose from a selection of delicatessen -- Italian antipasti, coffee, chocolates, etc., among them many organic ones. In the webshop you'll find organic products with a simple search for the "bio" keyword.
If you happen to be in Nuremberg in December, don't miss the annual sustainable winter market Winterkiosk at the Kulturwerkstatt auf AEG cultural centre near the tube stop Eberhardshof. It's always happening on a weekend, in 2021 on the 4th and 5th of December. Stroll around and let you inspire from art and handicraft. Most eatable and drinkable items are organic. The market charges a small entrance fee of 5 EUR for adults. Note that in 2021 a covid-19 vaccine certificate is mandatory.
If you wonder how a luxury organic department store looks like visit Grüne Erde at Hallplatz, a branch of a small Austrian chain. Traditionally they sell fairly produced furniture, bedding, cushions, home textiles, bathroom items and interior design stuff, all made from sustainably sourced natural and often organic materials. It would not be a department store if it did not offer luxury organic bodycare, candles, chocolates, sweets, dry goods and delicatessen as well as a small selection of liquors. Recently they added fashion basics like t-shirts to their sales mix. A pleasantly silent and nicely smelling oasis after a busy day -- until it comes to payment. They will ask you for your name and address to send you their catalogue and track your purchase, so be polite and tell them you do not want to be neither registered nor tracked (unless you really want it). Usually the shop assistants will comply without further questions, so don't feel tricked into giving details (or be prepared to give false information).
Fashion
See here.
Wurzelsepp, Hauptmarkt 1, Mon–Fri(Sat) 9:30–19(18), Nov–Dec Mon–Sat 9:30–20
Gottfried Wicklein, Am Hauptmarkt 7, Mon–Sat 9:30–19, Nov–Dec Mon–Sat(Sun) 9:30(10:30)-20(18:30)
Fenster zur Welt, Vordere Sterngasse 1, Mon 12:30–18 Tue-Fri(Sat) 10:30–18:30(15:30)
Lorenzer Laden, Nonnengasse 18, Mon–Fri(Sat) 10–18:30(16)
Chocolat, Josephsplatz 26/28, entrance Hutergasse, Mon–Sat 10–20, during covid-19 restrictions Mon–Sat 12–17
MyMuesli, Plobenhofstr. 1–9, Mon–Sat 9–19
delikatEssen, Weinmarkt 14, Tue–Fri(Sat) 10–18(16)
Die Weinhalle Gebr. Kössler & Ulbricht, Nordostpark 78, Wed-Thu 14–18, Fri(Sat) 10–18:30(14)
Winterkiosk, Kulturwerkstatt auf AEG, Fürther Str. 244d
Grüne Erde, Vordere Sterngasse 2a, Mon–Fri(Sat) 10–19(18)
Ceased to exist
The following places shut down and were replaced by other, not organic ones. So don't be confused when you find references to them on the web:
Frankenfein, Königsstr. 78 (partially organic farmer's shop cum delicatessen)
Nuremberg, organic, fair, fashion, spices, deli, gifts, shopping, bodycare, confectioners] Link