The following reviews origin from my last visit to Kerala in 2016 and all updates since have their source in remote contacts.
Near Kochi (Cochin)
South of Kochi, directly situated at the backwaters in the village of Kumbalangi you'll find Gramam Homestay, a quiet, eco-friendly homestay which allows you to escape busy Indian city life. Its sustainably kept coconut garden by the water makes the surroundings for an old, nicely restored spacious farmhouse equipped with two twin beds and fans. The openness of the house allows you to experience all the noises of a tropical night. An outdoor bathroom attached to the cottage provides you with a roofed Western toilet and handwash as well as two showers under open sky. You'll stand on natural stones within some small bushes, and the used water from the shower percolates through the sand beneath the stones. Warm water is heated by the sun on the rooftop.
Breakfast (homemade Kerala food and/or prefab toast/"cereals") is complimentary, and lunch or dinner in the eating room next to the kitchen of the main house where your hosts, Jos and Lyma, live can be arranged on request. Some of the veges used in cooking may be "nadan" (i.e. from home gardens kept the traditional way without use of industrial chemicals), but there is no emphasis on organic food or drinks. Staying in the cottage you however have a kitchen at your disposal. An off season cottage night for two is Rs. 4000 (the two extra beds Rs. 800 each), but if you are on budget there are also two cheaper rooms in the main house.
Jos will happily arrange a tour on a punted boat, a visit to a shrimps farm, or a car with driver for you. For our trip to Abhayaranyam wildlife shelter with its elephant camp and well-kept botanical gardens he arranged an organic breakfast (Rs. 600) at a friendly brahmin family's of teachers who showed us around their traditional house, well and organic garden where we learnt about nutmeg, macis, Indian basil, curry leaves and other spices (as well as some useful Malayalam phrases).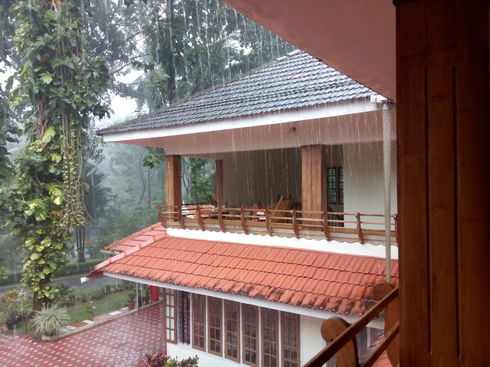 Near Thodupuzha
Far bigger than the aforementioned ones – almost a simple hotel with 11 single and double rooms – is the farmstay of Dewalokam Organic Farm, run by a friendly family of teachers and their staff from neighbouring villages. The farm has been a family estate for about hunded years, and after serving as a rubber plantation for the last generation, todays owners Jose and Sinta have been reconverting it into an almost self-sustaining organic farm following circular principles. While the entrance to the modern, though traditionally built main house is opposed by a spacious park, the land around the houses are now being used as spice, coffee, cocoa, vegetable and fruit gardens interspaced by some fish ponds. Chickens, ducks and turkeys range freely in the Souther-Eastern part of the gardens next to the cow, buffalo and sheep sheds. The cows' mock is collected and fermented in an underground tank producing fertilizer and the gas burnt in the kitchen stoves.
As we were lucky to observe during our stay newborn lambs are kept together with and fed by their mothers. All the cows were born on the farm itself, and none of the animals was deprived of their horns.
The double rooms in the first floor of the main house are simple, but spacious, clean and light, with an adjacent dressing room next to (Western) toilet and shower. There are more rooms in the adjacent older house. A night for two comes at Rs. 10,000 (8,000 off season) including four meals a day and activities like yoga in the morning, walks in the garden and in the vicinity, or cooking demonstrations. The house and the rooms are always adorned with fresh flowers.
The swimming pool is filled by fresh (rain) water, and you can also have a swim in the river. Jose and Sinta will also provide you with well-maintained bicycles for a village tour.
Most ingredients in the home-cooked meals (North and South Indian, with a continental style soup without spices to start lunch and dinner with) come from the farm itself (if you travel with children: The french fries are prefab and not organic). Guests usually are served seafish instead of fish from the ponds as the bones of the latter may be an obstacle, but if you insist you will be served a truly locally sourced fish curry. You may also purchase spices grown on the farm.
A side note: Before you start criticising any of the aforementioned places for burning paper and plastic waste on their land hesitate a minute and think about what you were going to do without communal waste collecting and separating facilities which generally are not available in rural areas.
Confirmed closed as of 2022
(Temporarily?) closed
Their website was gone, their phone number no longer operating, and they did neither answer e-mails nor Skype messages. Finally I got an automated answer that they were closed due to monsoon repair and would reopen in August. We tried to call again from India mid of August 2016, and still the phone was gone. So some doubts may be raised whether the following eco retreat in Varkala is still operating:
Bohemian Masala, drive in entrance from Thiruvambadi Beach Road near Black Beach, Kurakkanni, Varkala
Mind you, there's a place with a similar name, the "Eco Bohemian Masala" which tries to fool tourists into believing it was the aforementioned eco stay. Don't fall for it – according to Tripadvisor posts it seems to be a place to be avoided. If you happen to actually stay at the real Bohemian Masala, let me know.

Kerala, Alleppey, Alappuzha, Kochi, Cochin, Thodupuzha, Varkala, organic, accommodation, farms, cycling, covid, corona] Link