Leaving the train at Altona station does not bring you to the heart of the city but to the vibrant neighbourhoods of Altona (to the East) and Ottensen (to the West) offering a great choice of lively (partially) organic places. None of them are very posh as the distinguished bourgeouis citizens usually live and roam elsewhere, and there's a good chance to mingle with locals.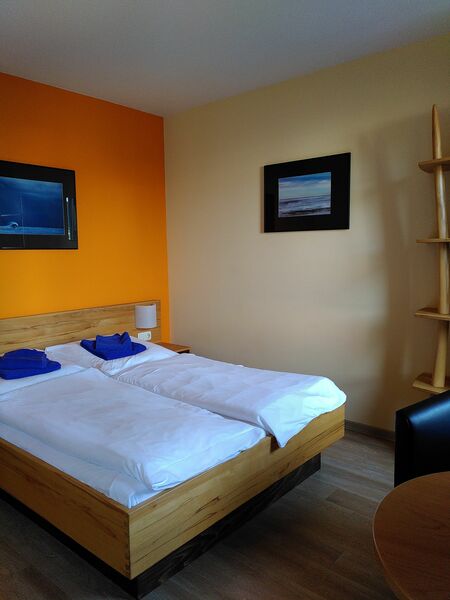 Where to stay
As long as you are satisfied with a basic yet clean and well-kept hotel room head for the Schanzenstern. The name derives from its original location in the Sternschanze neighbourhood, but even though the hostel moved to its current location surely fifteen years ago references to its old address haven't vanished from the net completely. Most rooms are equipped with bunk beds, and you are well advised to book in advance especially if not travelling alone. The entire building is painted in clear basic colors, orange and blue the rooms, yellow the hallway. Since rain water is used for flushing the toilets its colour can be explained easily, and the soap dispensers in the bathroom are filled with liquid organic hand wash. If you're travelling by bicycle there's a locked shed where you can store it safely overnight. The hostel also has a handful basic three-gear bikes to rent, at a price tag of 10 EUR per day, not to go fast, but well suited for the sett surface streets around.
The hostel's 100% organic breakfast buffet keeps open daily from 7:30 to 10:30, but is not included in the price for the night. For additional 9.50 Euro you can order it until late the evening before. The restaurant also serves organic lunch on weekdays, and there are board games and journals to spend the time with.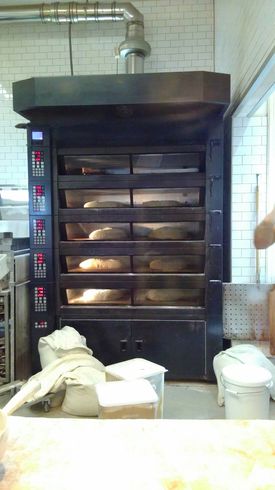 Bakeries
Breakfast and lunch alternatives are located within five-minutes walking distance: For one there's the Zeit für Brot ("time for bread") artisanal show bakery next to a branch of the Denn's organic supermarket chain in Ottenser Hauptstraße (The chain has a second supermarket nearby which also serves snacks at their self-service cafe.) Through a window you can watch the Zeit-für-Brot bakers at work while buying German bread, fresh from the oven. If stepping by for a coffee or another non-alcoholic drink, a pastry, cake, savoury snack, or a light lunch (all organic) queue with the other customers and place your order at the till. When the pandemic restrictions are over you may again find a place at one of the tables inside and enjoy the gorgeous smell of real bread together with your snack. For the time being you have to be lucky to find a spare seat outside under a sunshade also sheltering from the occasional rain shower.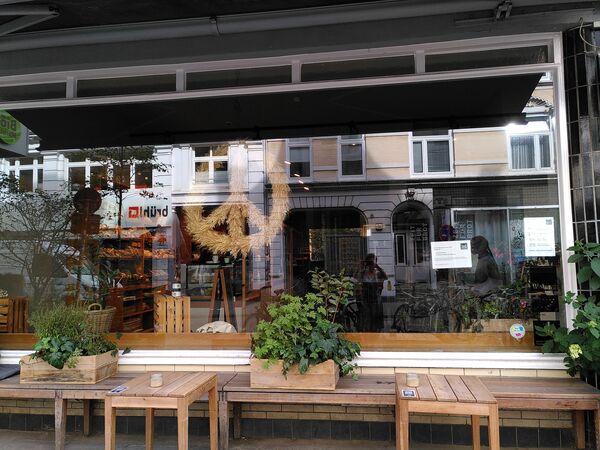 The place serves El Rojito coffee, and this is always an excuse to come here.
Cafes and lunch restaurants
Another organic breakfast alternative is cosy cafe Lillisu offering 100% organic food and drinks. In addition to breakfast the women owners also serve sandwiches, filled pasta, spaghetti, soup and salads for lunch, both vegetarian and omnivore, prepared in the tiny kitchen in view of their guests. Place your order at the counter and add a home-made cake from the display. You'll be served but are expected to return to the counter for payment. Set breakfast plates are served on weekends only. Decorated in pastel colours this is also the place to buy nostalgic presents and some organic delicatessen (chocolates, olive oil, coffee, ...) as well as "Glück in Gläsern" ("happiness in jars"), (in)famous 100% non-organic nostalgic sweets many Germans will remember from their childhood, sold by the piece. As in the Schanzenstern restaurant a selection of magazines from Hamburg-based publishers are there to be read by the guests.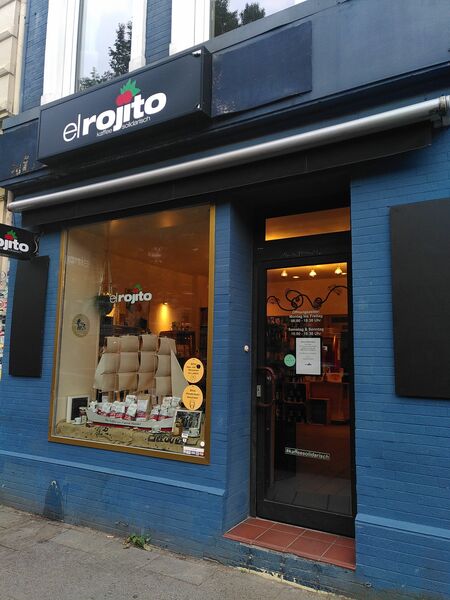 For a coffee break my tip is the cafe of a local coffee importer specializing in the coffee of South-American co-operatives, El Rojito. Not all of them are organically certified, but the driving force behind is a registered society which has been supporting fair and social working and trading conditions for more than 30 years. While pandemic restrictions apply you can have your coffee outside only: There's outdoor seating in the backyard, though not in the morning and on Sundays, and some space in front of the cafe. Their coffee is also served by the Schanzenstern hostel, and the shop sells the full range of their coffee beans as well as some other items such as organic honey.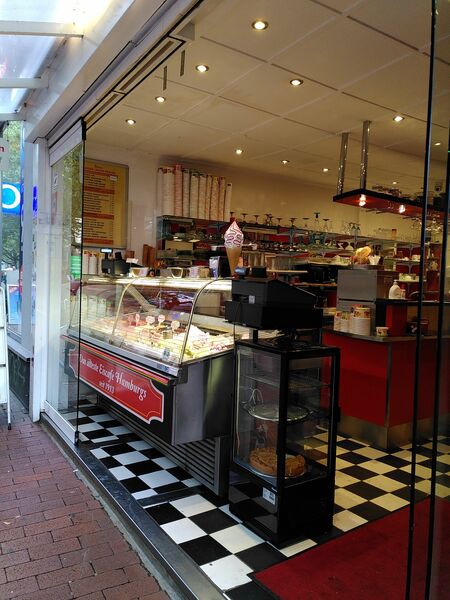 Ice-cream
For a sweet threat head back to Altona train station (where you by the way will find another organic supermarket, this time an Alnatura branch). Since 1913 there has been an Italian ice-cream parlour in Ottenser Hauptstaße, which, after world war II became Eiscafe Venezia. Today, the owners are no longer of Italian origin, but use organic milk for all of their about 20 flavours. Unfortunately the ice-cream isn't fully organic itself; the scoop goes for 1.40 EUR in 2021. Usually the cafe closes at midnight, but you may find it closing earlier on bad weather.
The place also serves Italian-style coffee drinks with organic milk from a proper Cimbali pressure machine, but I'd rather advise to take the extra meters to Zeit für Brot as their coffee is far better.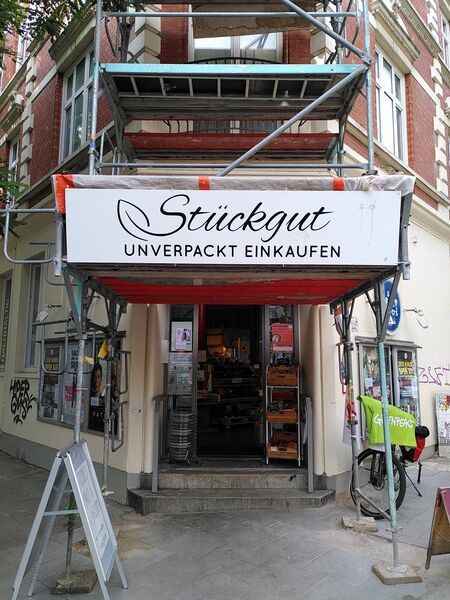 Zero waste
Package-free organic self-service supermarkets are also on the rise in Hamburg, and given the subcultural context of the neighbourhood you won't be surprised to find one here as well: Stückgut recently moved from its old address Am Felde 91 to a beautiful corner shop at Alma-Wartenberg-Platz. Apart from the usual product range common to all these groceries this one offers organic tea, fresh fruits and veges, antipasti and cheeses and a colourful range of liquid body care and household chemicals which make the shop a proper full-range retailer. There's a second branch in St. Pauli with a smaller product range, among others missing fresh greens.
More to try
Here's another organic cafe and a bakery I found during my research but did not have time to visit. I'll be happy if you'd share your impressions with me!
Closed during covid-19 pandemic
Closed
The following places do no longer exist although you might find them referenced on the web:

Hamburg, Altona, Ottensen, St_Pauli, organic, coffee, ice-cream, zero_waste, unverpackt, supermarkets, grocery, eatery, lunch, breakfast, cafe, hotel, accommodation, bakeries, covid, corona] Link