Its lively main street, the Corso Palladio dates back to imperial Rome and, still today, is framed by buildings of the arguably most influential medieval architect, Andrea Palladio.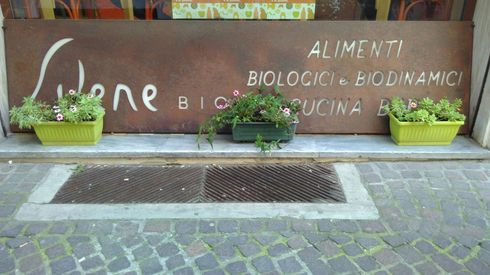 When feeling hungry while you stroll through the Unesco World Heritage head for spacious, wholesale organic supermarket Silene in a quiet side way a few meters North off Corso Palladio. As you enter you will notice the self-service coffee bar immediately, open for a coffee, healthy drink or snack even before the supermarket opens itself. But there's a real restaurant when you proceed into the building: At the left hand side you'll pass the open kitchen, and arrive at a water tap where you can refill your drinking bottle with both, plain and sparkling water. There you are: more tables to sit down, you will be served.
The small menu offers vegan and vegetarian Italian wholefood, tasty pasta and risotti of course, but also surprising twists as the hearty risotto-style oat porridge with spring vegetables I had, or carrot-based falafel (which I liked less). A refreshing surprise was the alcohol-free "sangria". Unlikely you can have the same, though, as the menu changes according to season and daily availability of fresh ingredients. Needless to say that the coffee was a delight, too, and the staff helpful and friendly. If you're looking for the toilets: They are hidden at the opposite, right wall of the supermarket, and open for guests.
The supermarket itself will provide you with all daily necessities, all types of fresh and dry food as well as organic household chemicals and a superb choice of organic body care. Unlike other groceries it keeps open throughout the day without an afternoon break. There's a second Silene supermarket a little further west, without a day restaurant though.
All days including Sundays (though not on public holidays) the Vicenza branch of Germany's DM chemist's chain will provide you with a great selection of organic food, drinks, natural body care and sustainable cleaning detergents. The spacious supermarket in Corso Andrea Palladio opened in 2018 and is a great source of eco- and climate conscious products at budget prices, but since the majority of the items still are conventionally produced be careful to check eco and organic labels.
For a treat of ice-cream follow Corso Andrea Palladio to its Western end and proceed straight ahead, past the Giardini Salvi park to the right. The less shiny neighbourhood San Felice hides a gem: Gocce di Bio ("gocce" meaning "drops"), a vegan-friendly fully organic ice-cream parlour. With its modest window front the spot-free place with its fresh-green painted walls is easy to oversee, but unlike other shops it sports a clearly visible organic logo over the entrance. On the premises of a traditional neighbourhood gelateria it's one of the ice-cream and no frills (not even coffee) places you'll rarely find outside Italy serving a mouth-wateringly creamy all-organic delight. Unless you avoid alcohol try the Malaga variety, and you will be cured for all time from that fake yellowy sweet and flavoured stuff with raisins and perhaps low quality alcohol going under this name elsewhere: The Malaga ice-cream here has distinct, melting flavours -- cream, grappa and raisins of highest organic quality, delightfully combined. Unfortunately the place is closed on public holidays.
Ceased to exist
A few years ago the following gelateria served very nice organic ice-cream but unfortunately did not survive:

Vicenza, biologico, organic, vegan, ice-cream, coffee, supermarket, grocery, eatery, restaurant, breakfast, lunch, bodycare, household] Link