Astonishingly many of the artisanal ice-cream parlours in town present their products in the hygienically correct way for the storage of unadultered natural ice-cream, and the city seems to be a heaven for vegan ice-cream lovers. However, and this is the bad news, there seems to be no such thing as fully (bio-)organic ice-cream. But there are places using organic milk.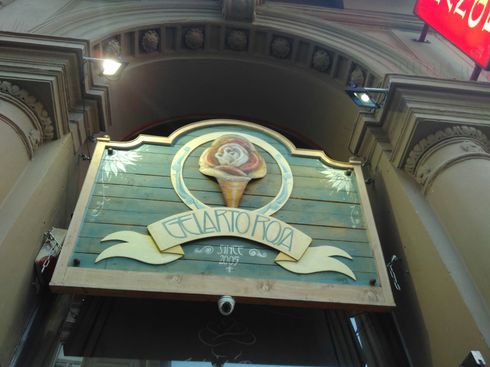 One of them is a major tourist spot next to Szent István (St. Stephen's) cathedral. With the impressive queue in front of Gelarto Rosa on hot summer days there's often no need to watch out for the art nouveau-styled rose sign priding the entrance (see image) -- you simply can't miss the place. All dairy flavours here are made from organic milk, and there are fruity, vegan flavours, too, though without the promise on the use of organic fruit. Your dish of ice-cream is skillfully made into a rose which helps justifying the hefty price: A small rose made of two flavours comes at 700 Ft., the medium one with three flavours at 800 Ft., and a large rose with four flavours and three rows of petals at 900 Ft.
If you don't insist on dairy ice-cream you may skip the queue and walk around the corner along Szent István tér. Only a fews steps away you'll find a second branch dubbed Gelarto Rosa Bistro -- vegan hedonism. It is in fact a small bistro with outdoor seating serving vegan bowls, sandwiches and desserts predominantly made from organically produced (though not necessarily certified) ingredients from local farmers as well as Italian-style coffee. On summer days however you will rarely notice the food since the focus is on ice-cream roses. As in the older shop around the corner, first queue at the cash counter, specify the size of your ice-cream and pay upfront, then move on to the ice-cream desk and order the flavours. Here you'll find predominantly vegan sorbets, although you might spot one, at maximum two dairy flavours, too, and the queue is significantly shorter than the one around the corner. With food and coffee orders you will be served (after having paid at the cash desk) at your table.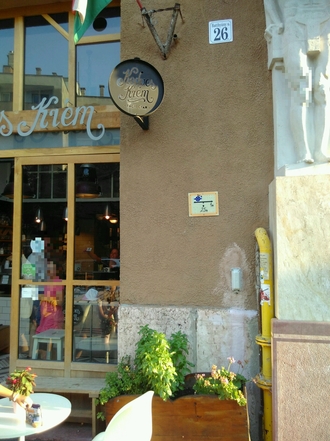 For a much less touristy place head for the Buda side of the Danube river: Kedves Krém ("lovable cream") in Víziváros, a few corners from Széll Kálmán tér is a lovely neighbourhood ice-cream parlour cum cafe most frequented by locals. The creamy, all-natural dairy ice-cream here comes at 270 Ft. the scoop. With clearly accentuated flavours and stored in deep, steel-covered containers used by only the most serious artisanal ice-cream makers this is definitely the best ice-cream I had in Budapest. Unfortunately I couldn't get a confirmation for whether all ingredients were organic, most likely most of them, first of all milk and cream are sourced from local farms working according to organic principles. If you speak Hungarian and are able to inquire in depth, let me know about it.

Budapest, organic, vegan, ice-cream, cafe, eatery, coffee, snacks, lunch] Link