Window shopping in Esslingen's city center is fun – due to an abundance of lovingly curated boutiques and owner-run specialist shops. However, during off-work hours, the nice pedestrian areas and small streets seem almost deserted: Many of these shops do not have employees and, consequently close at 6 pm, many also for a lunch break. However, if you come here during work hours or on a Saturday morning til early afternoon, you will find a lot of assorted goods and handicraft that anonymous malls and stream-lined shopping districts wouldn't care to offer.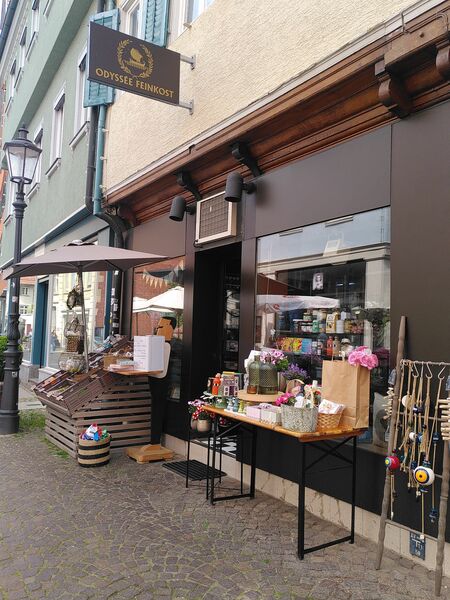 Take the Greek specialist shop in the Küferstraße shopping street, opened in autumn 2021 during the covid-19 pandemics: Odysée Feinkost attracted my attention by presenting an assortment of organic pre-packaged snacks in its shop window. The day after I came around and found an owner who was both, knowlegeable about his goods and which of them were organic – and glad to have a chat. There are not enough organic preserves, herbs, wines, oils and dry food to satisfy all needs, so better come here for inspiration rather than with a fixed shopping list.
For fairly traded exotic dry food, spices and beverages walk a few steps to the Weltladen (almost) next door which also has a decent assortment of loose-weight food and sweets.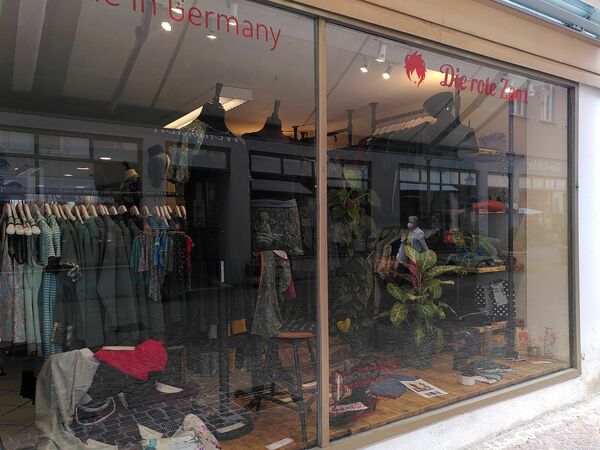 Opposite the fair-trade shop you'll find a real gem: Die rote Zora is not just a fair and slow fashion boutique, it's a small tailor start-up: The three young women working in the workshop in the back of the shop design and make the original and robust clothes that you can buy here or via their webshop. The feel of the garments and the quality of the seems should be sufficient to cure you from cheap fast fashion. The prices are really fair, too: good to make a living and absolutely affordable given the almost timeless, yet lively (to some probably: naughty) designs, repairability and longevity. For an air of Berlin in Swabia, I highly recommend both, the shop and the label, dubbed after the militant West-German feminist group – or their fictional name-giving character, a female leader of a gang of young orphans fighting injustice.

Interestingly, Esslingen has more than one local fashion designer cum tailor-shop cum fashion boutique: Olly's own label Aleksarah also focusses on natural and sustainable materials, with flowing and colourful, but more conventional designs. Also this shop is a female enterprise, but unlike the Zoras, offers a small selection of other fashion labels aside their own designs. Needless to say that all clothes will be adapted to your fit if necessary.

Esslingen, organic, fair, fashion, spices, deli, gifts, shopping, wine, Greek] Link