At the first glance Budapest is full of organic health (food) shops, Bio Bolt in Hungarian, however, most of them predominantly deal in pills and powders. So unless dietary supplements (including super foods, plant-based milk alternatives, flours, nuts and other ingredients to prep up your cereals) are what you're looking for or the shop (like the recently opened Bio Egészség Biobolt behind the Synagogue) is on your track anyway, it's much easier to stick to one of the many branches of the German DM chemist's chain for travel supplies like organic dry goods, fruit juices, vegan alternatives, eco detergents and natural bodycare. Check for organic labels as (especially for cosmetics and toiletry products) there's increased green-washing in conventional product lines which also are available here. The DM own brands "DM Bio" (food) and "Alverde" (body care) are both good value and safe if your budget is tight or you're in a hurry.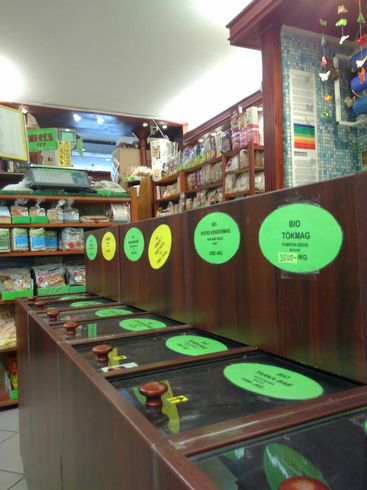 Food souvenirs
What you won't find there are typical food souvenirs from Hungary: paprika, salami and wine. To buy these you need to find a proper biobolt or farmers' market, and these aren't as easy to find as one might expect. A reliable source is BioABC, a small, yet well assorted organic supermarket in Belváros, located between Astoria and Kálvin tér. They have only a small selection of wines (above the fridges), the salami is tucked away in a separate fridge in the right-most corner next to the shop's window front, and you can choose from several types of Hungarian paprika powder. Apart from this they stock local fresh produce, dairy products, sweets and cookies, preserves as well as natural body care, both of local origin as well as imported goods, in short all daily necessities. Bring your own containers for buying loose-weight dry goods.
A second option is the Mennyország Szíve Bio Bolt a few steps from the Keleti Palyaudvar train station. Here you can also have a coffee, breakfast or vegan lunch just after arrival or before departing. However, the place is closed on weekends as well as public holidays which is why I cannot give an account of the quality of neither the food nor the range of goods sold here.
For high-end Hungarian wines pay a visit to Cultivini Wine Cellars and Tasting in Belváros (5th district). The place is very upmarket, with the opportunity for wine tasting, and specializes in Hungarian wines. If you ask for organic and natural wines the sommeliers will competently advise and answer questions, but you have to be bold on your interest in organic wines as they will point you to conventionally produced wines in the course of the discussion if you aren't firm.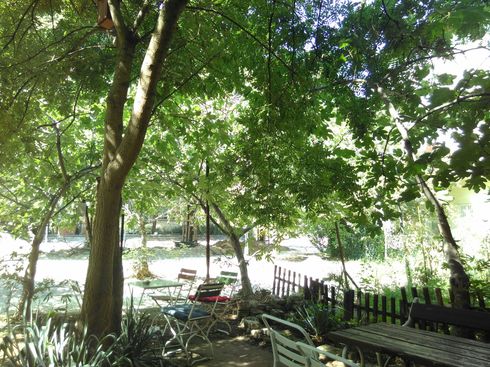 Books, coffee and tea
The classical bookstore you know from French movies does still exist -- and has adapted to modern times by becoming a cafe and co-working space in Erzsébetváros: The English language bookstore cum cafe Massolit does not only sell hand-picked English literature, a few tourist books, a small selection of stationary and fairly-traded coffee drinks or organic tea, but also offers quiches and cakes for both, a breakfast or the casual snack in between. While the milk for the coffee is organic (though not certified), the origin of the ingredients of the bakery items isn't easy to tell, for a good reason: Both, the bagels, cakes and quiches are hand-made by friends of the shop owner from the neighbourhood who earn an additional income this way. While some of them will certainly use eggs or milk from a properly working local farmer, conventional supermarket supply is also part of the game. If you want to stay here for work buy a co-working card, take a seat in the pleasant backyard or at some of the wooden tables inside. Water and wifi is for free but note that the place is closed on Mondays.
More to try
When I asked locals about where to buy organic fruit I was directed to the Fény utcai piac marketplace near Széll Kálmán tér. Unfortunately, none of the market stalls showed signs of the key words "bio" or "öko", or of any organic labels or certificates. Since I don't speak Hungarian (and the command of foreign languages among the farmers was limited, too), the topic was too difficult to handle -- let me know if you're able to find out more. On weekends there are two dedicated organic or at least partially organic farmers' markets, pay a visit -- I'm glad if you'd share your experience with me.
Closed
References on the web do often exist longer than shops and venues themselves. The following places I found abandoned when I stepped by.

Budapest, organic, wine, grocery, market, supermarkets, vegetarian, vegan, zero_waste, lunch, breakfast, coffee, tea, books] Link