Small-scale artisanal ice-cream parlours are by far not as omnipresent in Paris as in Italy, or even in Germany, and although organic products are easy to find by chance you have to plan carefully if you want to have an at minimum partially organic ice-cream on the go.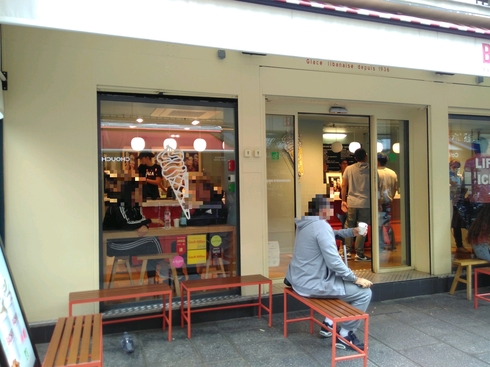 Fortunately you have at least two options near one of the main tourist spots, the Centre Pompidou which itself is located near the tube stop Châtelet-Les Halles: Glace Bachir treats you with fully organic, Lebanese dairy ice-cream which has a wonderfully light texture. The smallest serving are two flavours at 3.90 EUR: Define the size of your purchase and pay first at the cash desk at the right-hand side, then move over to the left part of the shop where you present your receipt and order the flavours. My favourite is the delicate rose ice-cream which was so delicious that I did not even try the pistachio coated Ashta ice-cream when I went there a second time.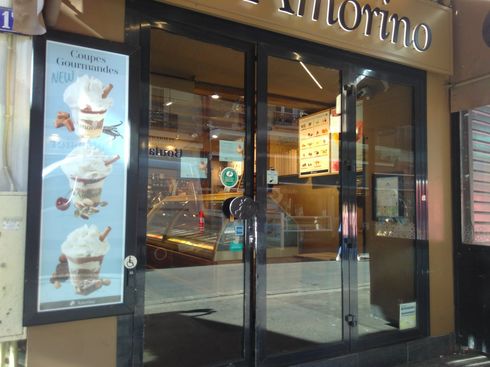 If you prefer a (vegan) sorbet head to the nearby branch of the internationally operating French Italian ice-cream franchise Amorino: They serve their all natural ice-cream shaped as a rose in a wafer cone, and while the quite heavy dairy flavours aren't organic, they always have two or three types of certified organic sorbet on offer. There are many more Amorino branches all over Paris, among others in the 14th district, Montparnasse, where they had three types of organic sorbet: cassis, lemon and blood orange. Avoid the so-called gourmet cups as well as the coffee at these places as you will produce easily avoidable extra waste (and it's not promised organic anyway).
More to try
For the sake of completeness: There are also more than a hand-full branches of the rivalling pan-European natural ice-cream chain, Unilever's Grom in town, one of them in the 6th district near Boulevard Saint-Germain, but since they do no longer promise organic ingredients you may as well stay away from it.
You'll better try to find Ümmy, an organic frozen yogurt stall on the university campus of the Cité Internationale Universitaire de Paris in the 14th district. A small serving of 100% organic frozen yogurt comes at 3 EUR.
Or you are lucky enough to pass by one of the two yellow Marguerite du Pré Citroën HY vintage food trucks which not only offer natural artisanal yogurt ice-cream made from organic milk, but also organic soft drinks, juices, smoothies, iced teas and coffee. The smallest ice-cream serving comes at 2 EUR.
Glace Bachir, 58 rue Rambuteau, Mon-Sat(Sun) 12-22:30(22)
Amorino Beaubourg, 119/121 Rue St. Martin, daily 11-23:45
Amorino Daguerre, 17 rue Daguerre, daily 10:30-24
Ümmy -- Le Yaourt Glacé Bio, 17 boulevard Jourdan, daily 13-21
Grom Rue de Seine, 81 rue de Seine, Mon-Thu(Fri) 12-23:30(0:30), Sat(Sun) 11-0:30(23:30)
Paris, Parigi, organic, biologique, vegan, ice-cream, frozen_yogurt, Lebanese] Link