If you are looking for pioneers in the German zero waste movement you'll find one of them in Dresden's Neustadt neighbourhood: Pack a selection of glasses, containers and bags and stop by Lose ("loose-weight"), a cosy zero-waste corner store in Böhmische Straße. Unlike other package-free supermarkets this one does not only sell dry food, natural body care and household chemicals but also offers veges and has a cheese counter. Although most of the products are organic some are not, so you might want to check the labels on the suspenders for the bio keyword or ask.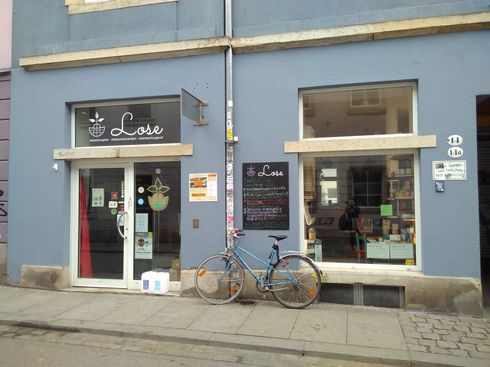 The interior of the shop was refurbished recently and is now much lighter and seems spacier than before. The reason for this is that the coffee corner which had been there before the corona pandemic has decreased and the serviced counter for bakery products, cheeses, antipasti and coffee moved from the entrance area to the backpart of the shop. Mind you: like other package-free shops Lose does not have an illuminated window front, so be brave to try the door handle – the place may look quite dark even when open.
In April 2019 a second zero waste supermarket opened its doors in the neighbourhood of Pieschen: crowd-funded Quäntchen (the name of an old weight unit, denoting about 4 grams), and by the end of 2022 it looks as if the place is about to close for good, sharing the fate of far too many zero-waste supermarkets these days.
The newest zero waste shop is Binnes unverpackt in the Eastern neighbourhood of Striesen. It's not just a classical zero waste self-service supermarket but offers meal-prep ("Kochboxen"), too: You choose the recipe for delivery next week in their online store, and you can collect all ingredients weighted according to the recipe in returnable glass jars. They also offer a selection of hemp (CBD) products.
Supermarkets with zero-waste stations
Moreover all shops of the co-operatively organised local wholesale chain VG Biomarkt offer a good selection of loose-weight organic dry goods (in addition to an abundance of often locally produced fruit and veges and dairy products and drinks of all kinds in returnable glass bottles).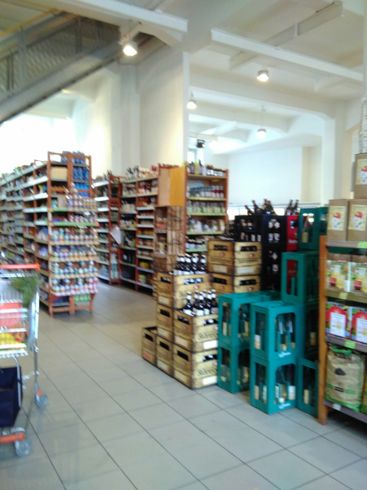 Their main shop is located near Bahnhof Mitte train station, an entire organic warehouse on the premises of a former newspaper printing plant. Standing back from the main street the first floor is occupied by an organic convenience store supporting your zero-waste efforts. On the second floor there's a well assorted organic fashion store mainly for babies, children and women, with a section offering organic body care, household chemicals, sustainably produced toys, stationary and more. For members prices are lower, but the warehouse is open to everyone.
On weekdays the self-service bistro directly facing the street offers delicious lunch (only snacks on Saturdays), and there's a cafe cum bakery shop featuring young local artists.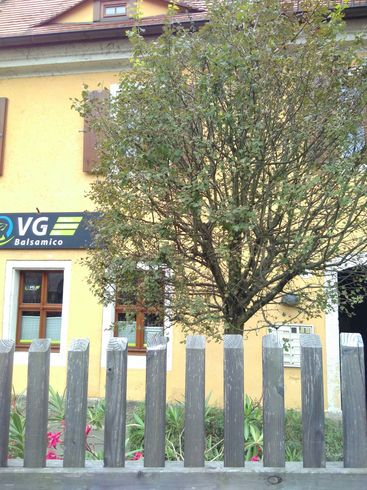 VG Biomarkt also has branches in the neighbourhoods of Neustadt (Hechtviertel), Striesen, Johannstadt, Strehlen, and Loschwitz,
The Loschwitz branch dubbed VG Balsamico is conveniently located opposite the downhill station of the cable-run suspension railway ("Schwebebahn") next to Körnerplatz at the northern end of Blaues Wunder ("blue wonder") bridge.
Opening hours and assortment (of loose-weight products as of products in returnable glasses) vary depending on the size of the market and the neighbourhood. However, all VG markets offer free drinking water refill stations and you can book cargo bikes to transport your purchase home free of charge.
While these local groceries were early adopters a number of nation-wide operating organic supermarket chains have been following. In Dresden all branches of the Berlin-based supermarket chain Bio Company introduced dry food suspenders for use with your own jars.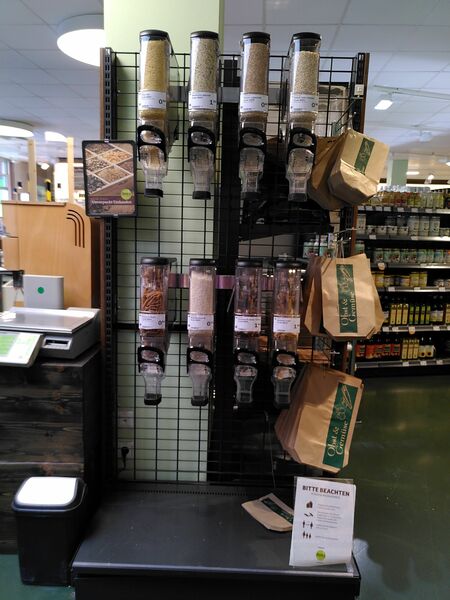 In 2021 the Denns Biomarkt was the first branch of this chain where I found a dedicated shelf with fairly traded dry food in retour glasses and a few gravity bins with nuts, seeds, rice and noodles. A start at least, although I have my doubts that this small selection will be sufficient to nudge people towards the extra effort it takes to bring along glasses and jars.
Farmshops and factory outlets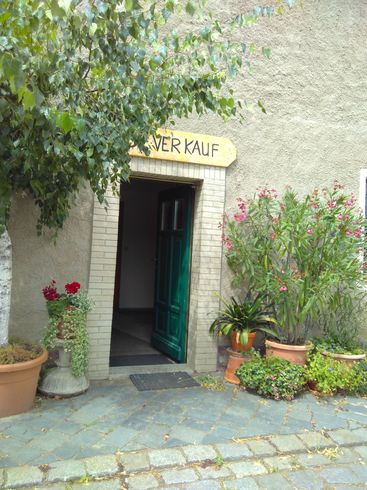 When you take the Elberadweg bicycle route on the southern shore in direction Niederwartha you'll pass a nice old farmyard, the organic Bauernhof Franz in Niedergohlis. It runs a subscription scheme – phone in or e-mail your order until Wednesday and collect it from the farmshop on Fridays and Saturdays, but if you happen to step by on one of these days and there's someone around you may be able to buy vegetable oil and perhaps also potatoes or other produce from the farm.
In 2022 Vegannett, a Weißer Hirsch-based producer of vegan spreads, started filling products in standardized returnable deposit glasses which you can buy directly from the manufacturer on Wednesdays.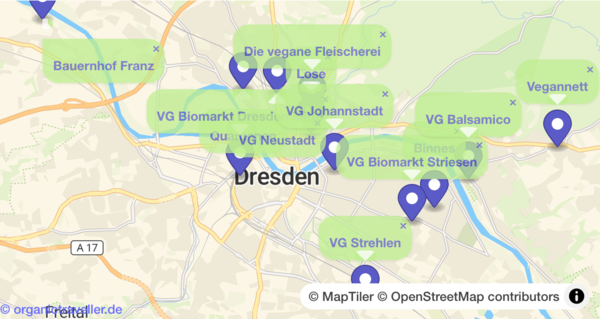 More to try
For more vegan alternatives to cheese, meat and sausages head for Die vegane Fleischerei in the Neustadt. January, 2023 a vegan "butcher shop" opened here, and they assured me that all of their products are made from predominantly organic ingredients. They also offer ready-made "meat" salads and soups, and I'm looking forward to visit the shop in person. Don't forget to take boxes and jars with you.
(Temporarily?) closed
Dresden, Neustadt, organic, coffee, vegan, zero_waste, unverpackt, cafe, grocery, market, supermarkets, bodycare, household, hemp] Link