For those of us living in big Western cities and metropolises and used to a stable supply with eco-conscious products small Norwegian towns like Namsos in Northern Trøndelag come as a shock: In this rich country with lots of well-educated people the individual has to take a big extra effort to source organic food and eco-conscious household products. It's not only about to know where to go, no -- you may simply not be able to find staples in organic quality. Planning ahead often is no option since you cannot rely on supermarkets to have organic sugar or cream all the time, flavoured yoghurt, gomme (traditional Norwegian dairy spread), durum pasta and ice-cream once where available, but no longer, yeast or mushrooms (to name a few) have never been seen here. Creativity is key: Shop what's available and hack your meals according to what is on offer.
There's no support for the zero waste approach, in fact the big chains usually sell organic vegetables and fruit pre-packaged in plastic foil to avoid accidental mixing with the larger conventional batches.
Forget completely about eating out -- in a town like Namsos which has dozens of branches of the cheaper supermarket chains, but not even a single branch of more upmarket chains like Meny (which was closed about eight years ago) or Coop Mega (which was converted into an inferior Coop Extra at about the same time) the general inhabitants' priorities obviously do not include quality food. (The region's organic farm-to-table delivery service, Økomat Innherred, stopped serving Namsos at about the same time owing lack of demand.)
Food and staples
The good news is that even Namsos is not completely ignorant of a certain trend towards a more sustainable lifestyle, and, to my surprise, after years of stagnation, I have been observing an improvement since 2016. By now there's a steady supply of organic apples, oranges, lemons, bananas, eggs, milk, wheat flour, whole-meal pasta, butter and oil, fresh herbs and a basic assortment of dried herbs and spices, tomatoes (both fresh and canned chopped), onion, carrots, bell pepper, cucumber, salad, tortillas, ketchup, coffee, tea, chocolates, muesli, apple juice, kefir and sour-cream ("rømme"), cheese, crispbread, sesame and sunflower seeds, preserved olives, canned corn, peanut butter and chocolate spread, honey, baby food and usually also bread, potatoes, rocket in summer, and cauliflower (I may have forgotten some items). Hence vegetarians are quite reasonably catered for, and this is a vast improvement compared with the situation only two to three years ago.
Omnivores have a harder life: You may be so fortunate to find "Gilde økologisk spekepølse", a cured meat speciality similar to a salami, and if you scan pre-packaged meat products (both frozen and fresh) you may find minced meat, sometimes even beef cuts and before X-mas pinnekjøtt. In general scan carefully for the "økologisk" keyword and all organic labels you know of, especially the Debio label, the European one and the Swedish KRAV. You may be surprised to find a new type of cheese, pre-backed rolls or even Norwegian beer.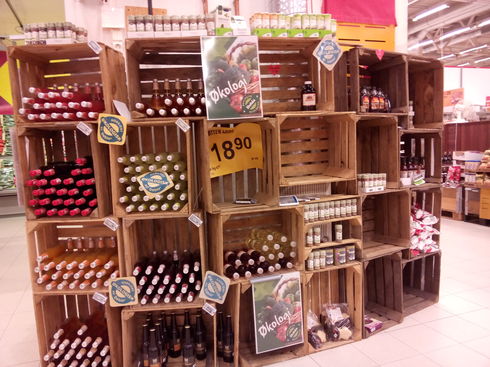 To keep frustration as low as possible shop from the Coop supermarkets -- the Coop Extra Verftsgata within the Storsenter mall and the Coop Extra Bygg in Spillum offer most organic options and often complement each other. All products of the Änglamark own brand as well as all dairy products from Røros meieriet are organic. Veges are often advertised as the Aroma variety, but to be sure check for organic labels. The branch on Verftsgata has had a stronger organic focus during the past years and still offers a better selection of veges, among them pears, fresh ginger and garlic, and sometimes even of non-mainstream varieties. But the bigger Spillum branch has kept up: They even showcased a surprisingly good selection of organic lemonades and light beer from Reins Kloster for the holiday season 2016/17, proudly sporting hand-written organic labels. By now organic fruit and veges have their own sales area, so it's been easier to find them. The Spillum branch has been offering organic parmesan cheese, frozen bread rolls, plain yoghurt and even organic cream since -- products I've never seen in town before. Still, there are quite a few product categories which are impossible to find in organic quality, among them Norwegian staples like sauerkraut, frozen pizza and (!) Italian-style pasta made from durum wheat.
For ice-cream stop by the (otherwise inferior but late-evening open) Rema 1000 supermarket opposite the Rock City cinema: The chain recently invested in Kolonihagen, a 100% organic delivery service, allowing them to develop and extend their own brand. Some of these products (like ice-cream and orange jam) can be found in Namsos as well.
To supplement baking ingredients, dried fruit, tea and sweets head for the small Life healthfood store within the Storsenter complex -- just follow the indoors aisle starting at the Coop branch and head for the second shop to the left. They offer a decent range of products of the Helios brand of organic and biodynamic quality and are the most reliable and exhaustive source of organic tea and tisane bags in town.
Organic wine and stronger beer can be sourced from the town's Vinmonopolet also located in the Storsenter mall -- they usually have a small selection of organic items in stock, but you're required to order more fancy stuff in advance.
If you happen to be in town on the few occasions a farmers' market (Bondens marked) is being held or during the annual Kulturmartna fair on the premises of Namdalsmuseet in August shop for organic cured meat smoked in the sauna of Brattlia farm in Namdalseid. If you call in advance you may also pay a visit to the farm itself and buy their products directly (leave the bus from Steinkjer to Namsos at Lyngen stop and follow the signs.) On both market occasions one or two other local organic small scale farmers will sell their produce.
The best source for smoked or fermented wild salmon as well as fermented char or trout ("rakfisk") and dried wild fish is the town's only real butcher cum delicatessen, Aakervik. On a few occasions they also stock organic meat, and they are a reliable source of Norwegian lamb chops: Even though usually not organically certified most Norwegian sheep spend their lifetime roaming in the mountains, feeding on what the countryside has to offer, and thus, a stress-free death provided, can be taken for almost organic.
In general a huge amount of the country's organically produced milk and meat is being sold undercover as conventional food. Where, you might ask, go all the Norwegian organic hens at the end of their lives as producers of organic eggs? As of today organic Norwegian chicken meat products have been unseen of in the country's supermarkets. While the countries largest dairy distributor, Tine, seems to give up its long-time opposition against organic products, egg distributor Prior and meat distributor Gilde often are not interested in marketing their products as organic claiming that consumers would refuse to buy them as they would be perceived as overprized.
Household and body care
Detergents and toiletries of Coop's Änglamark brand meet the requirements of the Nordic Ecolabel and are your best choice for household detergents usually free from artificial colourings and perfumes. Unfortunately this label, to name a few disadvantages, allows aggressive tensides such as SLS and SLES and does not require all natural or even organic ingredients.
For superior natural skin care or even organically certified body care products you have the following options: The Life healthfood shop stocks a basic selection of creams, lotions, soaps, toothpastes and hair care products. In addition the town's only natural care hairdresser's cum beauty parlour Art of Nature in the centre of town will sell organic hair and skin care to passers-by. You will also find a very limited selection of natural body care at Namsos Bandasje opposite Storsenter. There's no supplier of natural or even organic decorative cosmetic products in town.
Fashion
Fashionistas should keep clear of Namsos, but the local H&M branches at Storsenter offer a reasonable selection of fast fashion items made from organic and sustainable materials. Look out for the "H&M conscious" brand with their green labels.

Namsos, organic, wine, supermarkets, grocery, market, fashion] Link