To my knowledge there is no such thing as a fully organic ice-cream parlour in town, but as long as you are in the city center the next place offering decent artisanal ice-cream made from organic milk is just a short walk away.

The easiest bet, with several shops both, north and south of the river Salzach, is a local chain dubbed

Icezeit, preferring fairly traded and sustainably grown ingredients. Creamy, and with a mouth-watering selection of flavours ranging from the usual suspects to greek honey yogurt or peanut caramel, this ice-cream is hard to resist. Avoid the (additional) toppings you can buy on top as none of them are organic. During the warm season they also have a frozen yogurt shop opposite the ice-cream parlour in Kaiviertel near Residenzplatz where you pay by weight.

All Icezeit shops keep open longer than given below when outside temperatures are high while you may find them closed on extremely bad weather days. In the case of the latter opt for Cafe Timeless a few steps off Linzergasse pedestrian area where no such restrictions appear.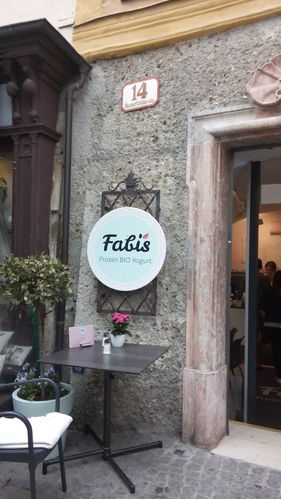 Extremely tasty frozen yogurt throughout the year can be had at Fabi's Frozen Bio Yogurt located within the building of Mozart's birthplace at Universitätsplatz. This clean, no-frills ice-cream parlour uses organic milk, both for the frozen yogurt and for Italian-style coffee drinks. In addition to the plain yogurt they occasionally have a passion fruit variety. Unfortunately the organic promise in the name of the place is restricted to the milk. Neither the toppings (with a notable exception of some caramelized nuts) nor the coffee sold here are organic. The yogurt comes in small, medium and large sizes, always in cardboard cups with a plastic spoon. So even if you choose to sit down on one of their tables you cannot avoid waste, in fact you pay less when taking away your coffee drink in a one-way coffee cup.
If you insist on 100 percent organic ice-cream pay a visit to Organic Pizza Salzburg on Franz-Josef-Straße. They do not offer a cone to go here but the ice-cream is locally produced by a long-established organic ice-cream maker.
A few steps away, back in Linzer Gasse, you'll find the Salzburg branch of Eis-Greissler, a Kulmbach-based organic dairy farm producing their ice-cream from the milk of their own cows, often scented with organic spices from the Sonnentor farms (which by coincidence, have a shop next door). Unfortunately the shop is closed during the entire cold season.
Ceased to exist
The following places do no longer exist, even though you still might find references to them on the web:

Salzburg, organic, ice-cream] Link