A classical spa town on the foot of the Euganean hills (the "Colli Euganei" in Italian), about ten kilometers south-west of Padua, Abano Terme still oozes of old grandezza. And with an audience interested in health and wellness I'd expected to find more places serving and selling organic food than in other towns of similar size (like nearby Selvazzano Dentro). So in fact this is a somewhat disappointed account on what I found during my half a day long visit -- no restaurants or (Italian) bars, only a spacious supermarket of the NaturaSi chain and a partially organic ice-cream parlour.
The first, a clean and welcoming place, covers all daily necessities, both in terms of eating, drinking, and hygiene, and offers an abundance of unpackaged fruit and greens. There's also a small number of dispensers for rice and pasta to take home in your own containers. Given that on the web the Padua-based organic restaurant Vegetariamoci can still be found under the same address I hoped for a small cafe, but unfortunately the listing is due to the fact that the Vegetariamoci people run the predecessor organic market dubbed "Bio Emporio" in this location. So no organic coffee or sandwich here.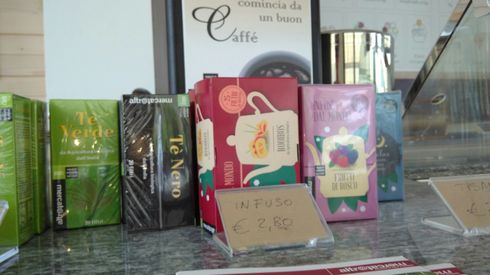 Fortunately the best ice-cream parlour in town is not far. Gelateria Panciera uses predominantly local and partially organic ingredients for its delicious artisanal ice-cream and granite (water ice slush). When I was there it turned out to be a coffee lovers dream: coffee granita, coffee ice-cream and a delicate, off-white coffee-cream variety along with many other vegan and dairy flavours. The granita (apart from coffee they offered lime and grapefruit) had a more solid consistency than in other places, and you can also buy organic tisanes. Unfortunately for the foreign visitor not yet fully adapted to Italian customs this family-run place usually won't open until after the traditional siesta. Be aware that also the organic supermarket usually is closed during the hottest hours of the day.
More to try
Padova, Padua, Abano_Terme, Colli_Euganei, biologico, organic, zero_waste, ice-cream, supermarket, grocery] Link