Those with a sweet tooth may feel in heaven when coming to the comparatively ugly urban sprawl which comprises the municipality of Selvazzano Dentro south-west of Padua and north of Abano Terme: In the neighbourhoods of San Domenico and Tencarola, devided by the crossing of the river Bacchiglione you will find a confectioner's shop cum day bar, an ice-cream parlour and finally a supermarket serving customers preferring organic food and delights.
When entering the municipality from the west following Via Euganea your first stop should be at a roundabout with an Italian day bar cum Viennese-style cafe cum confectioner's shop where the main ingredients are organic. At Pasticceria Da Angelo you will find organic and vegan options clearly marked, and the friendly staff will proudly and often even unasked point out what's organic. If you don't feel like a delicate ice-cream or a gorgeous pastry along with an organic coffee drink (with organic soy milk if you prefer) have a tramezzino sandwich or toast together with a freshly made organic smoothie, or an organic soft drink. Vegan sandwich options are readily available, with organic "cold cuts", while the meat items on non-veg versions usually aren't organic. A serving of ice-cream comes at 1.40 EUR, with each additional scoop for 1.10 EUR. Vegan varieties aren't restricted to fruit flavours, you can also choose among a number of flavours made with rice or almond drink. Buy a bag of organic cookies to take home if you like, and if you're lucky there may be an organic lunch, dinner or ice-cream special during your stay. Advanced booking by phone is required for such an event.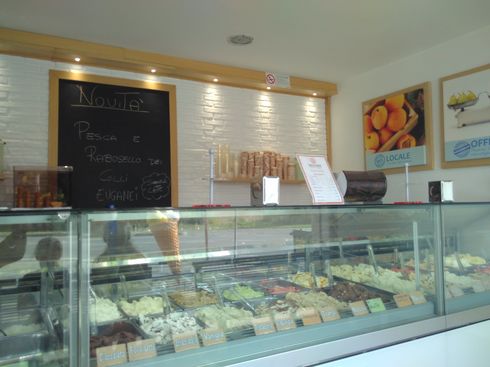 Not enough ice-cream or arriving after half past nine in the evening? Well, you can be helped. Gelateria Soleluna a few meters east opposite Hotel Piroga uses more than 80 percent organic, and predominantly locally sourced ingredients for their granite, gelati, and ice cakes. A delight not to be missed, one ice-cream scoop goes for 1.40 EUR, each additional one adds approximately 1 EUR to your bill. Personally I prefer the delicate, creamy dairy flavours to the vegan fruit-based ones. The granite are available in two sizes, for 2.80 or 3.50 EUR – the refreshing lime-mint or coffee varieties will get you going in a minute on a warm summer day. Unfortunately the granite are served in one-way plastics cups, each with one-way teaspoon and straw, so you will produce a lot of waste. On bank holidays the shop keeps open as on Sundays.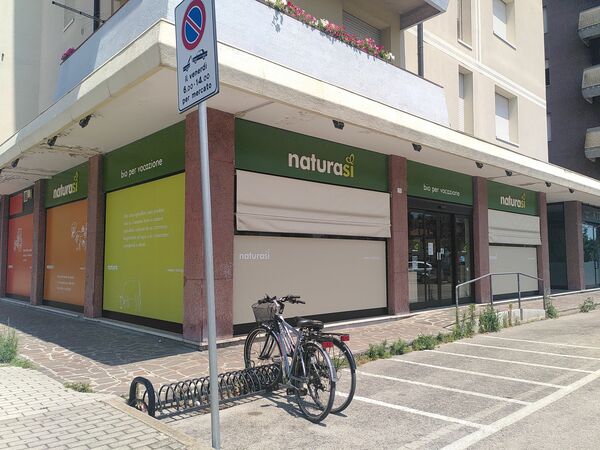 Groceries
To buy everything you need organic, from fruit and veges over dairy products and vegan alternatives to dry food, natural cosmetics, the forgotten towel or household detergents follow Via Euganea in eastern direction, cross both, the bridge over the river, and the street side. Here, on Via Padova (the street changes its name in Tencarola) you'll find a well assorted NaturaSi supermarket which also has a small section of self-service zero waste dispensers for grains and a few other dry foods and refill for most household detergents. This would also be the place you had to do most of your organic shopping when living in one of the villages in the vicinity – your next real options being the NaturaSi in Abano Terme or, naturally, the ones in the city of Padua.
Pasticceria Da Angelo, Via Euganea, 39, Mon,Wed–Sat(Sun) 7–20:30(7–13:30, 15–20:30)
Soleluna, Via Euganea, 21, daily 15:30–22:30, Sun 11–13, 15:30–22:30
NaturaSi, Via Padova, 73, Mon–Fri 8:30–13, 15:30–19:30, Sat 8:30–19:30
Closed
Come una volta, Montegalda, Via Roma, 45 (neighbourhood grocery)
Padova, Padua, Selvazzano, Montegalda, organic, biologico, zero_waste, vegan, ice-cream, supermarkets, coffee, cafe, grocery, bodycare, household, confectioners] Link