Ice-cream has never been as popular as during the covid-19 pandemic when ice-cream parlours started early in the season, and grown-ups ceased to preach that it was too cold to have one. (Although, in August 2021, I accidentally listened to the conversation between an ultra-thin insta-styled woman, presumably in her thirties, with her parents at their weekend get-together at a an ice-cream parlour in Bremen -- while temperatures were about 22 degree Celsius: Mother, deciding on a sundae: "Wouldn't you like to have an ice-cream, too?" Daughter: "Oh, no, thank you, it's too cold. I'll have a water.")
As the interest for quality local and organic produce has been increasing (too slowly, but significantly) I wasn't surprised to find a new organic ice-cream spot in the city of Leipzig, while filling the time between two trains with a stroll.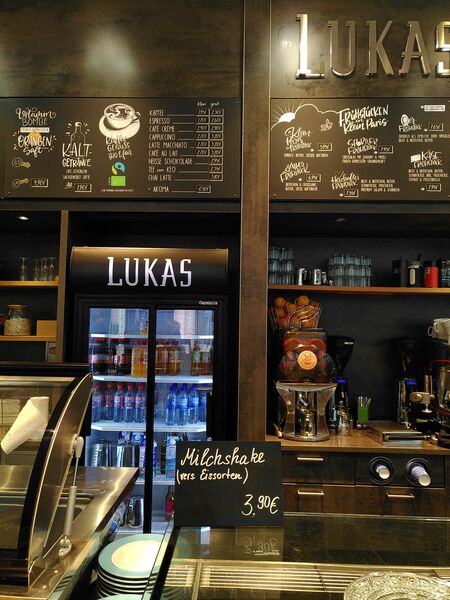 With more than 20 shops within the city boundaries the family-owned conventional bakery Lukas seems to be the largest bakery chain in Leipzig -- probably not the place you might look for organic ice-cream. But in May 2021 they started to produce twelve types of organic ice-cream at their branch at Bayrischer Platz. This must have proved to be a success since I found it at their cafe am Brühl, though only the four most basic flavours (vanilla, mango, chocolate and strawberry), at 1.20 EUR the scoop. The cafe also offers organic fairly-traded coffee (on the spot or in a Recup retour cup to take with you) and a small assortment of organic soft-drinks -- check for the "bio" label. Unfortunaltey th milk isn't organic. The cafe has quite liberal opening hours although I'm not sure whether you can buy an ice-cream at 7 o'clock in the morning.
Just around the corner from the Macis restaurant you'll find the city's organic ice-cream maker, Tonis. Unfortunately I was too late after dinner and could only watch them closing. They also have a second branch in famous Könneritzstraße.
More to try
As mentioned above my time in Leipzig was limited (as was my upfront research) -- but here are a few more tips, for you to try (and tell me if you like):

Leipzig, organic, ice-cream, cafe, coffee] Link