A hotspot for the coffee and tea trade the Hanseatic city of Bremen has a tradition for exotic beverages, and has always been a place with room for a subtler and more sophisticated approach to these beverages than the conventional mass-market. Organic and ecological projects have been blooming here for much longer than elsewhere, and so you can expect to find long established organic places blossoming alongside recent start-ups. What you will rarely find however are shiny, polished hipster cafes.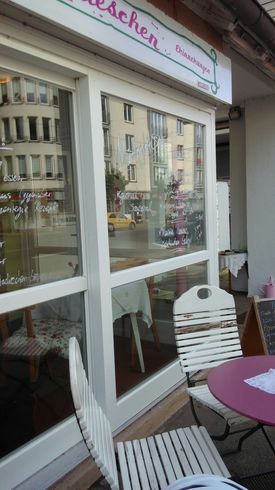 Neustadt
If you have to describe this neighbourhood in a sentence you'd probably point to the omnipresence of flee market-purchased furniture and objects in its lovingly and individually decorated independent shops and cafes. The beer tables on the pleasant garden terrace of Cafe Radieschen ("radish") as well as its indoor walls are all painted pink! If you come hungry first have a predominantly organic vegetarian or vegan pasta dish or sandwich before you turn to their impressive choice of home-made, predominantly organic cakes. Most drinks as well as the milk are organic, you can have an organic vegan ice-cream in the summer, and ingredients are sourced locally as far as possible. Lunch is usually offered between 12 am and 3 pm, and instead of the weekend the place is closed on Mondays and Tuesdays. The cafe plays host to a lot of neighbourhood activities, among them home-cooking events with young refugees from the house across the street. They always take a summer vacation.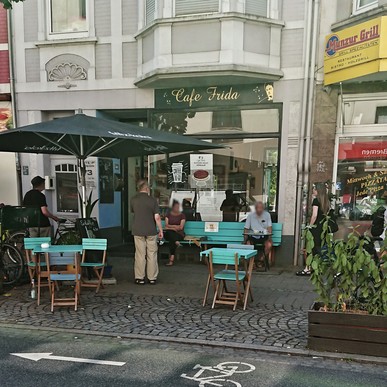 Closer to Wilhelm Kaisen bridge and a few steps from the Kaemena ice-cream parlour you'll find a sweet art cafe dubbed Cafe Frida. They serve organic tea, soft drinks and soy milk for your coffee drink alongside home-made cakes, but neither the cakes nor the coffee, milk and oat milk are organic. You may however buy organic fairly traded Slokoffie coffee sailed from Honduras and distributed by bicycle to have at home. Due to covid-19 restrictions you can not have breakfast here for the time being.
Viertel
Whether you visit the Kunsthalle museum of art or just come by on your way into the alternative neighbourhood of the Viertel climb the stairs to the museum's self-service Cafe Sylvette inside the art museum. It's run by the crew of the Canova restaurant behind the museum and offers home-made cakes, organic soft drinks or tea, coffee drinks with organic milk and partially organic savoury snacks at upmarket prices, but in stylish surroundings. When the weather is nice opt for the outdoor seating for the views (and corona safety).
Whether you want to spend some time reading with a delicious coffee drink aside or simply feel for a short espresso in between, the Contigo shop in Ostertorsteinweg is definitely worth a try. The shops of this small chain of fair-trade shops resemble each other, both, when it comes to the interior design as well as in the assortments of goods (predominantly coffee, tea, chocolate, jewellery, bags and colourful accessoiries). The Bremen branch moved lately, and, on its new premises, has quite a large area with chairs and tables so that the shop (other than the ones in Dresden or Göttingen) has more of a coffeehouse atmosphere. Although you have to place your order at the till you will be served. They use sparingly roasted high quality coffee beans which result in a "greener", tangy taste even of the milk-based drinks like a flat white.
Usually it's not crowded, and hence a place to go when you feel for a less noisy spot. Surrounded by a gorgeous fair fashion and another fair-trade shop on one side, a health food store on the other and an organic cosmetics shop (almost) opposite you may however feel tempted to spend more money than initially planned.
Another cosy and serene place for an Italian-style coffee drink is just a few steps away: the Noras reviewed in the restaurant post.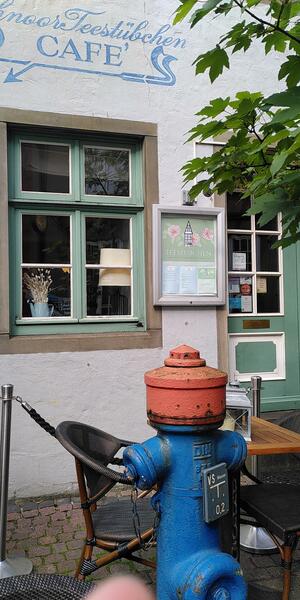 Schnoor
The city's narrowest lanes are to be found in tourist hotspot Schnoor at the other, Northern shore of the river Weser. To enjoy the atmosphere of this oldest part of town dating back to the 15th and 16th century, follow the Wüstestätte ("waste site") alleyway until the end and have a tea in a beautiful yet narrow two-storey tea house and shop dubbed Teestübchen ("little tea parlour"). Nice weather provided you can also sit outdoor and enjoy breakfast or tea time with a home-made cake, or a high tea with a pasta, typical local dishes, or Alsatian "pizza" (Flammkuchen). Many ingredients are organic, but you might want to be picky when choosing the tea since not all of them are.
Mind you: if you approach the Schnoor from the water front you'll approach the place from behind: The outdoor tables you see in the picture above do not belong to Teestübchen, and a surprised waiter from the adjacent restaurant won't be able to meet your requests. Simply move around the house!
City centre
Starting in the summer of 2020 the coffee bicycle of Coffee Bike has been offering Italian-style organic coffee drinks to city dwellers. Looks environment-friendly? Well, the bicycle is only make believe, and they serve their fare in one-way cups. You can easily top this – with a fairly traded organic coffee transported to Bremen without climate emissions by sailship and bicycle, in an earthenware cup, at the Biten food truck on the Domshof market.
On Mondays and Fridays you may also find the Bremer Straßencafé here.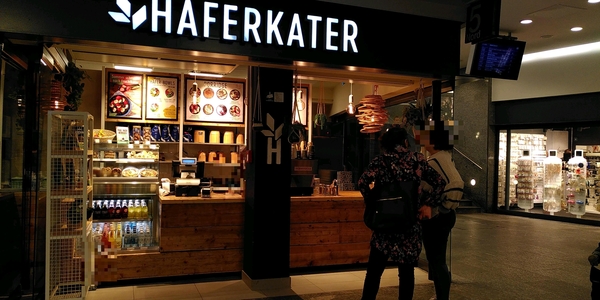 For a filling (vegan) porridge and coffee drink on the go or on the spot the Haferkater cafe in the passage of the main train station is an option on weekday mornings. While all pre-packaged products of the Haferkater brand and the cow milk are organic, it remains unclear whether the freshly rolled oats, and the toppings are so. The coffee is not organically certified, but fairly traded, and the oat drink unfortunately is conventional fare. They also have a decent assortment of bowls, wraps and sweets, and the shop assistant told me that some of the ingredients used here were organic, but was hesitant to specify what. You may come with your own box or cup; if not you may get a returnable bowl or cup as long as you trust (and are willing to install) the Vytal app. Insist on an earthenware cup if you intend to drink your coffee on the spot.
At the university campus
University refectories usually are no gourmet temples, but it is nevertheless a pity that the Mensa refectory on the campus stopped to offer organic side dishes. In 2023 they increased their efforts again, and now make a commitment to use only organic dairy products (they also offer organic home-made pasta at the "Pastawerk" booth Tuesday through Thursday). So you still can have an organic and fairly traded coffee drinks with locally sourced organic milk from the coffee vending machines at Cafe Central. It's not a delight, though – the coffee tastes bitter from too high a temperature inside the machine, but it's cheap and ethical.
Tasty speciality coffee can be had from the mobile street vendor Bremer Straßencafé on Tuesdays and hursdays around lunch. (The other working days it is supposed to be found at the Domshof in the inner city (on Mondays and Fridays), and on Saturday at the Pappelstraße in the Neustadt (supposedly at the neighbourhood market place) – if you can confirm this please let me know.)
The coffee isn't certified organic, but the cow milk used for coffee drinks is. Unfortunately the lovingly decorated coffee car (a former small scale butcher's market car which the owner refurbished and staffed with both, a barista coffee machine and a dish washer) is likely to be retired soon and replaced by a car trailer. On Thursdays the vendor may sometimes still be there after 2pm.
If you want to invest into regular supermarket prices, the new branch of the local Aleco organic supermarket chain on the campus of the economics (Wirtschaftswissenschaften) school of the university has a self-service cafe where you can get organic snacks and coffee drinks. Their coffee machine however is a fully automatic one, so do not expect serious barista fare here neither. Due to covid-19 restrictions the self-service cafe is closed for the time being, but you can get coffee and cake to take away, simply don't forget to bring your own mug and lunch box to avoid waste.
Habenhausen
Obervieland is probably not the part of Bremen you will visit as a tourist, but if you happen to come here and are in the mood to mingle with natives step by the Gartencafé of the protestant St. Paul's parish in the former village of Habenhausen to have a coffee. There's fairly traded organic coffee, organic milk, organic soft drinks and drinking water bottled by a social business of the not-for-profit organisation Viva con Agua. The American cookies are of course home-made, and there are no fixed prices: You pay what you can, but please, be honest. The cafe is closed on Mondays and during the school holidays in summer.
Closed since the covid-19 pandemics
Closed
Cafehaus Moma, Straßentor 1, Worpswede (partially organic cafe closed since August 22, 2017)
Bremen, Neustadt, Schnoor, Worpswede, organic, fair, vegan, vegetarian, coffee, tea, lunch, cafe, breakfast] Link