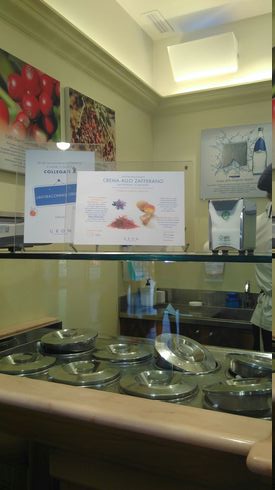 Right after arrival at Venezia Santa Lucia train station, you may arm yourself for the queueing at the waterbus ticket office with a delicious ice-cream, milk-shake or granita from Gelateria Grom fronting the entrance hall towards Canal Grande. They use organic milk, some organic fruit, only natural ingredients and of course no additives, and have in general a eco-conscious agenda. Above all the ice-cream is gorgeous, and a favourite of the locals, too, as can be seen by the increasing number of often crowded Grom branches in Italian cities. For the ice-cream you have to specify a size -- small, medium or large -- and can choose a suitable number of varieties; up to two varieties for the small, and up to three for medium size. For something special (or if you are vegan) try a granita water ice slush (medium or large), especially when espresso granita is available -- it will easily take you through a summer night.
Grom has three more, in fact older branches in Venice, one of them on Campo San Barnaba square. If departing the waterbus at Ca' Rezzonico stop you can't miss it when following the only way into the open of the square and keep an eye on the left side.
On local websites the owner of Gelateria Alaska, a small whole-in-the-wall shop near Campo Santo was dubbed "king of organic ice-cream in Venice", so I went there to try and ask. While the all-natural ice-cream itself was perfectly palatable he told me that the main ingredients, milk and sugar, were too expensive, but he would occasionally use organic fruit and spices. Unfortunately he couldn't tell me whether any of the flavours on display contained organic ingredients that day.
If you read my post on Rovigo you may be tempted to try Gelato Fantasy in Calle dei Fabbri. DON'T! They are not connected with the Gelateria Fantasy in Rovigo, and they definitely do not use organic ingredients.
Ceased to exist
The following place does no longer exist, though you find still find references on the web:

Venice, Venezia, organic, ice-cream, coffee, cafe, trainstation] Link