No carbon and nuclear power, no GMO -- the window front of the more than 20 years old budget hotel Solar Hôtel features Sea Shepherd and Greenpeace and makes very clear the convictions guests are expected to share or at minimum to tolerate. Located in the 14th district near metro station Denfert-Rochereau this welcoming, family-friendly place offers the luxury of eco-certified cleansing agents and solar-powered illumination of its facades, but not necessarily of Paris elegance.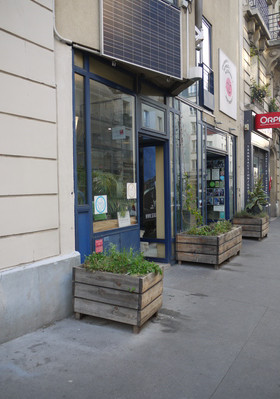 If you have a room on the upper floors you may even have a glimpse of the top of the Eiffel tower -- unfortunately the ugly Tour Montparnasse is in the way for a beautiful view. The family rooms are marked for one to three persons, but can be easily used by a family of four as long as two children share a smaller double bed. The hotel's interior emphasizes on longevity and recycling, not necessarily on natural materials (though the towels are made from organic cotton), with headboards and tables made of recycled wood which have been there since 1992, and still do not look shabby. On the other side you may be disappointed to find (re-used) plastic cups at the bathroom and blankets made from 100 percent polyester.
Visitors are encouraged to use the narrow, blue-painted spiral staircase instead of the lift to save electricity and asked to separate their waste into the bins in the entrance area. You may also ask for bicycles.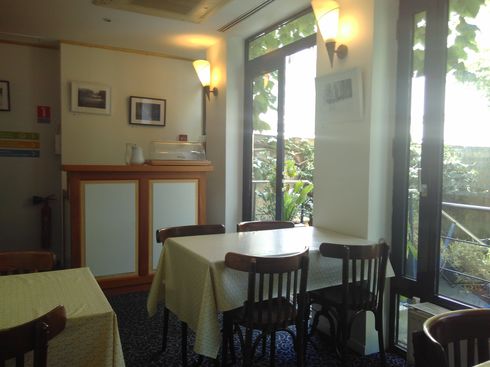 The fully organic French-style breakfast consists of tea or coffee and delicious croissants and baguette with jams and butter. In addition you may help yourself with apple juice, yogurt and breakfast cereals.
There's a sister hotel (more precisely: an annex) dubbed Le Lionceau nearby where organic tea and coffee are promised to be available in the rooms.
Paris luxury
If you are on a romantic vacation or have the budget for ordinary Paris hotel prices there's a number of more luxurious places to spend the night and wake up to a sumptuous organic breakfast. Although I verified the existance of the hotels below I haven't stayed there (yet) and am interested in your experience.

The first ones on my list are the two Green Hotels Paris certified with the European Ecolabel: Hôtel Gavarni and Eiffel Trocadéro in the 16th district which promise 100 percent organic and/or fairly traded breakfast.

In the 4th district, near Place des Vosges Hôtel Turenne does not promise 100 percent organic breakfast, but some (perhaps most) of the fresh items, pastries and cold cuts should be organic. It comes at additional 14 euros per person (7 euros when you book your room at the hotel's website) and at no extra cost for children below 12 years. Breakfast on the room is being served without an extra charge.

And finally: As you righteously may expect from a carbon-neutral luxury hotel the Eden Lodge in the 11th arrondissement is reported to offer fully organic breakfast, although the hotel website only promises organic fairtrade coffee, tea and eggs. The place is located near Bastille and the Père Lachaise graveyard.

Paris, organic, hotel, accommodation, breakfast, lunch, dinner, bar] Link