An evening out with organic dinner and later a civilized drink at a bar? While in other cities it can be quite challenging to find an organic drink outside of restaurants Bremen has dedicated American-style bars where you can have fully organic drinks and at least partially organic cocktails until late at night.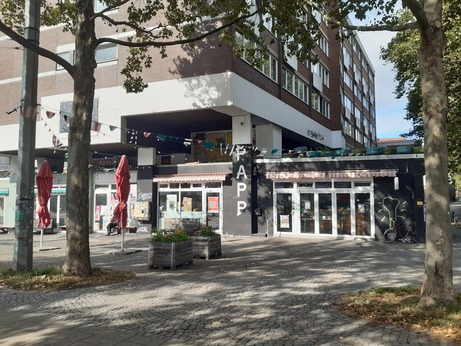 Not only during corona pandemics: What about a (late) summer night drink with a view on the Weser river? The pop-up bar Papp at the South-Eastern side of St. Pauli bridge (the prolongation of Wilhelm Kaisen bridge) isn't as pop-up as its location in a shack near the river shore might suggests as it has been there since summer 2015. There's a spacious square under trees in front of the tiny bar, sometimes with live concerts or electronic music. During the day time you may come here and have a coffee (and cake), a soft drink or even a bottle of beer.
In the Viertel neighbourhood, near Sielwall the Heldenbar ("Heroes' bar") comprises the entrance to the Cinema im Ostertor where films have been shown continously since 1959. Before corona the rustic craft beer place had been notorious for its Wednesday quiz nights. organic gin or cider. While it is advisable to ask for organic alcoholic drinks (there's at least one organic gin and organic cider) most pre-bottled soft drinks are organic and fairly traded (as is the coffee).
If you prefer a lounge atmosphere or want to be sure that your drinks are 100 percent organic, simply proceed around the corner to Noras, however: this place closes too early to be a respectable bar – although pleasant it won't save your late evening.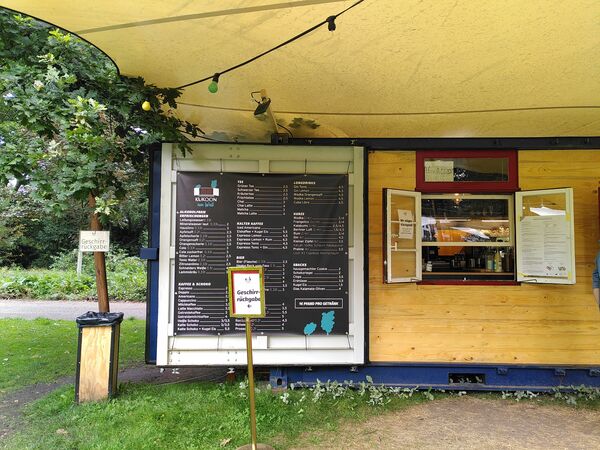 For a no-frills covid-19 outing in the park you may also step by the Kukoon food, no wait: drinks truck opposite the Kunsthalle. Unfortunately they do not mark organic drinks as such on the menu (Lammsbräu beer is safe as are some of the soft drinks), so you have to specify that you insist on an organic drink.

Bremen, organic, coffee, bar, beergarden, covid, corona] Link