Pirna, a nicely restored small town a little east of Dresden and the entire surrounding district Eastern Erzgebirge/Saxon Switzerland may be best known for its bad reputation as a stronghold of outer right-wing extremists, neo-fascists and populists. But fortunately the town also has a strong civil society which cleans up the spitted at windows and works for a humane neighbourhood and the integrity of creation. So whether you're on the road with your bicycle travelling the Elberadweg or take the urban train from Dresden -- have a break to support these brave people and marvel at the town with roots in the stone age, its rich medieval and modern history.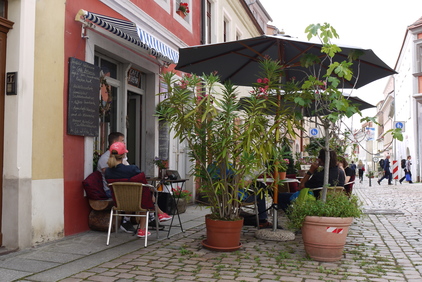 For a coffee break head for Café Bohemia a little off the market place, located in a restored renaissance house built in 1480. When the weather is nice you may take a seat outdoors, on the pleasantly quiet cobblestones of Schmiedegasse ("blacksmith's lane"). The Italian-style coffee drinks are made with organic milk, and the rich and lipsmacking home-made cakes contain organic eggs and milk as well as organic fruit and herbs, both home-grown or collected from meadows in the surroundings with scattered fruit trees. As the Saxon cake tradition has it the friendly owner will serve the cake with a dollop of cream. Unfortunately the cafe is closed on Mondays and Tuesdays.
On these days, in the morning or if you prefer a hearty lunch proceed to the Vorwerk Podemus organic supermarket you may know from Dresden, with its fully organic bistro.
Another option for a cake or snack is the town's only artisanal organic bakery Spiegelhauer near the train station. The family also had an organic cafe cum ice-cream parlour in nearby Heidenau but this does no longer exist.
Small German towns with beautiful old city centres often have a small traditional organic corner shop in one of the historic lanes, and Pirna is no exception: However, the owners of the former organic greengrocery Naturkosten closed their shop near St. Mary's city church a few years ago and turned it into a beautiful organic bodycare shop, boringly dubbed Naturkosmetik.
There's still another small-scale organic grocery in the south, a little out of town, the Bioladen in Pirnas Grünem Haus.
Café Bohemia, Schmiedestr. 12, Wed-Sun 12-17:30
Vorwerk Podemus w/ Bio-Bistro, Breite Str. 4-8, Mon-Fri(Sat) 8:30(8)-19:30(14), lunch Mon-Fri 11-14
Bio-Bäckerei Spiegelhauer, Bahnhofstr. 17, Mon-Fri(Sat) 7-18(11)
Naturkosmetik, Kirchpl. 2, Tue-Fri(Sat) 10(9)-18(13)
Bioladen in Pirnas Grünem Haus, Rottwerndorfer Str. 12, Mon-Thu(Fri) 9-18(19), Sat 9-12
Closed
Pirna, Heidenau, Elbe_cycle_route, Elberadweg, organic, coffee, lunch, snacks, cafe, supermarkets, grocery, bakeries, bodycare] Link