If there is a European city where it's absolutely unnecessary to compromise on sustainability when travelling, this is most certainly the Danish capital. Even if you – like we on our train travel from Munich to Trondheim, on a one-night stop-over, with too little time for up-front research – are willing to take your usually organic diet with a grain of salt, relax! It's as simple as keeping in mind the following three brands: Irma when it comes to provisions and daily necessities, Emmerys for a coffee or lunch break and sandwiches, and the Guldsmeden Hotels for a comfortable night in style. All these three chains have sufficient branches within the city that you always will find one.
Where to stay
As long as your budget isn't really tight, thread yourself with a luxury night in one of the owner-run Guldsmeden hotels. The rooms in these design hotels are all carefully designed in a way that makes you feel to have much more space at hand than you actually have: The huge canopy bed is separated from the sitting area with a wall, the bath rooms are all equipped with both, (a small) bathtub, shower and sink, and since everything is decorated in a blend of Balinese and Danish design, with a focus on longevity and sustainability there's always a feel of tropical holiday over it, no matter what the weather is like.
As a guest you are encouraged to take with you your used vanity set, tooth brush, salt deodorant and other small bathroom items for prolonged use; the luxury natural bodycare which is provided in big dispensers at the bathroom can be bought from the hotel reception or from the webshop. Organic coffee and tea is provided on the room, including tiny pyramid packs with organic milk. Unfortunately one-way paper cups are provided instead of re-usable glasses or cups. This is justified as a fire protection measure which I – given the inflammability of paper compared with glass or steel – find hard to reasonably believe.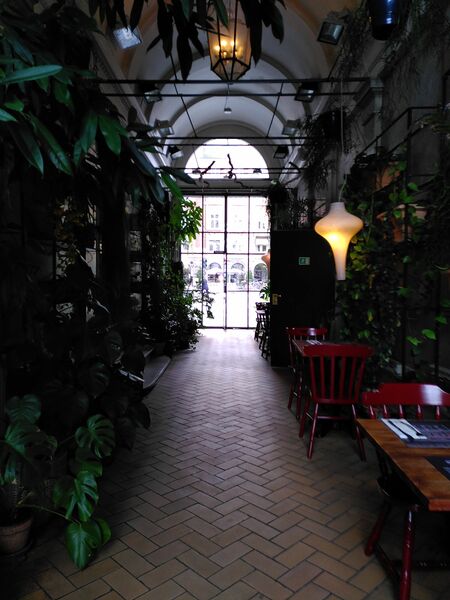 This time we stayed at the Babette hotel at Esplanaden, opposite the Kastellet fortress and park, with its beautiful orangery-type entrance area and a branch of the famous Skagen seafood restaurant serving as the hotel's restaurant.Although the restaurant has a focus on sustainability it's not dedicated organic. While the food itself -- the luxury form of fish-based fast food -- was both, tasty and filling, their drinks menu did not include a single organic item, and the wine selection was outrageously disappointing. There's a 10 percent discount for hotel guests.
Breakfast at the Skagen facilities is a different affair: A 100 percent organic, tastefully arranged buffet where every single item is worth a try. Unfortunately they did not serve my favourite muesli from earlier stays in Oslo and Kopenhagen: toasted and caramelised cubes of yesterday's flavour-rich dark-brown bread, blended with seeds and nuts. Like other hotel commodities as bicycles and the entrance to the beautiful roof-top spa breakfast is not included in the price for the night.
A few years ago we stayed at the smallest (and eldest) of all Guldsmeden hotels, the Carlton 66 in the former meat-packing district ("Kødbyen") of Vesterbro. This intimate bourgeois city villa with its narrow stairs is a truly romantic affair, but a word of advise if you come with heavy baggage: Unlike in other countries hotel staff in Scandinavia is treated equal. So -- while you may kindly ask for help if you are of delicate health -- do not expect them to carry your luggage.
The Carlton is only a short walk away from the Guldsmeden's business hotel, Axel. If you stay at the Carlton and fancy a drink at a hotel bar or wish to use their luxury spa, treat yourself with an evening stroll.
Where to eat (and have a coffee)
If the hotel breakfast at one of the Guldsmeden hotels doesn't match your budget, there's no need to dispair: Find one of the numerous branches of Emmerys cafes and bakery shops (There are so many I won't list them here) and treat yourself with their fully organic bakery items, both to have on the spot and to take away. In addition to classic Danish brown sourdough breads and rolls they also make interpretations of Italian and French white breads and rolls. While some places have special breakfast and lunch menus, you may always have different types of Danish smørrebrød and Italo-American-style sandwiches, both with and without meat and/or cheese.
Unfortunately salads and fruit drinks to take away are still prepared and sold in one-way plastic cups, and there's no deposit scheme for cups or bowls. If you have sufficient time, rather opt to take a seat and be served your drink in glass or earthenware. And be sure to add one of their gorgeous sweets to your coffee order -- if only a piece of their famous white brownies.
Where to buy provisions and daily necessities
Whether you are shopping for provisions or plan a picnic in a park, a branch of the nation-wide operating supermarket co-operative Irma is usually just around the corner. While other supermarket chains lately have started to advertise with their small selection of organic and fairly-traded goods as a cover-up for their generelly unfair and planet-threatening practises, this chain has truly been working towards a more sustainable lifestyle in Denmark for years: Although most items sold here still is conventional produce, you have clearly marked organic alternatives for almost all products at hand, placed in a way that makes it easy to choose the more sustainable alternative in the first place, without much reading. Still, also shopping here requires attention to organic labels and some abstinence if you want to reduce one-way plastic.
What to do
If you love tea and fancy a short travel in time, pay a visit to A. C. Perch's Thehandel from 1835. In the tiny shop of the royal warrant holder shop assistants with dark-green aprons measure high quality loose-weight tea into paper bags, needless to say using shiny brass mechanical scales. The bags are lettered by hand and closed with rubber bands. Not all of the teas are organic, but you have a great assortment to choose from, and you will also find organic ginger snaps.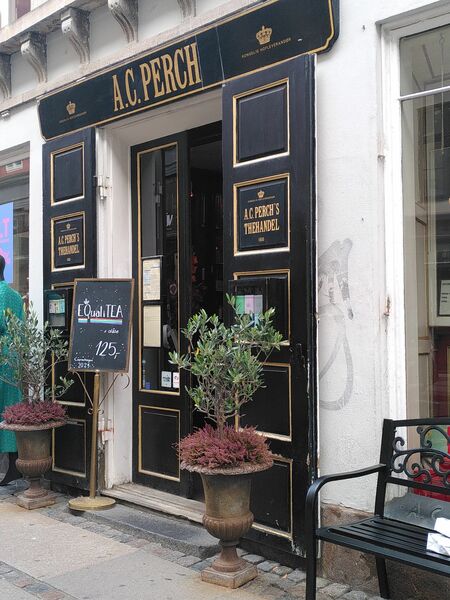 If you have sufficient time and are in the mood for having tea of your choice (or organic fruit juice) in style enter A. C. Perch's Tea Room next door (it is advisable to book a table in advance). The food is not dedicated organic but do not hesitate to enquire about organic ingredients on the menu.

The entire venture is a small Scandinavian chain, with two more tea rooms in Aarhus and the Norwegian capital of Oslo, and tea shops at CPH Airport, in Aarhus, and in Oslo.

The Danish love sausages and hotdogs, and if you do, too, there's no reason to spend your money on mediocre conventional fare: Amid the pedestrian zone of Strøget, in front of Holy Ghost Church, you'll find a fully organic hotdog stall: Den økologiske pølsemand ("The organic sausage man"), offers vegetarian and beef or pork sausages with organic veges and condiments, in an organic roll, as well as organic soft drinks. You should find a second stall in Christianshavn, in front of the Round Tower, but I hadn't time to check this out.

Copenhagen, Kobenhavn, Kopenhagen, Oslo, Aarhus, organic, fair, vegetarian, vegan, cafe, takeaway, coffee, tea, snacks, breakfast, lunch, hotel, accommodation] Link