An inner-city district to be developed from scratch is the most exciting thing in the life of city planners, and Hamburg's Hafencity with its recently opened Elbphilharmonie concert hall is Europe's biggest inner-city development in modern times. When finished it will consist of ten often quite different neighbourhoods, with many sustainability aspects considered. If you have the time take part in one of the guided tours (free of charge) or pay a visit to the Sustainability Pavillion Osaka 9. The latter houses a small fair-trade cafe bar dubbed Die kleine Elbfaire where you can have a coffee or soft drink and buy pre-packaged fairly traded sweets.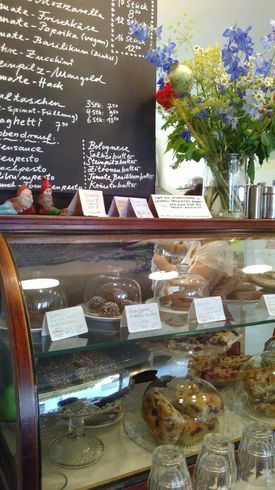 With its name drawing from the similarity of the words "fair" and "Fähre" ("ferry") the little coffee bar is a spin-off of Elbfaire, a fair-trade lunch cafe and meeting place with a pleasant backyard run by the ecumenical association of 17 Hamburg-based churches. On weekdays you can come here for an organic vegetarian lunch between 12 am and 14:30 pm, or step by for a fairly traded organic coffee drink together with home-made organic cakes.
Another organic lunch option is the self-service day cafe of the nearby Alnatura supermarket.
Not organic
When looking for healthy organic food in the Hafencity you may be guided to Greenlovers, a lunch restaurant serving soups, stews, bowls and salads using predominantly locally sourced ingredients. Unfortunately the promising name is misleading since the place does not have an organic agenda. However, I was assured that tofu and eggs always were organic, and if you dare to ask you may occasionally find one or another organic vegetable used in the dishes. There's a second branch near the townhall with longer opening hours, keeping open Monday through Saturday until 7 pm.

Hamburg, Hafencity, organic, fair, vegetarian, eatery, cafe, lunch, supermarkets, coffee] Link