To find a place offering at least partially organic meals, snacks or coffee isn't a big deal in Salzburg, and places like the Bio-Burgermeister are frequent tourist destinations. But there's more than just healthy organic fast food -- from pleasantly modernized Austrian bars over cultured beer spots to slightly esoteric day cafes there's a broad range of places to choose from. What you shouldn't expect are authentic restaurants offering elaborated international cuisines, but that's probably not what you are here for anyway.
Burgers
When you're hungry and don't know where to go head for the Bio-Burgermeister in the middle of busy Linzergasse pedestrian street. With its liberal opening hours (no closing day, open until 10 pm) and central location this no-frills burger grill is serving both, meat, vegetarian, and vegan versions, purely made with organic ingredients. The service is swift, the burgers and side-dishes fresh, crisp and tasty, and most of the soft drinks and the beer are organic, too (though you have to check the bottles for organic labelling). The hot varieties I would describe as spicy rather than hot, and they come up with interesting seasonal versions like the pumpkin burger with a pumpkin patty. For meat patties you can choose between medium-done and medium-rare. The place serves neither desserts nor coffee.
Unfortunately it has implemented bad habits of conventional fast-food places, too: It produces a lot of waste since the meals are served on cardboard one-way plates, and the staff is neither busy cleaning the tables nor refilling paper towels.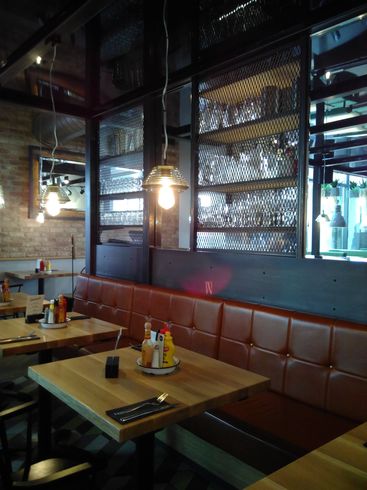 If the burgermeister is too crowded or you prefer to produce less waste a burger restaurant is just a few steps away: The Ludwig doesn't promise fully organic burgers, but organic patties made from organic beef, turkey or mushrooms, organic pulled pork and bacon. In addition to burgers the place also serves salad bowls, desserts and breakfast (including organic eggs in a number of varieties). Among the drinks fruit juices and teas are organic.
Located in a pleasant backyard with a small fountain this cafe cum restaurant is also a much nicer place to spend time with friends or family -- during the warm season on the spacious terrace, on rainy or cold days in the large urban-rustic dining room.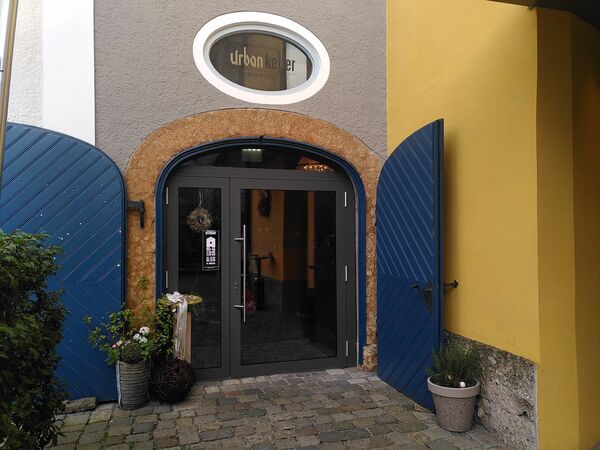 Austrian
The Urbankeller is not just a perfect address for a rustic meal accompanied by local organic beer, wine, juice or lemonade in the restaurant or a civilised drink at the adjacent bar. It also houses a stage for live acts -- predominantly rock, jazz or experimental theatre, and the occasional crime play reading. Although the place is certified by Bio Austria not everything is organic. Fully organic dishes however are clearly marked with a green logo on the menu, and a good deal of the un-marked meat-based dishes (including nose-to-tail ones using offal) are served with organic meat (check for the "bio" keyword). Vegan and vegetarian options are also available. If you consider one of the typical Austrian flour-based desserts ("Mehlspeisen") make sure to come with sufficient appetite.
Schallmooser Hauptstraße where the Urbankeller is located changes its name to Linzergasse (or Linzer Gasse, the naming is not consistent) when it runs over into a pedestrian area towards the river Salzach. Amid its touristic jumble you'll find the Stadtkrug, a family-owned hotel and restaurant of old, with roots in the 14th century. The family runs an organic highland cattle farm north of Salzburg and serves the beef at the restaurant specialising in typical Austrian dishes. The farm has its own slaughterhouse on premise which allows the cattle to die as stress-free as possible within their known habitat. The chicken served in the Stadtkrug is also organic as are some hard cheeses and the ice-cream and other products made from sheep's milk. The breakfast at the hotel unfortunately is not organic.
Directly located on Linzergasse, almost down by the river, but nevertheless not a place that tourists will recognise at a first glance, the Innergebirg restaurant serves traditional Austrian mountain cuisine with local ingredients from the Pongau, the Pinzgau and the Salzburger Land areas. All the meat comes from the Rostatt organic farm (which also is a farm stay). Note that the restaurant is closed on Sundays.
Another beergarden down in the old town is associated with the local brewery Die Weisse specializing in weiss beer. They also brew one alcoholic and one non-alcoholic organic variety (watch out for the bio label) which nicely go together with a hearty Austrian meal -- the beef here is organic and you may ask the waiter for likely other organic ingredients. Of course there's indoor seating, too.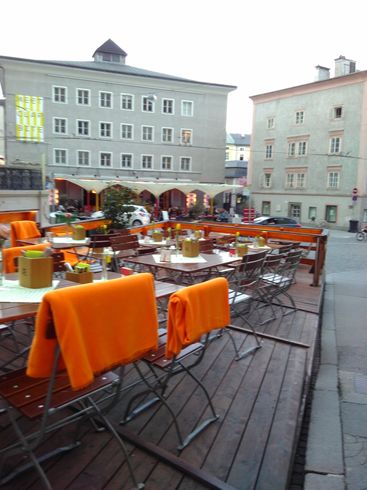 On the other side of the Salzach river September 2018 saw the opening of a new fully organic, predominantly biodynamic restaurant and bar opposite the museum of modern art inside the Mönchsberg cliff, the Humboldt, a pleasantly modernized version of an Austrian "Gaststube", with geometric dark-wooden interior, a light-and-steam installation serving as a fire place surrogate, green cushions, table-clothes made from felt, and a green-lighted bar. For lunch on weekdays you can choose between two set menus consisting of a soup or salad (your choice), and a vegetarian or omnivore main dish which come at 9 or 11 euros, respectively. In the evening the kitchen emphasizes on Austrian signature dishes like the Viennese Schnitzel (a delicate, crisp, yet melting dream), boiled filet ("Tafelspitz"), and pancakes ("Palatschinken") as dessert (which were quite unexceptional). The menu clearly marks organic, biodynamic, vegan and vegetarian items and also lists the sources of all ingredients which usually are Austrian farms and producers, often located in the vicinity. In all drink classes organic options are available, and often you have no choice but to drink organic. The bar keeps open until late each day, making it the perfect place for an evening out, and there's outdoor seating, too.
Indian
Back in town, just a few steps from the Stadtkrug vegetarian fusion food with roots in the Indian cuisines has been served for almost 20 years at Spicy Spices. This pleasant eatery may not be the place for the romantic dinner but is a nice location for a chat with friends, accompanied by a healthy lunch, a coffee, chai and/or cake, all organic. You can also shop for their home-made spice mixtures, chutneys and pickles which make tasty gifts.
International
The second surviving organic restaurant of old also draws its inspiration from the subcontinent and East-Western fusion. The Heart of Joy is a vegetarian (vegan friendly), predominantly organic cafe cum eatery run by followers of Sri Shinmoy. The latter is openly presented which may not be your idea of the perfect surroundings for a recreational sip of coffee or an Italian, Austrian, oriental or Indian inspired lunch in this otherwise pleasant location. Students are entitled a ten percent discount, and breakfast on weekends is being served all day.
For a simple lunch or a piece of home-made organic cake you may also try the A* bar in nearby Auerspergstraße.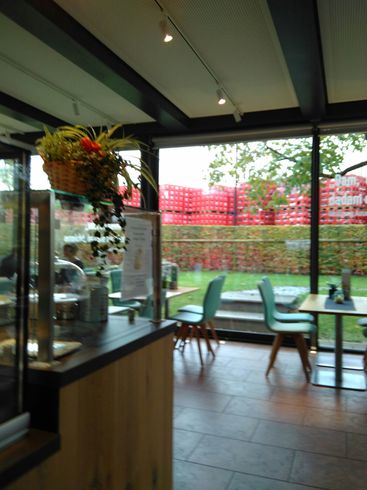 For a fully organic breakfast, lunch or snack in the neighbourhood of Maxglan, pay a visit to Rochushof, an organic supermarket with a light-flooded verandah restaurant overlooking the adjacent Stiegl brewery. To enter the place walk to the back of the supermarket, and -- for lunch -- choose between a vegetarian soup, a vegetarian and an omnivore main dish. Contrary to many organic supermarket bistros you will be served here. The kitchen closes on weekdays at 5pm, on Saturdays there's breakfast only.
If you are near the main train station on a weekday during daytime the bistro Leichtsinn ("carelessness") is worth a try. You'll find it if you leave the train station in western direction via Südtiroler Platz and walk in southern direction along Rainerstraße parallel to the tracks until you reach Elisabethstraße. Tea, beer, and cheese are always organic here, and the owners promise to prefer organic and regional ingredients, but admit that some ingredients such as avocados definitely won't be organic. Unfortunately I did not get an answer to whether the meat and other products of animalic origin are organic, so better ask about them. The menu changes daily, and you always have the choice between a soup, one vegan, one vegetarian and one meat- or fish-based dish in addition to salads (mix your own from the salad bar), home-made foccachia sandwiches, wraps, quiches, and empanadas (the owner-chief originates from Ecuador). The place is great for breakfast, there are home-made cakes (also vegan), shortbreads and fair-trade coffee, and if you need provisions for your travel, simply order to take away.
Italian
Arguably the city's best pizza can be had when entering a non-descript entrance on Franz-Josef-Straße south of Paris-Lodron-Straße: Here you find a place boringly dubbed Organic Pizza Salzburg, and this is exactly what it is: A totally unpretentious venue serving glorious 100% organic pizza in vegetarian, vegan and omnivore varieties, all well worth their 9.80 to 16.80 EUR. Instead of the standard base made from wheat you may order one made with spelt. Choose your drinks from the fridge (most, but not all organic), and have a home-made organic and vegan cake with fairly traded ingredients and/or a locally produced ice-cream to end your meal. No frills, just love, and in contrast to other fast food places covered here you will be served on real plates instead of paper waste. Unfortunately the place is closed on Mondays and Sundays.
Vegan
For Italian and decidedly vegan food (including pizza) try the Vegitalian. This no-frills restaurant stepped in as the hotel restaurant of The Keep near Salzburg Hauptbahnhof train station in spring 2022. It's not 100% organic, but most ingredients come from regional and/or organic producers. No further review here (yet) since I haven't had the chance to visit.
Just a few steps from Organic Pizza Salzburg you'll find a novelty in the city: a crowd-founded vegan cafe. The Gustav serves breakfast, sandwiches, soups and salads as well as smoothies and cakes, everything predominantly organic. Unfortunately it is closed most days of the week, so check below to avoid a bad surprise.
For a vegan or vegetarian, partially organic lunch, dinner or weekend brunch head for the neighbourhood of Gneis where chef Julia and her happily carnivore dog welcome their guests to the The Green Garden. The place consists of two locations, the daily (except Mondays) open restaurant, and a cafe cum wine bar annex. Julia promises predominantly fresh seasonal Austrian ingredients as far as possible produced without chemically synthesized fertilizers and preservatives. The tea (including iced tea), most wines, some beers, eggs and goat cheese are certified organic. On the menu you'll find bowls, soups, salads, vegan burgers as well as pasta and vegetable versions of Austrian signature dishes like the schnitzel, but the place is also great for breakfast and healthy snacks. Note that it is closed on public holidays as well as in the early afternoon; the kitchen always closes an hour before closing time. During the nice season The Green Garden also sells vegan organic ice-cream to both, guests and passers-by.
Coffee and cakes
For the real coffee thing head for Röstzimmer 15 a few meters from "Spicy Spices". A cosy living room serving artisanal (though not necessarily organically certified) chocolates and pastries with Ethiopian organic coffee roasted in the room next door where you also can have a small lunch.
A new address for a fairly traded organic coffee is cafe Kuchenfee ("the cake fairy") in Paris-Lodron-Straße. Their home-made cakes, unfortunately, are not organic (yet?), but you can buy organic bread. With its chary window front the place is easy to be missed, so make sure you keep your eyes open.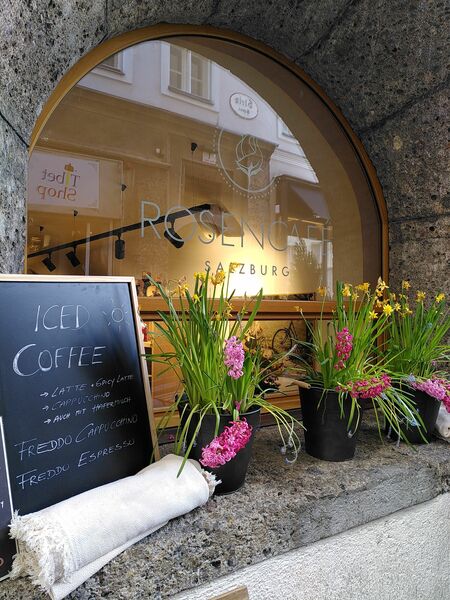 My latest favourite however, is the Rosencafé, a 100 percent organic day cafe where they take their name seriously: Milk-based coffee drinks are sprinkled with dried rose petal powder, there are a home-made rose lemonade and rose-flavoured cakes and cookies. While there are a lot of tempting cakes and sweets, do not miss the tiny Leberkässemmel, a thick slice of meat loaf in a neat bun, decorated with pickles and served with mustard. Unlike the usual version that you get from (organic) butcher shops in South-Germany and Austria, it has the perfect size for those who occasionally take delight in small amounts of organic meat. As the cafe is located on the premises of Hotel Stein and seems to serve as its breakfast restaurant you can have all types of breakfast arrangements, salad bowls and sandwiches, in vegan, vegetarian and omnivore versions. Both, the rose petals, herbs, eggs and the beef are products of the owner's own farm, other ingredients come from other organic farms in the Salzburg region. And as you are entitled to use the hotel bathrooms, the luxury hand-wash and -cream are organic, too.
An Italian-style coffee drink prepared with organic milk can also be had at Fabis Frozen Bioyogurt.
Fancy an organic coffee drink on the go, made with organic milk or plant-based drink, on your way from the old town before crossing the Mozartsteg pedestrian bridge over the river Salzach? Take your coffee mug and stop by what's arguably the city's tiniest coffee house, We love coffee. Unfortunately they do not have any eathenware and will serve their Italian-style coffee or flat whites in a paper cup. What a waste -- and since I did not have a cup at hand I cannot say anything about the quality.
When you take a stroll or bicycle tour along the river Salzach in southern direction (towards castle and zoo Hellbrunn) stop by the farm cafe of the Bienenlieb beekeepers. You may simply step by for a coffee break or a home-made organic soup with honey bread, but if you are planning to have breakfast on Saturday (from March through December) make sure to call upfront for reservation.
BioBurgerMeister, Linzergasse 54, Tue–Sat 17–20
Ludwig, Bruderhof/Linzergasse 39, Tue–Sat 11–22
Urbankeller, Schallmooser Hauptstr. 50, restaurant(bar) Mon,Wed–Sat(Sun) 17(12)–24
Stadtkrug, Linzergasse 20, Tue–Sat 15–23
Humboldt, Gstättengasse 4, RTue–Thu(Fri) 10:30–23(24), Sat(Sun) 9–24(23)
Die Weisse Wirtshaus, Rupertgasse 10, Mon–Sat 10–24
Innergebirg. Linzergasse 12, Mon–Sat 11–22
Spicy Spices, Wolf-Dietrich-Str. 1, Mon–Fri(Sat) 11:30(12)–14:30, Mon–Sat 18–20
Heart of Joy, Franz-Josef-Str. 3, Mon–Thu(Fri–Sun) 8–19(20:30)
Ökohof Feldinger/Rochushof, Rochusgasse 6, restaurant: Mon–Fri 11:30–14, supermarket: Mon–Fri(Sat) 7:30–18:30(13)
Leichtsinn, Elisabethstr. 1, Mon–Fri 8–17,Wed–Thu 18–22
Kuchenfee, Paris-Lodron-Str. 19, Mon–Fri 8:30–19:30
Rosencafé, Steingasse 4, Wed–Sun 9–17
Bienen-Bistro, Membergerstr. 1, Wed–Sat 10–18:30
We love coffee, Rudolfskai 37, Mon–Fri(Sat–Sun) 7:30(9)–18
Organic Pizza Salzburg, Franz-Josef-Str. 24a, Tue–Fri(Sat) 17(12)–22
Vegitalian, Schwarzstr. 50, Mon–Fri 8–10:30,11:30–14, Wed–Sat 17–21, Sat,Sun,PH 9–13
Gustav, Wolf-Dietrich-Str. 33, Thu–Fri(Sat) 11(10)–20(18)
Temporarily closed
Closed or no longer organic
Salzburg, organic, lunch, dinner, takeaway, restaurant, cafe, eatery, coffee, ice-cream, fastfood, vegetarian, vegan, Austrian, Indian, burgers, pizza, supermarkets, grocery, wine, beergarden] Link