For being home to so many sustainable and organic shopping opportunities Heidelberg has surprisingly few places serving organic food. The two I found are both very well suited for both, vegetarians and vegans, and essentially self-service, but I wasn't able to spot a single proper dinner restaurant where you're actually waited.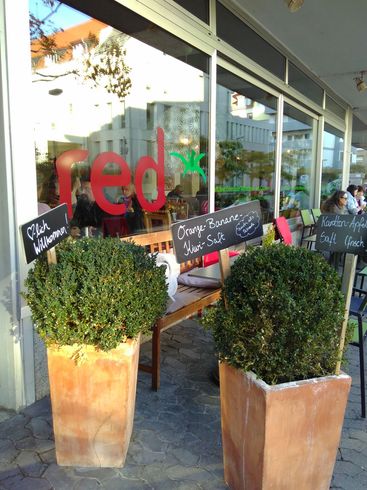 Both, lunch, snacks, coffee and dinner can be had at red buffet restaurant, next to the Alnatura organic supermarket on the premises of a former swimming pool opposite the Schwanenteich park. You can choose between two lunch dishes at a fixed price or serve yourself salads and warm one-pot dishes (all 100 percent and certified organic, vegetarian and often vegan) and pay by weight. Order drinks (cold drinks, teas or Italian-style coffee drinks) and predominantly vegan cakes and dessert at the cash desk while you pay, take your tray and find yourself a seat. For being an vegan-award winning restaurant I found the food quite uninspiring, without accentuated flavours, just good ingredients cooked together. Even the perfectly looking vegan hazelnut-espresso cake I had was missing a distinctive coffee flavour -- good, but far from outstanding. Nevertheless the generally pleasant place was crowded (though not unpleasantly), perhaps due to missing alternatives. It's the only evening-open option for eating out, but closed on Sundays. You may also buy food to take with you.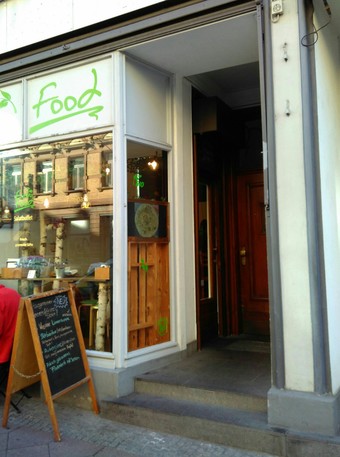 For lunch (though not on Sundays) there's another alternative on the opposite shore of the Neckar river, a few steps North of Theodor-Heuss bridge: The Fein Food eatery serves smoothies, oriental and ayurveda-inspired vegetarian, vegan and omnivore stews, pot-dishes, salads and wraps, though probably not a 100 percent organic.
Closed
The city of Heidelberg still lists the following place in its latest guide to organic and local food, but the place unfortunately closed two years ago:

Heidelberg, organic, lunch, coffee, cafe, eatery, vegan, vegetarian, restaurant] Link