While organic lunch options aren't difficult to find (namely in the neighbourhoods around Altona station) the organic evening out requires more research, especially for Monday evenings. The list I am presenting here surely isn't exhaustive since it is the result of a two-days stay, so I'm glad for additional contributions.
Mediterranean
Italian antipasti, oriental mezze, Spanish tapas or a simple pasta dish -- the organically certified wine restaurant Piccolo Paradiso serves vegetarian food from the Mediterraneans. The intimate, organically certified place breathes the atmosphere of an Italian trattoria, the home-made food owes its taste to the quality of the organic ingredients rather than the skills of an ambitious chef. So do not expect a fine dining experience, instead come to enjoy mother's versions of vegetarian starters. Advanced booking is advisable, and you shouldn't arrive too late as the kitchen closes around 10 pm. Note that the restaurant keeps closed on Sundays and Mondays.
Burgers
A small chain consisting of two restaurants Edelsatt is not an ordinary burger place: What you get here are tasty game burgers served without bread or in organic buns from the Springer organic bakery. No smoke-ladden air as in many, also high-end burger grills, tasteful decoration and reusable cotton towels in the bathrooms -- the restaurant in the Karolinenviertel neighbourhood is most certainly a place for the extended evening out with friends or the romantic dinner. A small assortment of organic softdrinks and beer (of the Stralsund-based Störtebeker brand) are being offered to accompany your meal, and if you don't feel for a game burger you may opt for a salmon, vegan quinoa or vegetarian aubergine-mozzarella one, or for a change, a game sausage. The second (older) restaurant is located in Winterhude.
If burger means fast-food to you, head for Dulf's Burger a few minutes walk in Western direction. The burgers served here are made from organic beef, and the queue in front of the place was most impressive when I decided against waiting in the rain during the "Hamburger Dom" fun fair next door. If you come here I'd be glad to hear about your experience.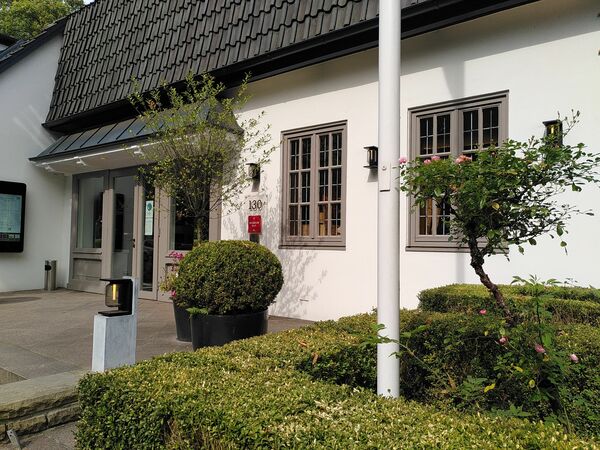 Fine dining
If your budget allows for the price tags of high-end cuisine you may opt for a dinner at organically certified Landhaus Scherrer located directly at busy Elbchausee in Othmarschen, a short walk from the river promenade. While covid-19 measures are in place the affordable bistrot is closed but its menu is available in the gourmet restaurant. It mainly consists of fish, meat and offal dishes typical for the region, everyting of course refined and made with the best organic ingredients and accompanied with high-class French and German wines (if you decide for it). If you want to familiarise yourself with the bourgeois Sunday kitchen of the German north, this place decorated in country-house style is definitely worth it. The typical audience however is probably not the crowd you may be used to mingle with: elderly and arrived in predominantly tasteless, yet expensive cars, though not necessarily dressed with Hanseatic style.
More to try
Here's a list of evening-open (partially) organic restaurants and eateries I found during my research but did not have time to visit. Your impressions are appreciated!
Mamalicious, Max-Brauer-Allee 277, Mon–Tue(Wed–Fri) 9–18(22), Sat(Sun) 10–22(19) (Canadian breakfast, burgers, uses organic eggs and bacon)
Tassajara, Eppendorfer Landstr. 4, Mon–Sat 11:30–23 (vegetarian)
Haco, Clemens-Schultz-Str. 18 (North-German, in 2021 kitchen closed due to refurbishment, drinks only Thu–Sun 17–23)
Haco Popup, Bernadottestr. 20, Wed–Sun 17–23 (vegan and vegetarian, only during the covid-19 pandemic)
Central, Lange Reihe 50, Mon–Sat 17–23 (international, serves organic meat and cheese)
Restaurant Klinker, Schlankreye 73, Mon–Fri 18–24 (summer-closed until Sep, 20 2021, generally no booking)
Wolfs Junge, Zimmerstr. 30, Tue–Fri 12–14:30, Tue–Thu 18–23, Fri–Sat seating 17:30(20:30)–20:15(23)
Ceased to exist
The following places shut down or were replaced by other, not organic ones, although you still find them on the web:
Restaurant Olsen, Bellealliancestr. 45 (Mediterranean, German gourmet)
Wakuwaku, Dammtorstr. 29-32 (Asian fastfood)
Nat, Heuberg 1 (International)
Hamburg, Altona, Othmarschen, Winterhude, organic, vegetarian, restaurant, burgers, lunch, dinner, takeaway, covid, corona] Link