Innsbruck was a Saturday-to-Sunday overnight stop on the München-Venezia bike route, so this guide is far from complete! The only thing I can say for sure is that finding a (partially) organic place open on Sundays isn't easy.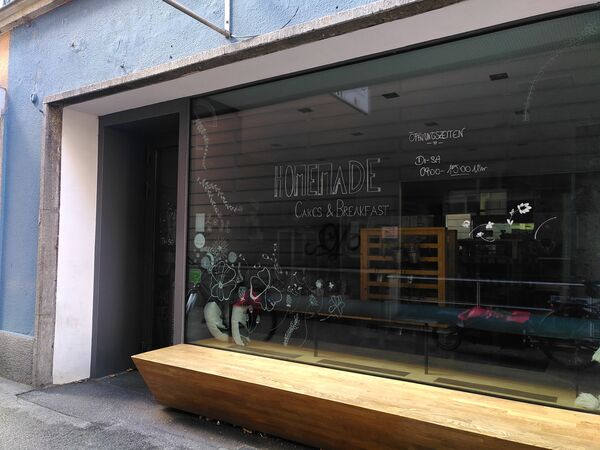 My first impulse for an organic Sunday morning coffee was Cafe Crema in Welsergasse, a few steps from Landhausplatz, but the place turned out to be closed on Sundays. They promise to use a good deal organic produce from Tyrolean farmers. The coffee is only fairly traded, not organic. You may expect home-made cakes and a small range of savoury snacks for lunch or breakfast.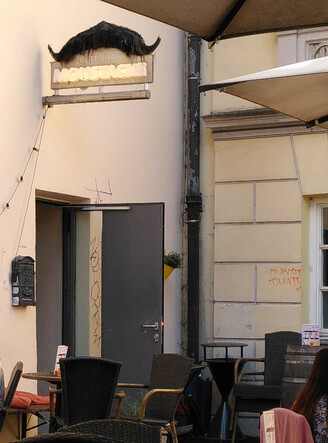 With option number two I was luckier: Although the Moustache looked like a decent (American-style) bar for an evening out and quite closed from its street address in the morning it turned out that the proper entrance was from Domsplatz, with pleasant outdoor seating. On Sunday mornings they do not serve the usual falafel and hummus sandwiches, but offer a generous brunch buffet, including very palatable hummus, pancakes and cake. About 90 percent of the food, so the promise goes, should be organic. Unfortunately I was too busy to try all the good stuff on the buffet that I completely forgot to scrutinise the bottles in the adjacent main room. But since the bar looked very well assorted I am sure the bartender will offer an organic gin or more if you ask.
More to try
I love food markets, and had I been in Innsbruck on a week- or Saturday I would have loved to have breakfast or lunch at the Klein und fein cafe in the Markthalle. Their lunch menu sports a mixture of international classics and Austrian dishes, predominantly vegetarian and made with local, often organic ingredients. They also offer ice-cream made from organic milk. Unfortunately the place is going to close mid of September, 2022. Whether their home-base shop is open to the public I cannot say, but it's certainly not a public restaurant.
As the original plan was to eat out late on Saturday night, I had the sister restaurant to the Salzburg burger grill Ludwig on my list. On Sundays the place is closed.
Next time I'll come to Innsbruck I hope to visit Oscar kocht, the vegetarian restaurant of a chef with Mexican roots promising to cook with predominantly organic ingredients. In summer 2022 Oscar wasn't here, and the female duo of Sloe was serving vegetarian/vegan dinner in this location, though not on Sundays.
When I checked for bicycle-friendly hotels on the München-Venezia bike route I found a hotel that I already had on my shortlist of overnight options offering at least partially organic breakfast: the Hotel Schwarzer Adler. Unfortunately our budget wasn't prepared for the price tag they called for that night (more than 300 EUR for the double room), and so the place remains unreviewed here. (The night was spent in a hostel offering organic tea and plant-based drink – not enough to qualify for this post.)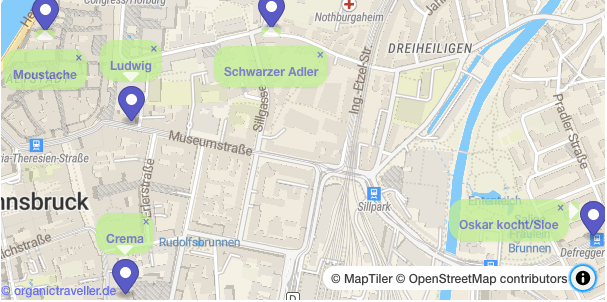 Moustache, Herzog-Otto-Str. 8, Tue–Sat(Mon) 10(16)–2
Crema, Maria-Theresien-Str. 49a, Tue–Sat 9–15
Klein und fein inside Markthalle, Herzog-Siegmund-Ufer 1-3, breakfast/brunch: Mon–Fri(Sat) 9–11:30(13), shop/catering service: Maria-Theresien-Str. 42a, likely Mon–Fri 10–17
Ludwig, Museumsstr. 3, Mon–Sat 11–22
Oskar kocht/Sloe, Defreggerstr. 21, Tue–Sat 19–22
The_Conscious_Traveller, Austria, Innsbruck, MuenchenVenezia, organic, lunch, dinner, restaurant, cafe, coffee, vegetarian, ice-cream] Link