Burger restaurants have been trending for years, and there's still no end in sight. Most of them advertise with buzzwords like hand-made, home-made, regional and vegan, and often the quality is ways better than in the standardized mass production of American chains. But to tell greenwashing from honest interest in healthier and sustainable food the patties are key – are they made from organic meat or vegetables?
The organic burger pioneer in Munich was Cosmo-Grill opposite the Bayrische Staatsoper opera house. Tucked away in the the basement of a backyard you entered a Startrek like spaceship. Unfortunately quality and the percentage of organic ingredients diminished with the years, and the place disappeared in 2019.
In 2022 the second oldest organic burger place is Holy Burger in Haidhausen disappeared which successfully took over a location with a long history of serving organic lunch near Bordeauxplatz. I hope its sucessor won't break with the tradition of serving organic food at this address.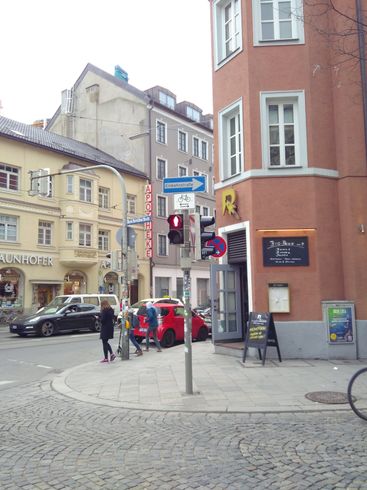 The Holy Burger founders separated around 2018, and the Neuhausen Holy Burger branch changed its name to Goldene Rakete. The "golden rocket" started with three branches, with the flagship decorated with film posters in 70-ies style in Glockenbachviertel: Before corona this place was crowded and almost painfully noisy even on weekday evenings – don't come here if you actually want to converse with friends. The place does not only serve burgers (where it still sticks more or less to the Holy Burger menu), but also bowls, and salads. All meat, the seitan and chickpeas patties as well as the milk for the coffee drinks are organic. Unsurprisingly they also offer fashionable home-made lemonades (not organic). If you are in the mood for wine, gin and tonics you have organic options which are clearly marked "bio" on the menu. In addition the Aqua Monaco soft drinks and the Mondino vermouth are organic, too. On weekends the Glockenbach branch also offers breakfast.
Goldene Rakete, Fraunhofer Str. 39, Sun–Thu(Fri–Sat) 11:30–24(2), Sat–Sun 9:30–15, during covid-19 daily 12–14:30,17–21
Goldene Rakete, Ursulastr. 3, Mon–Thu(Fri–Sat) 12–23(24), Sun 15–22, during covid-19 daily 12–14:30,17–21
Goldene Rakete, Schulstr. 2, Sun–Thu(Fri–Sat) 11:30–23(24), during covid-19 daily 12–14:30,17–21
Closed
Munich, Haidhausen, organic, lunch, dinner, restaurant, vegan, vegetarian, burgers, fastfood] Link