With the word Hof meaning "farm" in German it is a tough job to search the web for organic places in this nice medieval town in Franconia. To many the name of the city may be known as the first West-German train station on a train ride crossing the border between the two former German states, the GDR and the FRG, but in fact the city dates back to around 1230. Extra state fonds for being a frontier town are a thing of the past, but the town still has a philharmonic orchestra, a theatre and a noteworthy film festival. It's frequently reachable by regional trains (e.g. two hours from Nuremberg or 2.5 hours from Leipzig or Dresden) and has a beautiful station building. The city is also a nice stop when you take the Saale-Radweg bicycle route, if only to get a glimpse of an archetypal West-German city of the 1990ies.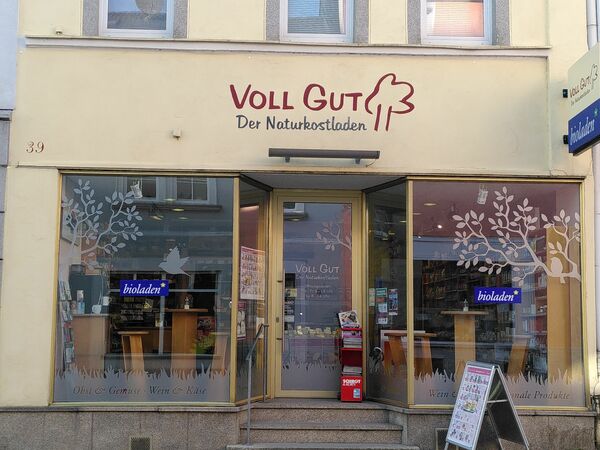 Daily necessities
Located between the main train station and the centre of the old town you will find Voll gut, a traditional owner-run organic supermarket. Pick a tomato or other small vegetable, choose some cheese and a roll, and the friendly shop keeper will prepare a sandwich for you, to take away or to eat at the sole coffee table with an organic coffee drink or tea. There's no dedicated zero waste corner with gravity bins, but you will find a decent selection of dry food in deposit glasses as well as dairy products, plant-based milk alternatives and beverages in returnable glasses and bottles. Some cottage cheeses and preserved meat spread come in glasses which you can return without a deposit.
Hof isn't far from Töpen, the homebase of one of Germany's major organic wholesale traders, Dennree, and hence the city's branch of the affiliated Biomarkt Speisekammer supermarket chain in the neighbourhood of Alsenberg (south of the main train station) can be described as a local organic supplier. The shop emerged from a smaller traditional organic shop in Ludwigstraße.
Of course, there's also a health-food shop in the pedestrian area of the inner city, the Reformhaus "Gesund&fit". As in any other Reformhaus you'll find organic dry food and sweets, dairy products and vegetarian alternatives, bakery products, herbs and spices, tea and beverages, canned food and preserves, natural bodycare and sustainable cleaning agents, but only about half of it is organically certified, so check labels if unsure.
Sweets, chocolates, tea and more
If you like tea for real you should better pay a visit to one of the city's tea specialist shops. Tea 4 You near Lorenzkirche offers a decent selection of organic green, black and herbal teas. Bring your own tea boxes or jars to avoid waste.
More organic tea as well as organic seeds can be found at the Alraune tea shop in the Westend neighbourhood. The shop moved recently, so do not be surprised if you find it listed under its old address on the opposite side of traffic-heavy Marienstraße, in number 52.
If you have a sweet tooth pay a visit to the Feinzeugs confectioner's store in the old town. It's not dedicated organic, but there's a decent selection of organic sweets, cookies, olives, oil and other delicatessen. They also sell the city's official organic and fair-trade certified chocolate, the "Hofschokolade" which comes in about 4-6 different flavours.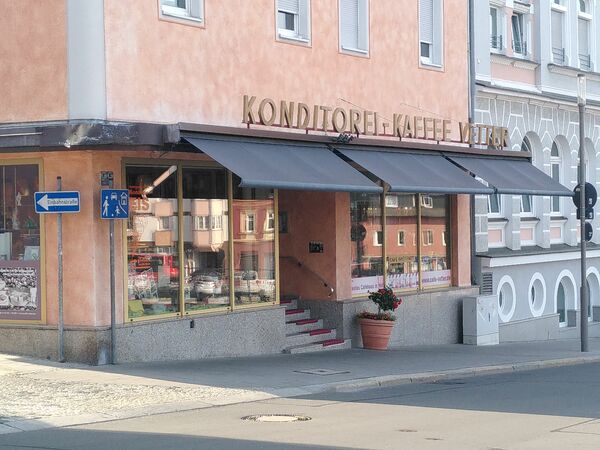 This chocolate is produced by the city's oldest confectioners', the Viennese style coffee house Café Vetter in the Münsterviertel, a nice neighbourhood dating from the Wilhelminian period. With its red plush chairs the cafe to the right of the attached bakery shop invites to have an organic tea or coffee drink. Unfortunately the chocolate is the only organic product made by this artisanal bakery cum confectionery. When I asked the friendly service staff whether organic ingredients would be used in their breads, cakes and rolls she regretfully denied. The place looks a bit forlorn facing the big void of a deserted gap site, but it keeps open all days, including Sundays and public holidays. The cafe (just like the Voll gut supermarket) accepts the local "currency", the Hof Geld, a voucher scheme supporting the local economy.
There's a second Café Vetter branch by the city's hospital. I don't expect more organic items in these surroundings, but hopefully not less, coffee, tea and chocolate.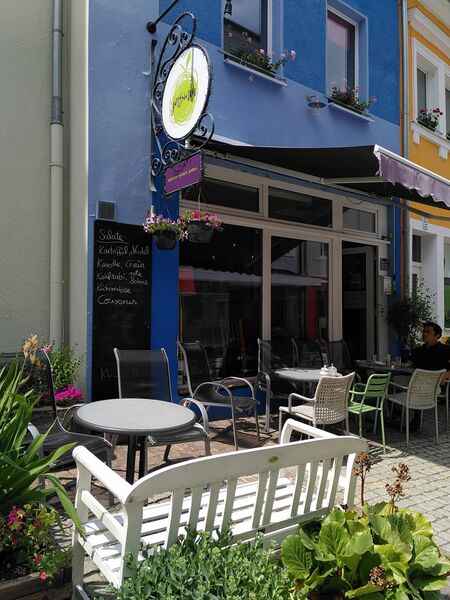 Coffee and lunch
For partially organic, vegetarian or vegan lunch and/or an organic coffee drink with or without a piece of home-made cake head to cafe Jasmin, indoors lovingly decorated with small figures and other nick-nack. It's the place where you, in other cities, would expect to mingle with students, artists, young parents with prams and/or health-conscious office workers during their lunch break. However, just as in any other shop I managed to visit during my lunch break and on my way to the train station in the early afternoon, it was far from crowded, despite the outdoor seating and the beautiful summer weather.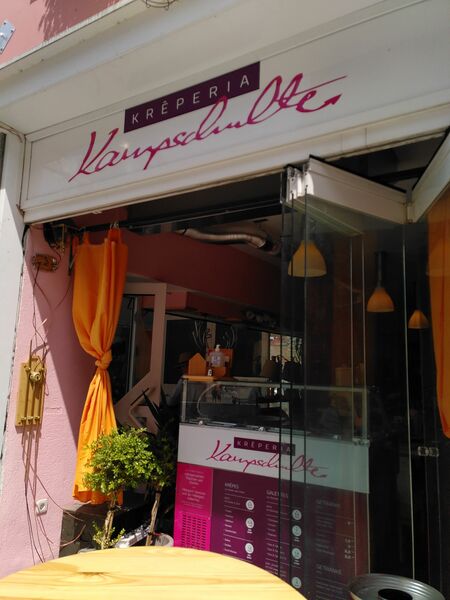 For a 100 percent organic snack, either sweet or savory, head for Kreperia Kampschulte, a pretty much hole-in-the-wall creperie in the main pedestrian area opposite the church St. Marien. The owner is happy to have a chat, in a non-intrusive way. Hadn't I been in a rush to catch my train, I'd definitely loved to have a French-style buckwheat pancake.
Artisanal toys and gifts
Wooden toys and games, doll houses, pottery, candles, stationary, oils, honey, liqueurs and other high-quality products made by people with handicaps can be found at Invito next to Lorenzpark. Unfortunately my time only allowed for a brief glimpse at the shop.
Voll gut, Bismarckstr. 39, Mon–Fri(Sat) 8–19(14)
Speisekammer, Wunsiedler Str. 7, Mon–Wed(Thu–Fri) 8–19(20), Sat 8–18
Reformhaus "Gesund & fit", Karolinenstr. 48, Mon–Fri(Sat) 9:30–18(14)
Tea 4 You, Lorenzstr. 18, Mon–Fri(Sat) 9(10)–18(16)
Alraune, Marienstr. 45, Mon–Fri(Sat) 9–18(13)
Feinzeugs, Altstadt 24, Mon–Fri(Sat) 9–18(14)
Café Vetter, Biengässchen 2, daily 7–17
Jasmin, Karolinenstr. 34, Wed–Sat(Sun) 10–18(14)
Kreperia Kampschulte, Lorenzstr. 3, Mon–Sat 11–17
Invito, Mühlberg 19, Mon–Fri(Sat) 10–18(14)
More to try
Given the name Kampschulte I'd expect the public canteen cum restaurant of the city's theatre, Kampschultes Kultur-Kantine to use at least some organic ingredients and serve a minimum of organic beverages. However, information on the web was sparse and time limited, so you're on your own to explore.
Closed
Hof, Hof_Saale, Saale-Radweg, organic, vegan, coffee, lunch, snacks, cafe, supermarkets, grocery, bodycare, zero_waste] Link