If you prefer to set out on a shopping spree on a bicycle and prefer a rented bike that is not tracking you pay a visit to Fahrrad Schieber, a more than one hundred years local bicycle workshop located a few steps from the Wasserturm landmark within the squared part of town, the "Quadrate". For 10 EUR a day you will be provided with a well maintained used bike. If it against all odds breaks during your trip, do not hesitate to step by, it will be fixed promptly.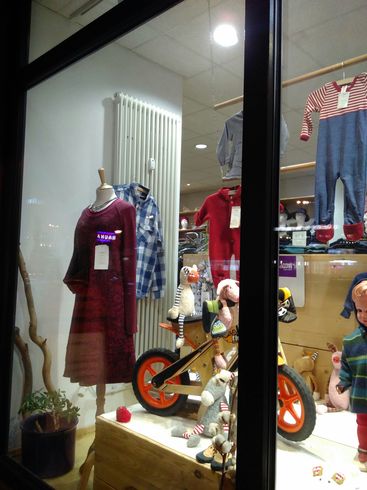 Founded almost 25 years ago your first stop could be HautNah, a fashion boutique specializing in ecologically and fairly produced clothes made from natural materials. The shop is a member of the International Association of Natural Textiles (iVN) and aims at those looking for classical long-living cuts rather than at cutting-edge fashionistas (for trending fashion you may try the shops listed below). Needless to say that HautNah also offers an assortment of healthy outfits for babies and toddlers.
Leaving the ring road and entering the Quadrate through Kunststraße you'll find a tea shop of the Tee Gschwendtner franchise. Although this specialist chain is selling conventionally produced teas and tisanes in the first place its shops have proved to be a trustworthy source of organic teas and herbal infusions for years. You can buy all kinds of loose teas and herbal infusions as well as high quality tea bags and even pre-fab iced teas, and there will usually be organic options. Although most teas will be filled into bags before your eyes there's always a minimum quantum you have to buy (usually 50 or 100 grams), and you have to buy standardized packages (bigger sizes being 250 or 500 grams).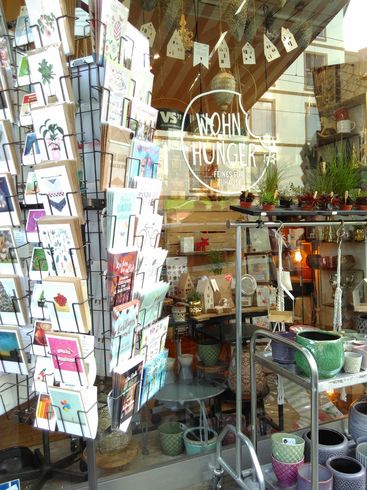 Leaving the Quadrate for the eastern part of town the Wohnhunger gift shop next to Eddie's zero waste supermarket offers a selection of organic delicatessen like coffee, soups, chocolates, liquors, herbs and spices, some zero-waste items like natural soap and cotton dish washing clothes and a lot of other cosy things. Unfortunately the organic coffee isn't used at the coffee bar, and the milk for the coffee drinks isn't organic. About two years ago the shop also offered an organic soup or stew for lunch, but these are songs from the past.
More to try
Here's a list of shops which I had on my list for research but didn't manage to visit myself. Let me know about your experience!
Greenwashed
The city's online tourist guide suggests to get yourself a "bio" picnic basket for a stroll at the embankments. Don't fall for it! The only organic items that come with this "Wellness-Korb für Vegetarier" are two bottles of the organic bionade soft drink:
Die Metzgerei, Rheinparkstr. 4 (bistro in the Lindenhof neighbourhood)
Closed
The following places do no longer exist, although you still might find references to them on the web:
Fairbrothers, C8, 18 (fairly traded organic fashion)
Mannheim
,
organic
,
shopping
,
organic
,
fair
,
fashion
,
spices
,
delicatessen
,
gifts
,
bodycare
,
coffee
,
tea
,
cycling
,
zero_waste
]
Link