If you prefer to set out on a shopping spree on a bicycle and prefer a rented bike that is not tracking you pay a visit to Fahrrad Schieber, a more than one hundred years local bicycle workshop located a few steps from the Wasserturm landmark within the squared part of town, the "Quadrate". For 10 EUR a day you will be provided with a well maintained used bike. If it against all odds breaks during your trip, do not hesitate to step by, it will be fixed promptly.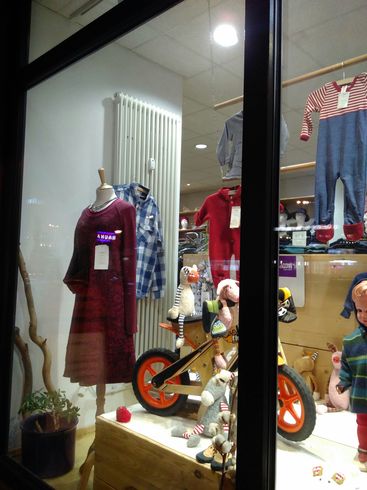 Founded almost 25 years ago your first stop could be HautNah, a fashion boutique specializing in ecologically and fairly produced clothes made from natural materials. The shop is a member of the International Association of Natural Textiles (iVN) and aims at those looking for classical long-living cuts rather than at cutting-edge fashionistas (for trending fashion you may try the shops listed below). Needless to say that HautNah also offers an assortment of healthy outfits for babies and toddlers.
Leaving the ring road and entering the Quadrate through Kunststraße you'll find a tea shop of the Tee Gschwendtner franchise. Although this specialist chain is selling conventionally produced teas and tisanes in the first place its shops have proved to be a trustworthy source of organic teas and herbal infusions for years. You can buy all kinds of loose teas and herbal infusions as well as high quality tea bags and even pre-fab iced teas, and there will usually be organic options. Although most teas will be filled into bags before your eyes there's always a minimum quantum you have to buy (usually 50 or 100 grams), and you have to buy standardized packages (bigger sizes being 250 or 500 grams).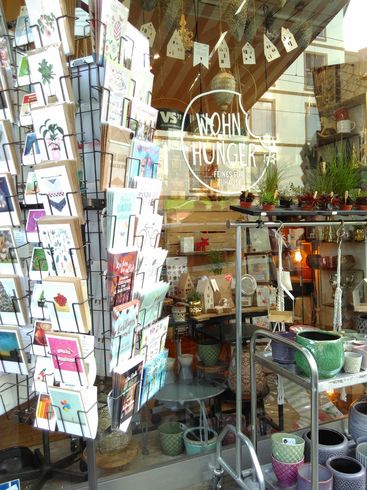 Leaving the Quadrate for the eastern part of town the Wohnhunger gift shop next to Eddie's zero waste supermarket offers a selection of organic delicatessen like coffee, soups, chocolates, liquors, herbs and spices, some zero-waste items like natural soap and cotton dish washing clothes and a lot of other cosy things. Unfortunately the organic coffee isn't used at the coffee bar, and the milk for the coffee drinks isn't organic. About two years ago the shop also offered an organic soup or stew for lunch, but these are songs from the past.
More to try
Here's a list of shops which I had on my list for research but didn't manage to visit myself. Let me know about your experience!
Greenwashed
The city's online tourist guide suggests to get yourself a "bio" picnic basket for a stroll at the embankments. Don't fall for it! The only organic items that come with this "Wellness-Korb für Vegetarier" are two bottles of the organic bionade soft drink:
Die Metzgerei, Rheinparkstr. 4 (bistro in the Lindenhof neighbourhood)
Closed
The following places do no longer exist, although you still might find references to them on the web:
Fairbrothers, C8, 18 (fairly traded organic fashion)
Mannheim
,
organic
,
shopping
,
organic
,
fair
,
fashion
,
spices
,
delicatessen
,
gifts
,
bodycare
,
coffee
,
tea
,
cycling
,
zero_waste
]
Link
Wednesday, 26 December 2018
Light and spacious instead of small and crammed -- Mannheim's package-free vegetarian supermarket Eddie's with its large shop window front is easy to find between two tram stops of line 6, Werderstraße and Pestalozzischule. Not everything here -- neither the gin nor some herb blends to give an example -- is organic, but everything organic (which is the majority of items) is clearly marked "bio" on the shelves. In addition to a small selection of fruit and veges and all you need of dry food the shop's section of plastic-free household items offers alternatives when you need to replace plastic boxes, toothbrushes, drinking straws and the like. The household chemicals section is very well assorted and -- unlike other zero waste shops which usually restrict themselves to liquid detergents -- also offers washing powders and soda by the kilogram.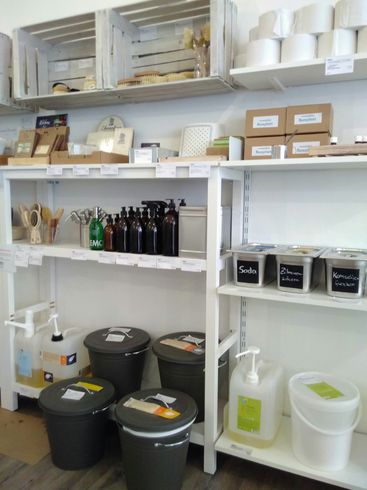 At the time of writing all supermarkets of the Basic chain should be equipped with at minimum one dry food refill station, and allow you to take home cheese, antipasti, cured meat and sausages from the meat and dairy counters in your own containers. That's exactly what the Mannheim branch at the tram stop Schloss offers -- partially supplementing but certainly not replacing the selection at Eddie's.

For coffee or ready-made meals head for the Kombüse gastro pub in the Jungbusch neighbourhood. Everything on their menu is available to take away, and they kindly ask you to come with your own jars. One-way packaging will be charged with a small surplus.

Mannheim, organic, zero_waste, grocery, supermarkets, vegetarian, vegan, takeaway, coffee] Link
Thursday, 20 December 2018
Eating out organic in Mannheim is different than in other cities: First it means vegetarian and vegan-friendly (almost) without exceptions. Second there seem to be no places serving national kitchens -- no German Wirtshaus, no French cuisine, no Turkish fastfood and not even a mock Italian place. And finally organic here means organic for everyone, not just for a wealthy, hip and urban clientele. As a result you may miss cleverly designed cool places as much as refined coffeehouses or classy gourmet restaurants. The good news is that Mannheim's organic restaurants and cafes are extremely affordable.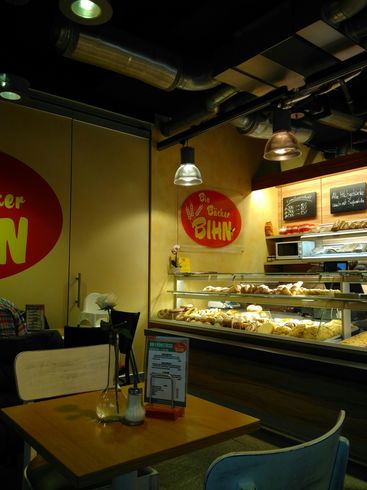 For breakfast (or a snack or coffee during the day) head for Bio-Bäcker Bihn on the ground floor of the Stadthaus housing the city library and other communal facilities and staging the city's part of the Mannheim/Heidelberg International Film Festival. Enter the complex from the north-eastern entry facing Paradeplatz, and you'll find the unpretentious bakery cum self-service cafe at the right hand site. The breakfast options served on work- and Saturdays until noon are sufficient for two not too hungry ones; you can choose from a menu which also boosts three vegan varieties or combine yourself. Coffee or tea on the go is possible, but you should rather bring your own refillable cup (or buy one on the spot) as a one-way paper beaker righteously will be charged with 25 cents. On Mondays, Wednesdays and Fridays freshly prepared sandwiches can be had at 3,90€ each; Tuesdays are (non-veg) hot-dog days where the hot dog goes at 2.50 €. The coffee comes from an automat, and the rather cheap-looking interior design maintains a low threshold. If you come with a family or friends pay together which will give you a small discount (10% above 20 €, 12% above 30 € and 15 percent of a total above 50€).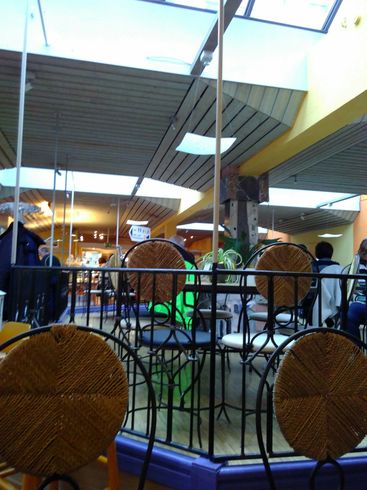 100 percent organic wholefood is being served at the Hellers self-service restaurant next to the organic Alnatura supermarket on the Kaiserring ringway from the main train station to the Wasserturm landmark. Take a tray and a plate, fill it from the various stations offering salads, mueslis, soups and warm dishes, proceed to the cash counter and find a place in the winter-garden like dining hall. During the busy lunch hours (usually between noon and 2 pm) there's also a separate station offering a pan-fried dish of the day in small or regular size. It's located next to the entrance and you also have to pay there. The food follows the principles of health food, seasonal and low in spices (the "hot" rice dish I had was rather bland). At the entrance to the sitting area there's a coffee and cake bar also serving ice-cream (1.50 € the scoop). The cake at around 3 € the piece and the coffee drinks compensate for the rather low lunch prices: 4.15 € for a large (that is: what elsewhere would be regular sized) latte and 2.50 € for a small espresso from a coffee dispenser is more than you'd pay in much more pricey cities. The audience is quite different than in organic restaurants you may be used to: a lot of elderly people meet here for lunch and coffee. Unfortunately the place doesn't serve breakfast -- the kitchen opens half an hour after the cafe opens and closes one hour (on Sundays and public holidays two hours) before closing time. Also good to know: The soap dispenser in the bathroom contains organic handwash.
The hippest and most expensive place I found is the Rohkosteria in Lindenhof south of the railway tracks. This 100 percent organic raw and vegan restaurant opened in lieu of the former "Bio-Stadel" eatery and uses preferably biodynamic ingredients. What you get here: salads, soups, burgers, wraps, falafel, vegetable "pasta", smoothies, shots, cakes and cookies -- no high-end raw gourmet food, rather driven by health ideology than made for connoisseurs: My zucchini spaghetti seemed to come right from the fridge which gave the otherwise tasty mock-bolognese style dish an unpleasant imbalance. Although the place is open in the evenings no alcohol is being served here -- even the beer and wine is non-alcoholic. The pleasantly designed interior and the unexcited atmosphere however make it an ideal place to stay for a while. Note that the restaurant is closed on Tuesdays, a recent change which -- at the time of writing -- hadn't made it to their website yet.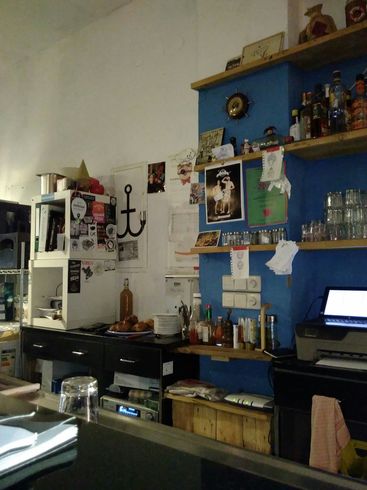 For an organic coffee, spritzer (of fruit juice and sparkling water) or wine head for the north-western neighbourhood of Jungbusch. The vegetarian, vegan-friendly gastro pub Kombüse serves Mexican-style fastfood as well as a daily changing soup and main course, on availability (but not reliably) using organic veges. It keeps open until late and may give you an impression of the city's subculture. The place also offers a take away service, but kindly invites guests to bring their own re-usable cups and jars. You will be charged the extra expense if you insist on one-way packaging.
Bicycle lovers must not miss out the city's first bike cafe in the Neckarstadt north of the river Neckar. The Café Flamme Rouge (dubbed after the red flag displayed one kilometer before the end of a bike race) was established in 2005 and serves organic bread and rolls from the Lummerland organic bakery with biodynamic vegetarian spreads, partially organic coffee, home-made pesto, pancakes and a lunch dish (the menu changes on Mondays and Thursdays).
More to try
I had two more places on my research list but did not have time to make it there. Here they are:
No longer organic
The Wohnhunger gifts and things shop does no longer offer organic soups or stews for lunch, and does not use organic milk for their coffee drinks. The coffee itself may occasionally be organic (as they also sell organic beans) but usually isn't.
Closed
Of the following places you may find remnants on the web but be assured: They do no longer exist.

Mannheim, organic, breakfast, lunch, coffee, cafe, eatery, vegan, vegetarian, restaurant, bakeries, ice-cream] Link
Tuesday, 13 January 2015
The_Conscious_Traveller, Germany, Mannheim] Link