The hanseatic city of Bremen is one of Germany's most bicycle-friendly cities and a destination of several short and long distance well-kept bicycle routes, among others the Weser bicycle route. Given the shortage of bicycle space in rapid long distance Deutsche Bahn trains it may however be challenging to get here by train with bikes, especially on short notice and during high traffic periods on summer weekends or school and public holidays.
The city has been climate- and environmentally (as well as socially) conscious for a much longer time than most other major German cities, and so you'll find probably many more interesting places than I am able to list here.
Public transport and bike rental
Bremen has a generally well working tram and bus system for which tickets are easily available from ticket machines inside the vehicles. As these ticket machines accept cash you can travel without additional carbon dioxide emissions generated by data tracking apps.
People in Bremen use the bike a lot: With many bicycle lanes, bicycle-first streets paved in red and virtually no hills it's convenient to ride a bike even with a Dutch bike and when it's raining. Compared with other major (German) cities most car drivers are used to bike trafffic and behave respectfully.
To rent a bike there are several app-based schemes. I prefer the friendly service of local bike shops which not only spares the climate for extra carbon dioxide emissions by privacy-invading data tracking, but allows for chats with interesting local people.
Unfortunately, the most convenient of them, the ADFC-Radstation at the main train station closed in 2021 in consequence of the covid-19 pandemics. So you have to invest half an hour or so to find one of the reliable bike shops with rental service during their opening hours. You may prefer to ring in upfront to make sure a bike is waiting for you (especially for the weekend). Prices in 2022 were about 12 EUR per day for a 3-gears Dutch bike.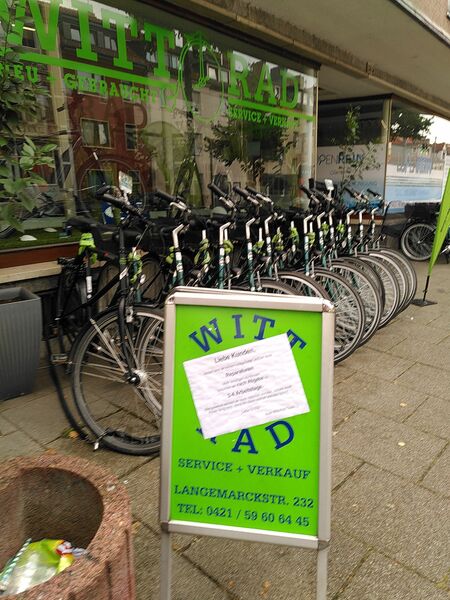 Most of the shops I know of are in the bicycle-friendly neighbourhood of Neustadt: The Fahrradstation Neustadt (which I have not used yet) and Fahrrad Witt at few steps from the tram stop "Pappelstraße". The latter is very convenient as you can return the bike out of their opening hours: Lock it to a chain in front of the shop, put the key into the letter box and send a text to the shop. The number also works as a help line in case the bike is broken, even outside the opening hours.
Renting bicycles for kids is less easy, but the Bartels bike shop in Oberneuland will happily help you if you let them know in advance. The downside is that this shop is quite a way from the city.
1-2-3 Rad at Buntentorsteinweg also offers bikes for kids and youth (as well as tandems) but I haven't used them yet.

Witt, Langemarckstr. 232, Tue–Sat 10–13,Tue–Fri 15–18
Fahrradstation Neustadt, Lahnstr. 33, Tue–Sat 10–13,Tue–Fri 14:30–18
1-2-3 Rad, Buntentorsteinweg 270, Mon,Tue,Thu,Fri(Wed,Sat) 10–18(13)
Bartels, Oberneulander Landstr. 39, Tue–Sat 10–13,Tue–Fri 15–18
Closed
The_Conscious_Traveller, Germany, Bremen, Lilienthal, Neustadt, Weserradweg, bicycle] Link