Interestingly (and contrary to other cities) the first gravity bins with organic dry food appeared in Nuremberg organic supermarkets, long before the first dedicated package-free grocery opened its doors. But now that the latter are here they support the thesis that supermarkets, even organic ones, tend to use gravity bins made from plastics while dedicated zero-waste groceries use glass suspenders whenever possible, taking the threat of plastics pollution as serious as possible.
The beautiful neighbourhood of Gostenhof has long been a hotspot for organic lifestyle, so it does not come as a surprise that the first crowd-funded package-free grocery store in town, Zero Hero, opened here in 2017. It's part of a small regional chain, with a second branch in the city of Erlangen. Like many other members of the Unverpackt e.V. association of German packaging-free shops they have a focus on organic products of the local, i.e. Franconian region (like the pumpkin seed oil) and prefer products with low carbon dioxide footprint. A speciality is the freshly milled nut butter often with a flavouring ingredient like chocolate -- flavours are changing, and you can even buy pet food. Most food items are organically certified, the rest comes from reliable near-organic sources, and you will even find organic convenience food like ready-mixes of couscous or lentil patties. Needless to say that there's a good selection of natural and eco-friendly household chemicals and body care products as well as a selection of German books on zero-waste lifestyle.
If you can't find all the dry food you need step by the Gostenhof branch of the regional organic supermarket chain Ebl, on your way back to the walled city centre. The chain has several branches in Nuremberg with bakery, cheese and butchers counters that all will accept your bags or boxes, but (plastics) gravity bins with dry food have been installed so far only here and in the less central neighbourhoods of St. Peter, Gärten bei Wöhrd as well as in the suburb of Mögeldorf. However, since packaging-free food supply is on the rise gravity bins are surely to appear in other branches, too.
If you prefer the personal contact in traditional organic groceries to the anonymity of the bigger supermarket chains head for the corner shop of Bio und nah in the Rosenau neighbourhood, to my knowledge the first grocery in town that invested in gravity bins (plastic ones, though).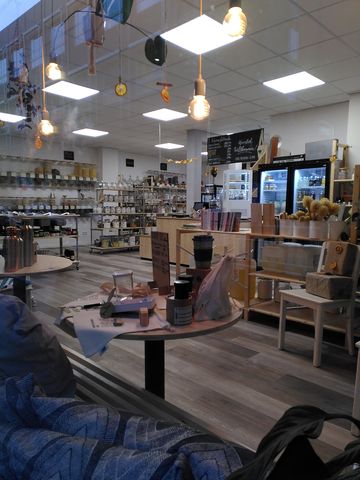 From there on it took several years that, in the covid-19 year of 2020, the first dedicated package-free self-service supermarket appeared in the tourist spot of the walled inner city: The light and friendly, inviting shop of Freivon ("free from") in St. Sebald offers virtually all you need in both, your bathroom and kitchen except for fresh fruits and veges, starting with loose-weight ready-made falafel mixes, chewing gums or Bavarian gin, vodka and vermouth, and ending with sheabutter in retour glasses. On the shelves you'll find labels that clearly indicate whether a product is organically certified or vegan and what kind of allergenes it may contain. Needless to say that also this shop has a focus on fairly and socially responsibly produced products from the greater region, and most of the food is certified organic. Different from other zero-waste groceries it offers a decent choice of very competitively priced broken chocolate, and you may mix both, all chocolates and all wine gum types to your liking as they have the same price, respectively.

As soon as covid-19 restrictions will be removed you may also have a coffee drink and cake on the spot and let accompanying children play in the play corner.

Nuremberg, Erlangen, organic, coffee, cafe, grocery, supermarket, vegan, vegetarian, zero_waste] Link