Each year Nuremberg plays host to what probably is the world's most important organic trade fair, Biofach, and the city has been wisely using the publicity that comes with the event. If you happen to be in Nuremberg around fair time you will see several communal events around organic food and agriculture. In 2016 the city organized an organic gourmet week during which participating restaurants and eateries offered fully organic gourmet meals at fixed prices even when they otherwise do so only partially. Visitors and citizens could download communally sponsored discount vouchers for these meals. Thanks to efforts like this Nuremberg has become a city where the extra effort to find organic lunch or dinner is comparatively small.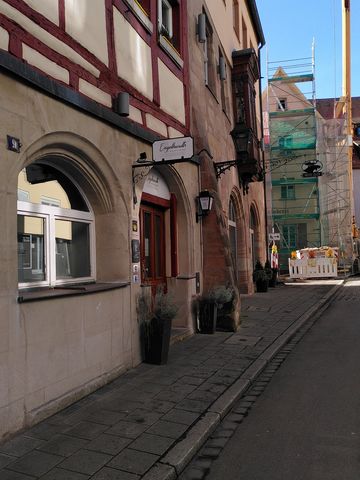 Asian
Love Asian food? Although there's an abundance of Asian kitchens in Bavaria, it's hard to find the few that are using organic ingredients. So take your chance and dine at Engelhardts located in a beautiful lane of St. Sebald. The hotel restaurant of the family-run boutique Hotel Elch it serves 100 percent organic Thai and Laotic-style food, naturally also as a room service. Note that the place is closed on Sun- and holidays.
French
The first address in town is a cosy, almost 40 years old organic creperie, Ye'chet mad in the Südstadt neighbourhood. The audience is dominated by students, artists, theatre and cinema goers, professionals in art and culture and those interested in the resulting atmosphere. Many combine a visit with a movie in the adjacent arthouse cinema. You will be served a huge variety of fully organic whole-meal crepes, pleasantly thin, both sweet and savoury, as a main course and/or dessert. French salads, soups and appetizers round up the menu.
Franconian
A five minutes brisk walk from tube station Friedrich-Ebert-Platz you will find an organic pub of old, the Frankenstube. As you might expect they serve rustic local dishes, but there's a long list of vegan and vegetarian versions. Indeed, the vegan cabbage roll served with a hearty tomato sauce and pasta was very tasty, and not bland at all. All organic dishes are clearly marked as such on the menu but you should be aware (especially when it comes to meat dishes) that the ones without the bio keyword are conventional fare. The beer isn't organic (nor are the cakes), but the wine is. The place seems to be a favourite among locals, crowded even on a weekday evening.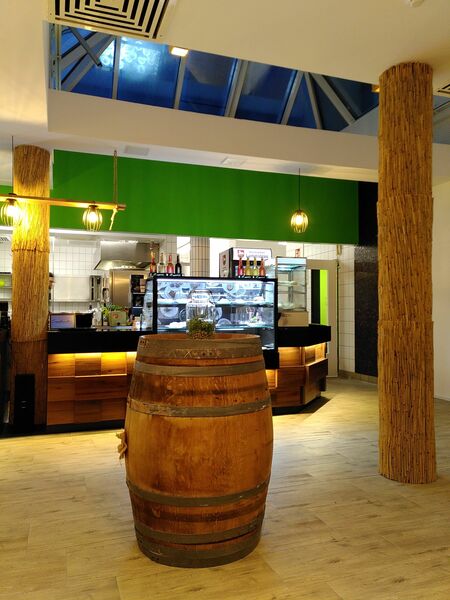 Ever wanted to try the Franconian speciality of Schäufele? When I discovered the newly established fully organic restaurant Engelhardts 2.0 at the Hauptmarkt the day after its opening I did not notice at first that they also offered this and other meat-based dishes. Italian-inspired vegetarian sandwiches and yummy vegan Austrian "Mehlspeisen" (sweet and filling flour-based desserts which also can be eaten as a course of its own) like the Kaiserschmarrn and the Dampfnudel yeast dumpling were visible and welcome after the guided walk around the monstrosities of the Nazi party rally grounds at that cold October afternoon in 2021.
The new sister of the Engelhardts hotel restaurant with its open kitchen and clean bistrot appearance (to know that this location had been a McDonald's before explains a lot of the interior design) felt very new that day, indeed: The service was friendly but still a little slow and unconfident, and we were forced to have our vegan latte in one-way paper cups as the glasses got broken in transport. Since the latte was made with oat drink without asking I got the impression of a vegan restaurant which the place is not. A closer look at the menu showed a happy mix of regional and international soulfood, preferably made with local ingredients, and I'll most certainly give it a second try during my next stay in the city.
Burgers
Shabby chic with cartoon and neon elements make the environment for Auguste (formerly "Klein-August") in Sankt Peter south of the railway tracks. Unusually for a burger grill it's not self-service but a family-friendly pub popular with women. The kitchen closes at 10 pm (on Sundays at 9 pm). Some beer and soft drinks are organic as are the burger buns which are made from spelt, the meat and the currywurst sausage. They have a good selection of vegan and vegetarian burgers, too. The name of the place changed from Klein-August to Auguste when the bigger Auguste restaurant in the Künstlerhaus K4 next to the main train station had to close due to ongoing reconstruction work.
Vegan
If you prefer pizza or a totally vegan place (also serving burgers) head for the Veganel pizzeria and eatery in the Gostenhof neighbourhood. Aside the pizze (with plant-based cheese substitute) and burgers you can also have stews, pasta, bowls, cake and more in pleasant no-frills surroundings. The ingredients are all organic and to a great extend grown in the greater region and seasonal. There'a also choice of wheat and soy-free dishes. Unlike other eateries this one is open for dinner.
Engelhardts Bio-Restaurant, Irrerstr. 9, Mon-Sat 17-late
Ye'chet Mad, Brosamer Str. 12, Wed,Thu,Sun(Fri-Sat) 17-23(24), during covid-19 measures take-away Tue-Sat 17-23
Wirtshaus Frankenstube, Pilotystr. 73, daily 11:30-1, during covid-19 measures take-away daily 11:30-19:30
Engelhardts 2.0, Hauptmarkt 15, Mon–Sat 10:30–unknown
Auguste, Augustenstr. 37, Mon-Fri(Sat-Sun) 17:30(12)-23, covid-19 take-away daily 12-21, delivery daily 17-21
Veganel, Fürther Str. 43, during covid-19 delivery Fri(Sat-Sun) 17(12)-22
Ceased to exist
The following places shut down and where replaced by other, not organic ones. So don't be confused when you find references to them on the web:

Nuremberg, organic, vegan, vegetarian, lunch, dinner, French, Franconian, German, fastfood, burgers, pizza, restaurant, trainstation, hotel, accommodation, covid, corona] Link