As in most German cities addresses of organic groceries are an easy bet if you're on the lookout for an organic sandwich or coffee on the go during the day. But Nuremberg has more to offer: A good selection of casual organic restaurants and burger grills as well as some nice day cafes, all within walking distance from inside the walled city centre.
Gostenhof
The newest of them are located in Fürther Straße, which seems to become a vegan organic hot spot: Veganel, and The Green in the neighbourhood of Rosenau, a few steps west off the traffic machinery of Plärrer. You'll enter a cleanly designed vegetarian, predominantly vegan cafe cum eatery in black-brown-white optics perfectly suited both, to sit down and work or to meet friends. Their speciality are freshly prepared smoothies and super food drinks. In addition they offer a daily changing home-cooked lunch as well as coffee drinks. Between 80 and 90 percent of the fruit is organic, and the seasonal veges, predominantly sourced from a farmer in the vicinity, are so according to availability. Bread and lenses are organic, too, as is a selection of soft drinks (though the coffee and the pasta are not). The owners are happy to answer all your questions concerning the origin of the food, hence do not hesitate to enquire. Note that they are closed on Wednesdays.
Two corners away you'll find Bio und nah, the neighbourhood's only remaining (and fully organic) grocery, co-operatively driven on the premises of a former bakery. On weekdays they serve a simple (vegetarian) soup or stew at lunch time, and you can have a coffee drink and cake or sandwich throughout the day. Matching the atmosphere of a farm shop they are pioneering the zero waste approach in town with suspenders for dry goods. These are re-financed by the sale of organic cotton bags which you purchase to fill with legumes, corn, pasta, cerials, nuts and more, and re-use thereafter.
Located in south-western direction from Am Plärrer, in a neighbourhood with many nice Wilhelminian houses and a lot of Turkish and Arab shops right before the railway tracks you'll find an organic institution of old, the Lotos grocery and cafe.
Their latest brainchild is a hole-in-the-wall 100 percent organic veggie doner and falafel shop dubbed Falafelei next to the main entrance which was opened in March, 2016. The falafel "extra" dürum I had was very tasty, just the prefab dürum bread would be better replaced with a freshly baked one.
Outside pandemic restrictions you do not have to eat on the go – simply tell them you're going inside and have it in the light and cosy winter garden in the back of the shop or on the roofed terrace during the warm season. Here you are also served coffee (or tea), cakes and, from noon, a tasty, daily changing hearty vegetarian or vegan meal inspired by ayurvedic principles (and not bland at all). All items of the set menu – salad, main course and dessert – can be ordered separately; you may also choose a small helping of the main course (which is just a small serving indeed). While you place your order for coffee and cake at the bakery counter (which will be served) you have to order and fetch your lunch from the kitchen window. Specify if you prefer the vegan version. You'll pay at the grocery's cash desk before you leave. They also offer breakfast in the morning and diner until 7:30 pm.
On your way back to the walled city centre, on Gostenhofer Hauptstraße you'll find a branch of the local organic supermarket chain, Ebl, a spacious venue with a street-facing self-service day cafe. Between 11 am and 2 pm they offer a vegetarian lunch on weekdays, and you can have a coffee or tea and/or cake or sandwich all day at one of the high tables (or to take out during covid-19 restrictions).
Within the walled city
On December 7, 2016 the supermarket chain opened their first branch in the city centre, Ebl city opposite the Germanisches Nationalmuseum which also incorporates a shop-and-eat day cafe.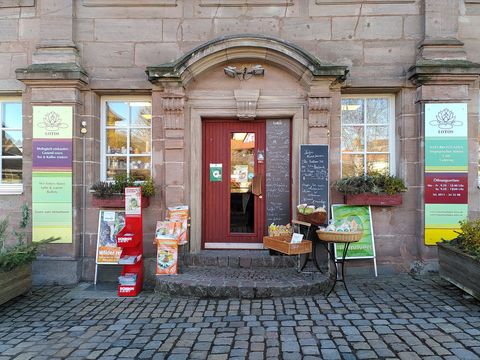 A five minutes walk north off Josephsplatz, with a view of the river Pegnitz, you'll find the second branch of Lotos, another cosily crammed grocery with a vegetarian lunch kitchen opening at noon. At the entrance turn to the left to find your way to the kitchen where you place and fetch your lunch order (they share the menu with the eatery in Hessestraße). You can have it on high tables in front of the kitchen or move to the room to the right of the entrance where you can sit down and relax. Coffee and cakes have to be ordered from the bakery counter where you also pay. Note that during covid-19 restrictions you cannot eat on the spot and have to take your meal with you -- either in your own boxes and jars or in reusable containers for which you pay a deposit.
If you fancy a coffee near Hauptmarkt head for one of the many owner-run delicatessen and sweets shops, the Maulbeere ("mulberry") in St. Sebalds. You will also be served breakfast and home-made cakes, with organic milk and eggs while you can marvel at lovely seasonal flower arrangements.
The Green, Fürther Str. 11, Mon, Tue, Thu, Fri (Sat-Sun) 8:30(9)-18(17), during covid-19 restrictions Tue-Sat 10-15, closed throughout February/March, 2021
Bio und nah, Rosenaustr. 16, Mon-Fri(Sat) 9-19(14)
Falafelei, Hessestr. 4, Mon-Fri(Sat) 11-19:30(10-16)
Lotos, Hessestr. 4, Mon-Fri(Sat) 8-20(15)
ebl Cafe Gostenhof, Gostenhofer Hauptstr. 44, Mon-Sat 8-20
ebl Cafe City, Kornmarkt 8, Mon-Sat 9-20
Lotos, Unschlittpl. 1, Mon-Fri(Sat) 9-18:30(17)
Die Maulbeere, Winklerstr. 10, Tue-Sat 9-18, during covid-19 restrictions 10-16
Closed due to covid-19 measures
Ceased to exist
The following places shut down and where replaced by other, not organic ones. So don't be confused when you find references to them on the web:

Nuremberg, organic, lunch, coffee, cafe, eatery, grocery, supermarkets, vegan, vegetarian, zero_waste, fastfood, doner_kebap, falafel] Link