If you fancy a freshly made organic ice-cream in Bremen be prepared to work out -- hope for good weather, rent a bicycle and do as many locals do: Set out on a 15 kilometers ride, first in direction University, and then on the dyke safeguarding the land against the river Wümme to a dairy farm run by friendly family Kaemena in Niederblockland.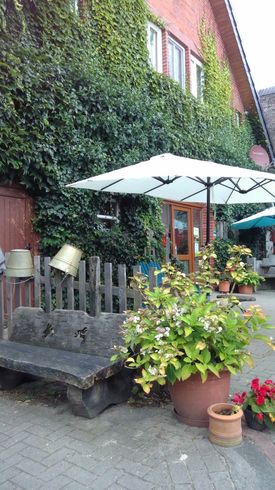 On the embankment cars are allowed with a special permit only, but an astonishing number of locals come here by bicycle, foot or skating to enjoy an organic ice-cream (the scoop goes for 1.70 EUR in 2021), coffee or cold organic drink and enjoy the farm and the countryside. The ice-cream is made right here on the farm: from the milking station to the ice-cream factory it's only about 25 metres, and another few metres to the cafe. Don't miss the poppy seed ice-cream and the varieties based on buttermilk and yogurt.
Opening hours on pleasant summer days may be longer than announced, but when the cafe is closed you can still buy iced lollies from the 24x7 open vending machine at the farm. While the vending machines are serviced throughout the year the ice-cream parlour is closed in winter.
The farm itself is driven according to the seven Bioland principles, with about 80 cows (which all have individual names) and calves who are fed by and kept together with their mothers until they eat grass and hay (which is at an age of about five weeks). The farm also keeps a few other animals like geese, two pigs, a couple of goats and chicken (both hens and cocks) and gives home to a lot of wildlife like a sparrow colony and swallows.
There's a nice playground for children, and if you want to stay longer (minimum one week) the family rents out several pleasant holiday apartments (but make sure to book well in advance for holiday seasons).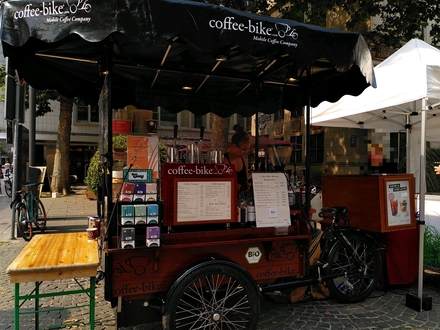 Throughout the covid-19 summers the stylish mobile coffee bar of Coffee Bike stops in the very city centre on Ansgarikirchhof Monday through Saturday and offers both, fully organic coffee drinks and Kaemena's ice-cream to passers-by. Unfortunately they do not have neither eatable ice-cream wafers nor ceramics cups for the coffee, so you're forced to enjoy your treat in non-compostable one-way cups unless you bring your own.
Closed
Lütt Köök Huus, Markthalle Acht, Domshof 8-12 (sold Kaemena ice-cream on the go)
Bremen, Neustadt, Blockland, organic, ice-cream, cafe, accommodation, farms] Link