Bremen offers plenty opportunities for an organic lunch ranging from a cheap and simple meal at a refectory to the posh organic business lunch. For dinner there's significantly less choice -- you may opt for fast food or a friendly place to meet friends, but to have an organic candle light dinner will be difficult. Don't expect highly sophisticated international cuisine -- Bremen restaurants are best when it comes to local dishes based on regional ingredients (which are totally different from e.g. the meat-centric Bavarian cuisine) and rather adapt international influences than aim at an -- whatever the definition may be -- authentic experience of a foreign cuisine.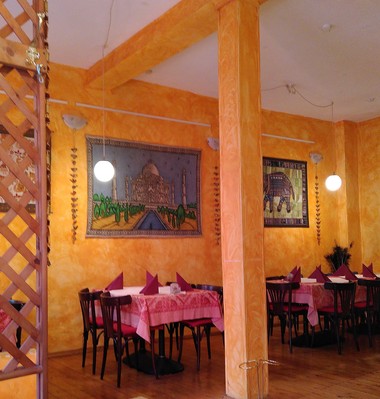 Indian
The food served in "Indian" restaurants in Germany usually does not have much in common with the food actually served in India -- and the Punjabi food served at the -- to my knowledge -- oldest organic restaurant in Bremen, the Krishna a short walk from the Southern end of either Wilhelm Kaisen or Bürgermeister Smidt bridge is also adapted to this idea of how Europeans are likely to like Indian food. This is probably not a surprise since the restaurant generates its main business from its delivery and take-away service. The good news about it -- there's always a spare table in the restaurant which now after more than ten years looks a little worn, resembling actual restaurants in India.
Since the main ingredients of the pakoras, curries and tandoori dishes -- meat, dairy products and vegetables -- are organic the food is much more palatable than in conventional "Indian" restaurants. You can choose between rice and naan bread as a side dish, and each curry comes with a salad (dressed with a balsamico-based dressing) in advance. The menu hasn't changed much in all these years -- lamb, chicken, fish, cheese (paneer) and/or vegetables in a gravy, and as a recent addition gravy with tofu as a vegan alternative. You might wish to start your meal with an (organic) yogurt drink (lassi) and finish with a cup of chai or hot saffron milk. There's also a selection of cold organic drinks available. If you have the chance take a chat with the friendly Punjabi owner, but do not expect much flexibility from his staff which often even cannot remember the dishes and will ask you for the number on the menu when ordering. Note that the restaurant is open evenings only.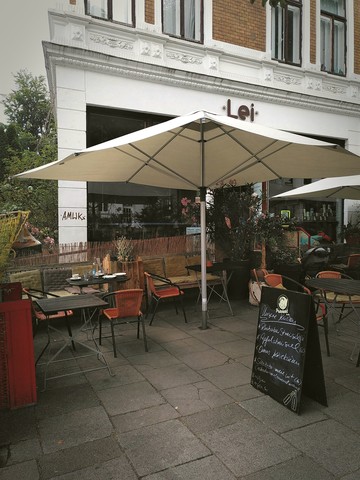 Italian
If you are in the mood for basic Italian food, organic breakfast or coffee head for the Lei in the Viertel neighbourhood. Their menu changes daily -- usually you can choose from seasonal salads, soups, a risotto, a pasta dish and three types of pizze, all entirely made of certified organic ingredients. For dessert or together with a coffee drink you may order home-made cheesecakes, sometimes brownies or other cake varieties. The pizza toppings usually are not the classical Italian ones, instead they use seasonal local ingredients on a gorgeous crisp and thin pizza base -- very tasty as was the risotto. Disappointing their interpretation of a lasagna -- the tomato-based meat or tofu fill was predominantly made of carrots. Healthy perhaps, and in line with the Bremen tradition for health food, but not the delight I hoped for.
The kitchen closes at 9 pm but as long as there are people having another drink the place keeps open in the evenings. So you might try your luck after 9 pm, to have a gin and tonic (among the gins and tonics there is one organic variety each) or sample from a good selection of craft beers, a few of them organic.
If you are not into football try to avoid the place while Werder Bremen is playing. Although usually closed on Sundays, the restaurant opens at 12 o'clock on match Sundays to broadcast the match. During the warm season there's a nice terrace in front of it where you can avoid to watch the TV screen and nevertheless mingle with locals. It shouldn't go unnoticed that the toilet avoids one-way paper towels and offers organic liquid hand-wash. A throughout pleasant place if you ask me.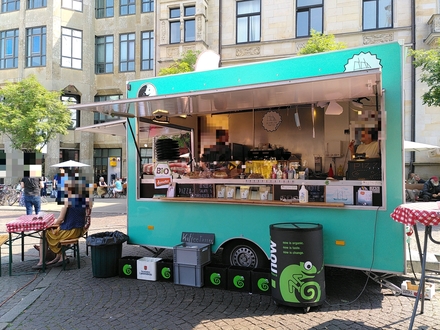 For an organic pizza slice, a chili stew, sometimes pasta and fairly traded organic coffee sailed from Honduras to Europe and transported by bicycle pay a visit to the Biten food truck at the farmer's market at the Domshof in front of Markthalle 8. Mind you that the truck leaves early in the afternoon and some days simply won't be there.
Clean and raw
Inside the Markthalle 8 food court Nora's Deli offers bowls, curries, freshly made juices and shots as well as healthy sweets without refined sugar, both to eat here and to take away. The place is located at the right hand side.
Regional -- International
For a coffee or lunch break you have another opportunity in the vicinity: the Bio-Biss im Alten Fundamt, a recreational place which has been offering organic food for many years, formerly under the name "Mundart im Alten Fundamt" and now in the second generation of tenants, as "Bio-Biss". In summer it's a pleasure to eat outside in the large backyard, with a kindergarden and a home for the elderly as neighbours. The menu changes daily and offers tasty seasonal food using predominantly local ingredients from their own farm or other organic farms nearby. The dishes are based on local food traditions or derived from Italian or Oriental cuisines, and always served both, as a regular and a small portion. You may also have an organic ice-cream from the Kaemena farm.
A less sophisticated yet filling organic lunch for a cheap price can be had at the Leckerbiss refectories run by the Bio-Biss caterers on the Radio Bremen campus in Vahr and within the refectory of the Bremen Senator for Children and Education in the city center. On weekdays you can choose from two wholefood dishes, one of them vegetarian, and a soup. In addition there is coffee and some snacks. Not all ingredients and drinks however are organic. The Bio-Biss refectory on the University campus opposite Universum unfortunately was closed in 2020, probably due to covid-19 restrictions.
The nearest you can get to a romantic evening out is the Canova restaurant behind Kunsthalle. Many of their supplies come from organic farms in the greater Bremen area, and it's a pleasure to sit on their terrace in summer. The team also runs the Cafe Sylvette inside the art museum.
Fastfood
If you rather opt for fast food there are two options, both of them only a few steps away from each other, in the city's central shopping area. Opposite the back entrance to the Kaufhof department store you can find 1885 Burger, a self-serving American-type diner using organic beef and bacon in their burgers. Start queuing at the left side and choose the type of patty and home-made bun you prefer. While the patty is being grilled before your eyes move to the right and specify the sauces, vegetables and condiments as well as your drinks (I'd suggest the organic Störtebeker beer). Some of the veges are organic, too, and most of them as well as the cheeses are sourced locally. Vegetarian cheese and vegan lentils patties are available, but you have to enquire whether they are organic. Pay at the till in the middle of the restaurant when you're ready to leave. Although the place is popular among supporters of the local football club Werder Bremen, it should be noted that there's no TV screen.
Inside the Karstadt department store the Scharfrichter sausage place offers the hottest currywurst in town. Invest the small difference of 50 cents and order an organic Bio-Bratwurst together with an organic softdrink (Bionade), and specify the spicyness of the (not organic) sauce. The organic ice-cream from nearby Kaemena farm will calm your burning gums if necessary. Vegan sausages are available, but it's advisable to ask whether they are organic. Unfortunately they closed their original location.
More to try
Here's a list of (partially) organic restaurants and eateries I found during my research but did not have time to visit. Your impressions are appreciated!
Café Heinrich, Contrescarpe 45, Mon-Fri(Sat) 9(11)-20(18) (partially organic)
Novazena, Alma, Lesumbroker Landstr. 95, Mon,Wed-Fri(Sat-Sun) 12(10)-20(22), during covid-19 restrictions Wed-Sun 12-20 (predominantly organic vegetarian restaurant and cafe, international cuisine)
Gottlieb, Im Holter Feld, restaurant: Mon-Fri 11-16, day cafe: Mon-Fri 8-16 (partially organic, organically certified gourmet restaurant)
Cafeteria Leckerbiss, Kurfürstenallee 130, Mon-Fri 11:30-14
Leckerbiss-Kantine Senatorin für Kinder und Bildung, Rembertiring 8-12, Mon-Fri 8-14 (lunch from 12 o'clock), summer-closed until August 14, 2020
Closed
Bremen, organic, coffee, lunch, dinner, snacks, restaurant, burgers, pizza, fastfood, takeaway, Indian, Italian, vegan, vegetarian, raw, covid, corona] Link