Bremen offers plenty opportunities for an organic lunch ranging from a cheap and simple meal at a refectory to the posh organic business lunch. For dinner there's significantly less choice – you may opt for fast food or a friendly place to meet friends, but to have an organic candle light dinner will be difficult. Don't expect highly sophisticated international cuisine – Bremen restaurants are best when it comes to local dishes based on regional ingredients (which are totally different from e.g. the meat-centric Bavarian cuisine) and rather adapt international influences than aim at an – whatever the definition may be – authentic experience of a foreign cuisine.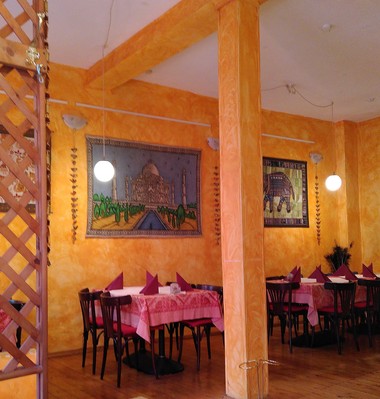 Indian
The food served in "Indian" restaurants in Germany usually does not have much in common with the food actually served in India – and the Punjabi food served at the – to my knowledge – oldest organic restaurant in Bremen, the Krishna a short walk from the Southern end of either Wilhelm Kaisen or Bürgermeister Smidt bridge is also adapted to this idea of how Europeans are likely to like Indian food. This is probably not a surprise since the restaurant generates its main business from its delivery and take-away service. The good news about it – there's always a spare table in the restaurant which now after more than ten years looks a little worn, resembling actual restaurants in India.
Since the main ingredients of the pakoras, curries and tandoori dishes – meat, dairy products and vegetables – are organic the food is much more palatable than in conventional "Indian" restaurants. You can choose between rice and naan bread as a side dish, and each curry comes with a salad (dressed with a balsamico-based dressing) in advance. The menu hasn't changed much in all these years – lamb, chicken, fish, cheese (paneer) and/or vegetables in a gravy, and as a recent addition gravy with tofu as a vegan alternative. You might wish to start your meal with an (organic) yogurt drink (lassi) and finish with a cup of chai or hot saffron milk. There's also a selection of cold organic drinks available. If you have the chance take a chat with the friendly Punjabi owner, but do not expect much flexibility from his staff which often even cannot remember the dishes and will ask you for the number on the menu when ordering. Note that the restaurant is open evenings only.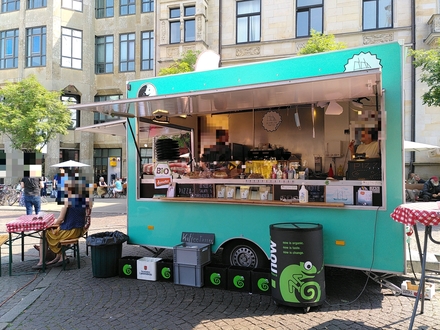 Italian
For an organic pizza slice, a chili stew, sometimes pasta and fairly traded organic coffee sailed from Honduras to Europe and transported by bicycle pay a visit to the Biten food truck at the farmer's market at the Domshof in front of Markthalle 8. Mind you that the truck leaves early in the afternoon and some days simply won't be there.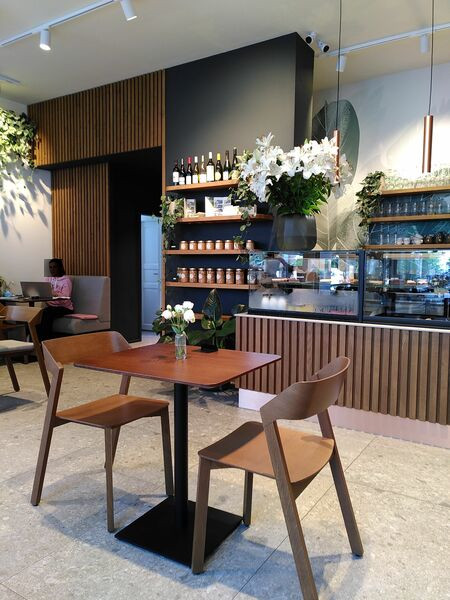 Clean and raw
Formerly located inside the Markthalle 8 food court Noras Deli took over the location of the Lei in the Viertel neighbourhood and now is simply dubbed Noras. The place was refurbished in lounge style, and although the menu starts with two savoury dishes – a very palatable Buddha Bowl and a properly spiced chickpeas curry – it's more of a cafe during daytime turning into an American bar in the evening. It offers coffee drinks, breakfast, pancakes, smoothie bowls, freshly made juices and shots as well as healthy sweets without refined sugar (don't miss the filled dates by the piece), both to eat here and to take away. There's a small range of carefully choosen wines and fully organic cocktails. You can sit outside and indoors.
Regional – International
For a coffee or lunch break you have another opportunity in the vicinity: the Bio-Biss im Alten Fundamt, a recreational place which has been offering organic food for many years, formerly under the name "Mundart im Alten Fundamt" and now in the second generation of tenants, as "Bio-Biss". In summer it's a pleasure to eat outside in the large backyard, with a kindergarden and a home for the elderly as neighbours. The menu changes daily and offers tasty seasonal food using predominantly local ingredients from their own farm or other organic farms nearby. The dishes are based on local food traditions or derived from Italian or Oriental cuisines, and always served both, as a regular and a small portion. You may also have an organic ice-cream from the Kaemena farm.
A less sophisticated yet filling organic lunch for a cheap price can be had at the Leckerbiss refectories run by the Bio-Biss caterers on the Radio Bremen campus in Vahr and within the refectory of the Bremen Senator for Children and Education in the city center. On weekdays you can choose from two wholefood dishes, one of them vegetarian, and a soup. In addition there is coffee and some snacks. Not all ingredients and drinks however are organic. The Bio-Biss refectory on the University campus opposite Universum unfortunately was closed in 2020, probably due to covid-19 restrictions.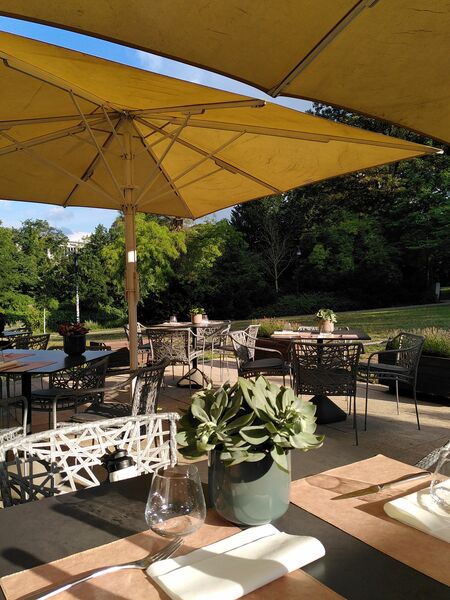 For a romantic evening out or whenever you are in the mood for fine (but not pretentious) Northern dining visit the Canova restaurant behind Kunsthalle. Many of their supplies come from organic farms in the greater Bremen area, among others from a gardener cultivating ancient and forgotten local herbs and vegetables. There are a few vegan/vegetarian and meat-based courses, but the focus is on responsibly sourced fish and seafood. The four-course menu was absolutely perfect after a leisurely day in the countryside; for the six-course menu you should probably come hungry. Of course, you may freely choose from the menu, too. During the warm season don't miss the pleasure to sit on their serene terrace.
The team also runs the Cafe Sylvette inside the art museum.
In the covid-19 pandemic summer of 2021 there was a food truck in the Wallanlagen park opposite of the Kunsthalle, run in co-operation with the Kukoon cultural center which was relocated to the park at Leibnitzplatz in 2022.
Speaking of fine local cuisine: After a visit to the Universum Science museum near the university, the restaurant Wels ("catfish") inside the hotel "Munte" serves fish from North-German shores and game from nearby forests, with organic vegetables. The vegetarian and vegan options also contain organic ingredients, but are usually inspired by international cuisines. The place, however, opens on Friday and Saturday evenings only.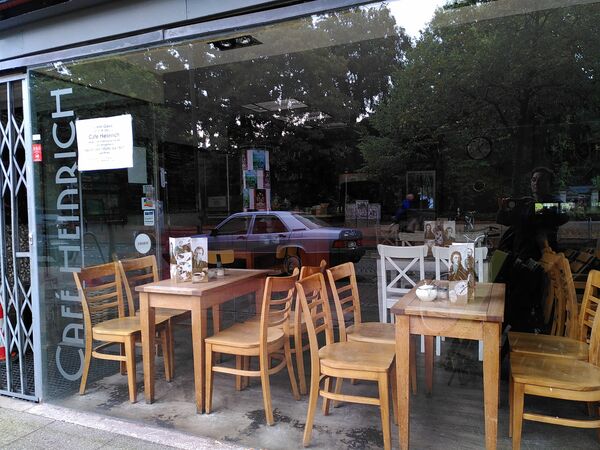 Directly located at the Contrescape park, at the edge of the picturesque Fedelhören neighbourhood with its small owner-run shops Café Heinrich is a popular day cafe serving classic German dishes like potatoes in their jacket and internationally inspired ones like Flammkuchen, the Alsatian pizza, predominantly made with ingredients from the region. The menu lists organic soft drinks and promises organic cheeses, bread and salami, but you should probably take these promises with a grain of salt and ask beforehand: When I was there the milk from the free-ranging cows of a farm from the region turned out to be conventional supermarket-fare of the "Frischli" brand.
The place used to be open until 6 or even 8 pm, but staff shortness lead to early closing times in summer 2022.
Fastfood
If you rather opt for fast food aim for the city's central shopping area. Opposite the back entrance to the Kaufhof department store you can find 1885 Burger, a self-serving American-type diner using organic beef and bacon in their burgers. Start queuing at the left side and choose the type of patty and home-made bun you prefer. While the patty is being grilled before your eyes move to the right and specify the sauces, vegetables and condiments as well as your drinks (I'd suggest the organic Störtebeker beer). Some of the veges are organic, too, and most of them as well as the cheeses are sourced locally. Vegetarian cheese and vegan lentils patties are available, but you have to enquire whether they are organic. Pay at the till in the middle of the restaurant when you're ready to leave. Although the place is popular among supporters of the local football club Werder Bremen, it should be noted that there's no TV screen.

More to try
Here's a list of (partially) organic restaurants and eateries I found during my research but did not have time to visit. Your impressions are appreciated!
Closed for Covid-19 pandemics
Closed
Bremen, organic, coffee, lunch, dinner, snacks, restaurant, burgers, pizza, fastfood, takeaway, Indian, Italian, vegan, vegetarian, raw, covid, corona] Link