Burgers
When you're hungry and don't know where to go head for the Bio-Burgermeister in the middle of busy Linzergasse pedestrian street. With its liberal opening hours (no closing day, open until 10 pm) and central location this no-frills burger grill is serving both, meat, vegetarian, and vegan versions, purely made with organic ingredients. The service is swift, the burgers and side-dishes fresh, crisp and tasty, and most of the soft drinks and the beer are organic, too (though you have to check the bottles for organic labelling). The hot varieties I would describe as spicy rather than hot, and they come up with interesting seasonal versions like the pumpkin burger with a pumpkin patty. For meat patties you can choose between medium-done and medium-rare. The place serves neither desserts nor coffee.
Unfortunately it has implemented bad habits of conventional fast-food places, too: It produces a lot of waste since the meals are served on cardboard one-way plates, and the staff isn't actually busy cleaning the tables, or refilling paper towels.
If the burgermeister is too crowded there's a second burger grill just a few steps away: The Ludwig doesn't promise fully organic burgers, but organic patties made from organic beef, turkey or mushrooms, organic pulled pork and bacon. In addition to burgers the place also serves salad bowls, desserts and breakfast (among other organic eggs in a number of varieties). Among the drinks fruit juices and teas are organic.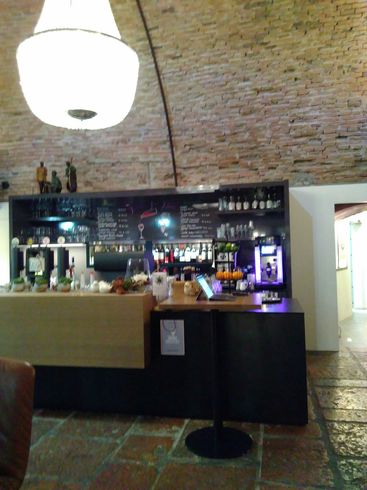 Austrian
The Urbankeller is not just a perfect address for a rustic meal accompanied by local organic beer, wine, juice or lemonade in the restaurant or a civilised drink at the adjacent bar. It also houses a stage for live acts -- predominantly rock, jazz or experimental theatre, and the occasional crime play reading. Although the place is certified by Bio Austria not everything is organic. Fully organic dishes however are clearly marked with a green logo on the menu, and a good deal of the un-marked meat-based dishes (including nose-to-tail ones using offal) are served with organic meat (check for the "bio" keyword). Vegan and vegetarian options are also available. If you consider one of the typical Austrian flour-based desserts ("Mehlspeisen") make sure to come with sufficient appetite.
Schallmooser Hauptstraße where the Urbankeller is located changes its name to Linzergasse (or Linzer Gasse, the naming is not consistent) when it runs over into a pedestrian area towards the river Salzach. Amid its touristic jumble you'll find the Stadtkrug, a family-owned hotel and restaurant of old, with roots in the 14th century. The family runs an organic highland cattle farm north of Salzburg and serves the beef at the restaurant specialising in typical Austrian dishes. The farm has its own slaughterhouse on premise which allows the cattle to die as stress-free as possible within their known habitat. The chicken served in the Stadtkrug is also organic as are some hard cheeses and the ice-cream and other products made from sheep's milk. The breakfast at the hotel unfortunately is not organic.
On the opposite side of the Salzach river September 2018 saw the opening of a new organic predominantly biodynamic restaurant and bar, the Humboldt. For lunch on weekdays you can choose between two set menus consisting of a soup or salad (your choice), and a vegetarian or omnivore main dish which come at 9 or 11 euros, respectively. The menu clearly marks organic, biodynamic, vegan and vegetarian items and also lists the sources of all ingredients which usually are Austrian farms and producers, often located in the vicinity. For all drink classes organic options are available, and often you have no choice but to drink organic. The bar keeps open until late each day, making it the perfect place for an evening out.
When I was doing research on restaurants serving local dishes links on the web lead me to "Hirschenwirt" which turned out to have been reconverted into a conventional place. Its current publican however was so nice to point me not only to the Urbankeller but to another place which I'll present here although I did not have time to visit it personally:
The Schützenwirt in Sankt Jakob am Thurn is another Bio Austria certified place combining cultural events (namely occasional small stage theatre) and culinary art and may be worth a visit in combination with a day out in the countryside. Contrary to Urbankeller all dishes are 100 percent organic, but you have to be prepared to do without your mobile due to missing coverage.
Indian
Back in town, just a few steps from the Stadtkrug vegetarian fusion food with roots in the Indian cuisines has been served for almost 20 years at Spicy Spices. This pleasant eatery may not be the place for the romantic dinner but is a nice location for a chat with friends, accompanied by a healthy lunch, a coffee, chai and/or cake, all organic. You can also shop for their home-made spice mixtures, chutneys and pickles which make tasty gifts.
International
The second surviving organic restaurant of old also draws its inspiration from the subcontinent and East-Western fusion. The Heart of Joy is a vegetarian (vegan friendly), predominantly organic cafe cum eatery run by followers of Sri Shinmoy. The latter is openly presented which may not be your idea of the perfect surroundings for a recreational sip of coffee or an Italian, Austrian, oriental or Indian inspired lunch in this otherwise pleasant location. Students are entitled a ten percent discount, and breakfast on weekends is being served all day.
For a simple lunch or a piece of home-made organic cake you may also try the A* bar in nearby Auerspergstraße.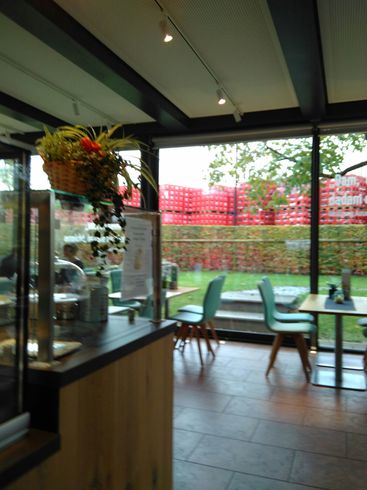 For a fully organic breakfast, lunch or snack in the neighbourhood of Maxglan, pay a visit to Rochushof, an organic supermarket with a light-flooded verandah restaurant overlooking the adjacent Stiegl brewery. To enter the place walk to the back of the supermarket, and -- for lunch -- choose between a vegetarian soup, a vegetarian and an omnivore main dish. Contrary to many organic supermarket bistros you will be served here. The kitchen closes on weekdays at 5pm, on Saturdays there's breakfast only.
If you are near the main train station on a weekday during daytime the bistro Leichtsinn ("carelessness") is worth a try. You'll find it if you leave the train station in western direction via Südtiroler Platz and walk in southern direction along Rainerstraße parallel to the tracks until you reach Elisabethstraße. Tea, beer, and cheese are always organic here, and the owners promise to prefer organic and regional ingredients, but admit that some ingredients such as avocados definitely won't be organic. Unfortunately I did not get an answer to whether the meat and other products of animalic origin are organic, so better ask about them. The menu changes daily, and you always have the choice between a soup, one vegan, one vegetarian and one meat- or fish-based dish in addition to salads (mix your own from the salad bar), home-made foccachia sandwiches, wraps, quiches, and empanadas (the owner-chief originates from Ecuador). The place is great for breakfast, there are home-made cakes (also vegan), shortbreads and fair-trade coffee, and if you need provisions for your travel, simply order to take away.
Italian
Arguably the city's best pizza can be had when entering a non-descript entrance on Franz-Josef-Straße south of Paris-Lodron-Straße: Here you find a place boringly dubbed Organic Pizza Salzburg, and this is exactly what it is: A totally unpretentious venue serving glorious 100% organic pizza in vegetarian, vegan and omnivore varieties, all well worth their 9.80 to 16.80 EUR. Instead of the standard base made from wheat you may order one made with spelt. Choose your drinks from the fridge (most, but not all organic), and have a home-made organic and vegan cake with fairly traded ingredients and/or a locally produced ice-cream to end your meal. No frills, just love, and in contrast to other fast food places covered here you will be served on real plates instead of paper waste. Unfortunately the place is closed on Mondays and Sundays.
Vegan
Just a few steps away a crowd-founded vegan cafe opened its doors recently. The Gustav serves breakfast, sandwiches, soups and salads as well as smoothies and cakes, everything predominantly organic.
Coffee and cakes
For the real coffee thing head for Röstzimmer 15 a few meters from "Spicy Spices". A cosy living room serving artisanal (though not necessarily organically certified) chocolates and pastries with Ethiopian organic coffee roasted in the room next door where you also can have a small lunch.
A new address for a fairly traded organic coffee is recently established cafe Kuchenfee ("the cake fairy") in Paris-Lodron-Straße. Their home-made cakes, unfortunately, are not organic (yet?), but you can buy organic bread. With its chary window front the place is easy to be missed, so make sure you keep your eyes open.
An Italian-style coffee drink prepared with organic milk can also be had at Fabis Frozen Bioyogurt.
BioBurgerMeister, Linzergasse 54, daily 11-22
Ludwig, Bruderhof/Linzergasse 39, Tue-Fri(Sat-Sun) 11(9)-22
Urbankeller, Schallmooser Hauptstr. 50, restaurant(bar) daily 11:30-24(2)
Stadtkrug, Linzergasse 20, Wed-Sun 17-22:30
Humboldt, Gstättengasse 4, Sun-Thu(Fri-Sat) 11:30-24(2)
Schützenwirt, Dorf 96, St. Jakob am Thurn, Thu-Sun 12-23, kitchen closes at 9 pm
Spicy Spices, Wolf-Dietrich-Str. 1, Mon-Fri(Sat) 11(11:30)-21
Heart of Joy, Franz-Josef-Str. 3, Mon-Thu(Fri-Sun) 8-19(20:30)
Ökohof Feldinger/Rochushof, Rochusgasse 6, restaurant: Mon-Fri(Sat) 7:30-17(12), supermarket: Mon-Fri(Sat) 7:30-18:30(13)
Leichtsinn, Elisabethstr. 1, Mon-Fri 8-17
Kuchenfee, Paris-Lodron-Str. 19, Mon-Fri 8:30-19:30
Organic Pizza Salzburg, Franz-Josef-Str. 24a, Tue-Wed(Thu-Sat) 16(12)-22
Gustav, Wolf-Dietrich-Str. 33, Tue-Fri(Sat) 10(9)-19(18)
Closed or no longer organic
Salzburg, organic, lunch, dinner, takeaway, restaurant, cafe, eatery, coffee, ice-cream, fastfood, vegetarian, vegan, Austrian, Indian, burgers, pizza, supermarket, grocery] Link