If you are familiar with Johann Sebastian Bach's Coffee Cantata from around 1735 you've heard about the Saxonian citoyens' love for coffee and a good piece of cake (if heading for a local speciality, try the Eierschecke cheese-cake). With a pinch of irony people will talk about the famous Saxonian "Bliemschenkaffee" ("flower coffee") referring to the thin coffee or caffeine-free coffee substitute during World War II or in the households of the poor. The term refers to the fact that you could see the flowery ornaments on the ground of the (well, not in all cases) Dresden china coffee cup.
The Saxonian's love for coffee hasn't faded since, they still proudly refer to themselves as "Kaffeesachsen" (coffee Saxonians), and most organic supermarkets will serve you a latte or Italian style coffee, both to have on the spot, and to go (in this case don't forget your refillable cup). There are however more pleasant places for a chat with friends, some reading or working time with a delicious cup of coffee.
With friendly service and a huge display of gorgeous cakes and pastries Die Kuchenglocke in Wilheminian Neustadt neighbourhood is reviving the tradition of Viennese style coffeehouses. Facing the beautiful, comparatively quiet square around Martin Luther church it is an extremely pleasant place to spend hours. The cakes are made by Dresden's furthermost organic bakery Heller, a true German bakery which was one of the first organic ice-cream makers in Germany. The young Heller generation running this beautiful cafe cum confectioner's shop proudly exclaim on the shop window's front that they are organic. Even if you have little time step by and have an ice-cream to go (1.50 EUR per scoop) or shop for sweets to take away.
The Hellers also fill the gap that nearby Cafe Continental at the crossroad Görlitzer Straße/Louisenstraße left when they stopped serving organic breakfast about three years ago: At the Kuchenglocke you can have breakfast all day long, too, and all organic. To have breakfast on late weekend mornings it's however advisable to order a table in advance as the place usually is quite crowded at that time. They also serve lunch. If you travel with kids head for the room hidden behind the bakery counter -- you'll find toys and books and a pleasant sofa there.
Not far away, on Bautzner Straße, you will find Phoenix Kaffeerösterei, a small-scale coffee roaster cum coffee bar furnished in coffee-coloured wood -- ideal for the recreational sip of Italian style coffee. Their coffee is fairly traded, yet not organically certified, although they had organic coffee when they started up in 2006. The milk for a latte or New Zealand style Flat White however is organic. Mind you that their opening hours are quite restricted, usually to Friday and Saturday, but they often keep closed on Saturdays, too.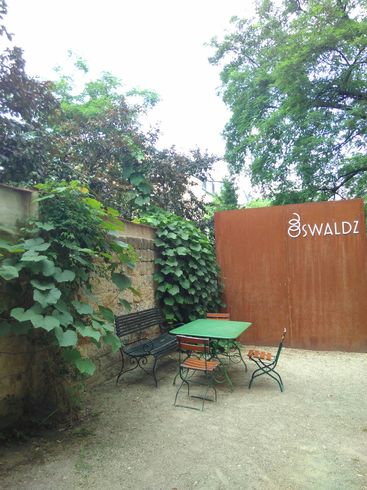 A ten minutes walk west, just before you reach Albert-Platz you can taste the Phoenix coffee all week long at the Oswaldz, a crowded coffee house cum gallery run by an ambitious young team. Before you sit down fetch a service number and put your order at the bar where you can choose from an impressive list of coffee drinks, among others a galao (coffee and milk frozzed together) or a gibraltar (double espresso macchiato). The milk they use is locally sourced and organic. You can also have a sandwich or cake partially made from organic ingredients -- eggs and cottage cheese are organic, flour and fruit are not, and since the friendly staff happily answered my questions I'm sure they will equally friendly answer yours. During the warm season they open a pleasant backyard for their guests.
If you head towards the shores of the river Elbe along Hauptstraße boulevard the Dreikönigskirche house of the church on the right hand side offers a quiet retreat from busy city life. On weekdays you can have a coffee, tea (both organic) and cake in the fair-trade Cafe Dreikönig within. There's also a small range of usually organic fair-trade foodstuffs for sale. Note that they are closed Saturday through Monday.
Facing Kreuzkirche on Altmarkt with its white-washed interior one of the few places where the wounds of the Anglo-American bombing by the end of World War II still are visible you will find one of Dresden's first organically certified eating places, cafe cum restaurant Aha. Some years ago they quite controversely decided not to prolong their certification in support of uncertified local farmers following organic or near-organic principles. More than 75 percent of the ingredients they use are still organically certified but they stopped (probably enforced by law) to make this transparent, so you have to enquire on specific ingredients if you care.
The cafe itself is equally popular among students, families and NGO groups. Its walls frequently serve as a gallery for local artists, and the daily menu often reflects and extends the exhibitions. The list of coffee drinks is long, ranging from oriental and Indian inspired spiced coffee to the ubiquitous espresso. If you prefer a cold drink it's alleviating to know that sodas are served with paper instead of plastic drinking straws. The cakes are delivered by the Heller family, but you can also enjoy hearty home-made meals throughout the day (til late), or simply help yourself at the salad bar located under the stairs. Breakfast is being served from 9 am. In the basement there's a well assorted fair-trade shop which cannot follow the restaurant's liberal opening hours and is closed in the evenings and on Sundays.
If you have to spent time in the vicinity of Dresden's central train station, Hauptbahnhof, pay a visit to another fair-trade shop, the Contigo at the Southern end of Prager Straße. Inside the shop there's an organic coffee bar, perfectly suited for the quick espresso in between, or while you're shopping for gifts, fairly traded artisanal work like bags and jewellery, tea, chocolates or coffee. They do not serve food, so you shouldn't come hungry. If you prefer an unconventional coffee drink opt a coffee based lemonade dubbed "Selosoda".
Near the Blaues Wunder bridge
A visit to the finest bridge in town, the Blaues Wunder ("blue wonder") steel construction can easily be combined with a visit to the arguably finest Viennese-style coffee house in town, the Café Toscana. Observing the bridge and the river you can sit in the winter garden having an organic coffee drink or tea. Your organic latte will be poured together at your table. While a selection of soft drinks and wines, the milk and breakfast eggs are all organic none of the gorgeously looking cakes and confectionery to be ordered from the sales desk are, at least not fully (enquire about what's tempting you). The history of the coffee house named after a Saxon princess customer dates back to the end of the 19th century. Since its re-privatisation after Germany's re-unification it has been run by the Eisold family, a local baker's family now in its third generation.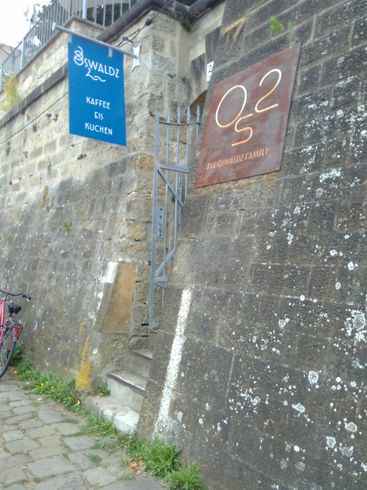 Crossing the blue wonder bridge you'll reach Körnerplatz, and if you fancy a stroll along the river shore, turn left into historical Körnerweg which leads you towards the city center along the embankment. A 15 minutes walk on the way you'll find Os2 – Café am Fluss, a summer cafe run by the Oswaldz owners serving coffee drinks with organic milk, organic soft drinks and cakes to passers-by on weekends during the nice season. Most seats are located outside providing a beautiful view over the river and the city's silhouette. As at Oswaldz order at the bar inside, find yourself a seat, wait to be served and pay before you leave. The bar room also serves as an art gallery.
Closed
The following places ceased to exist, although you still may find references to them on the web:
Weltcafe, Schillingstr. 7 (Löbtau)
Dresden, Neustadt, organic, coffee, breakfast, lunch, snacks, fair, cafe, ice-cream, restaurant] Link