For 100 percent organic, crystal-sugar free, vegan ice-cream made with dates, cashew nuts and berries try Juice 'n Cream in the Ulrichsviertel neighbourhood. The coffee, (three different) peanut and berry flavours I tried were more distinct than the flavours at Munich-based IceDate.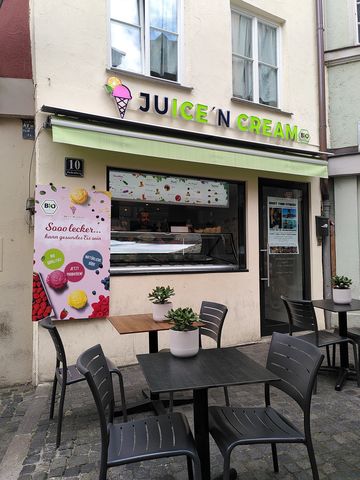 The scoop comes at 1.50 EUR, and you can choose between an eatable wafer cone or a paper-thin compostable bamboo cup. For an additional euro you can spice it up with a handful of organic toppings like cocoa nibs. The small shop uses renewable energies, and when hungry you may opt for a lunch bowl and a fruit juice. There's outdoor seating but not much space inside the shop.
If you prefer an artisanal confectioner's ice-cream with organic milk proceed into Ulrichsviertel where Augsburg with the canalised arms of the Lech river offers the air of a little Venice: The fare at Ertls Bittersüß coffee bar and confectioner's shop unfortunately isn't generally organic, though natural and predominantly made from regional produce. However, the Black forest cake ice-cream I had was overly sweet for my taste and not as delicious as what it could have been with organic sugar and cherries. The scoop on the go comes at a moderate 1.3o EUR, but you could also sit down to be served coffee, cake, and sundae.
Fully organic dairy ice-cream as well as sorbets can be had at Anna or the Malzeit coffee bar and shop in Bismarckviertel. Both do not make their own ice-cream but serve the produce of local fully organic confectionery Meisterhand making organic ice-cream, chocolates, and gingerbread. If you have a sweet tooth and are in town on a Thursday afternoon, make sure to attend their factory sale in the Martini-Park.
Meisterhand ice-cream also awaits the dweller in the Gögginger Wäldle city forrest at the Kulperhütte beer garden.
Juice 'n Cream, Judenberg 10, daily 12–21:30
Ertls Bittersüß, Vorderer Lech 18, Mon-Sat 10-18
Malzeit, Bismarckstr. 14, Mon-Fri(Sat)10-18:30(16:30)
Meisterhand Eis, Provinostr. 52, Martinipark, Betriebsgebäude B14 backyard, Thu 16-18
Kulperhütte, Pfarrer-Bogner-Str., daily 11-18, max. until midnight on nice weather summer days
Augsburg, Augusta, organic, vegan, eatery, ice-cream, cafe, coffee, confectioners, beergarden] Link