Bavarian opening hour regulations are far from liberal, hence your shopping options on Sundays and after 8 pm are limited to, uhmmm, petrol stations, more or less. Not the kind of place you'll expect to find organic food, toiletries or other necessities in eco-conscious quality.
But the times, they are changing, and for the organic Munich traveller or inhabitant, there's no reason to despair anymore. Your best bet are railway stations, namely Hauptbahnhof (main station) and Ostbahnhof.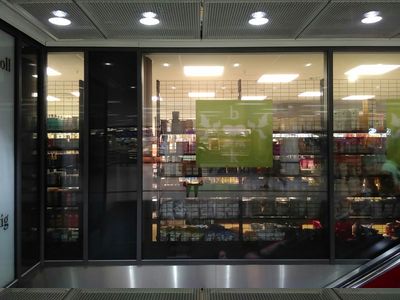 On Hauptbahnhof enter the basement from Elisenhof in Western direction, following the S-Bahn signs (if you come from the trains head straight ahead to the Eastern exit to enter the basement). Opposite the entry to S-Bahn (urban trains) you'll find Biokultur, a full-fledged organic supermarket. It's you're only choice for fresh organic fruit and veges on Sundays and offers everything you'll expect from a full retailer (including wine, household cleaning items, toiletries, ...) as well as a pleasant shopping atmosphere. It keeps open daily until 9pm.
Next to it you find a branch of the local organic Hofpfisterei bakery chain. As all of their branches it also stocks a small range of organic drinks, dry and dairy products as well as organic cold cuts.
Unfortunately the Hofpfisterei branch at Ostbahnhof train station does no longer keep open on Sunday mornings, but a five minutes brisk walk from the station you'll find one of those family-owned bakeries that are becoming so rare these days. Leave the station at Orleansplatz exit, cross the square and follow the tram tracks along Wörthstraße. At the end of Bordeauxplatz square, corner Metzstraße, you'll find Cafe Reichshof run by the Neulinger family, a lovely coffeehouse cum pastry shop. Treat yourself with their delicious organic cakes, icecream or a savory organic snack like the traditional Bavarian Weißwurst (sausage) breakfast. If you don't feel intrigued to stay shop from a huge range of organic bread, rolls, and cakes. You can also buy a small selection of prepackaged cheese and meat cuts, butter, milk and jams from the fridge opposite the coffee machine.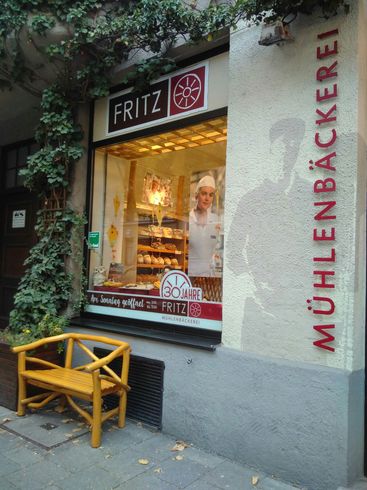 Everything you need for a sumptious breakfast or cold snack (except fresh fruit and veges) can be bought from Fritz Mühlenbäckerei near Rosenheimer Platz. Between 1987 and 2010 this cosy artisanal baker's shop was the headquarter of one of Munich's eldest organic bakeries. Now the scent of warm bread fresh from the oven is gone -- all the production takes place in modern facilities in the outskirts of Aying. The shop however is still here and open on Sunday mornings, including a small grocery section equipped with a large fridge.

Back at Ostbahnhof trainstation, directly at the southern exit of the U-Bahn station into the Ostbahnhof building you'll find the place that will save your life after 8pm: This branch of the DM-Drogeriemarkt chain does not only stock the usual excellent range of natural bodycare, organic dry products, vegan alternatives and eco-friendly household helpers, but boosts a capable selection of dairy products, eggs and even a freezer stocked with organic pizza, berries, icecream, ... Unfortunately -- and unlike other DM branches -- organic choices and certified natural cosmetics aren't clearly marked on the shelves, so watch out for organic and natural cosmetics labels, and brands.

If you need a really good bottle of wine or spirit or another gift on a Sunday, treat yourself with a real Italian coffee, snack or sumptuous meal at L'Amar organic restaurant in queer-friendly Glockenbach neighbourhood. The place features a few shelves from which you can shop along. All of their cakes and antipasti are to go, and everything is guaranteed a 100 percent organic and yummy.

Munich, organic, wine, coffee, gifts, snacks, lunch, breakfast, bakeries, grocery, supermarkets, trainstation] Link