Organic supermarkets can be found on almost every second street corner in Munich but density varies from neighbourhood to neighbourhood.
Organic supermarket chains
In addition to a local organic supermarket chain, Vollcorner (consisting of 19 markets in Munich and around), Munich hosts several branches of Germany's biggest organic chains Alnatura (14 markets in Munich and surroundings) and Denn's (10 markets in the greater Munich area, 7 within the city boundaries). In addition Munich is the home of the Basic supermarket chain with 11 markets -- early in 2021 this chain restricted its activities to South Germany and Austria and sold all other nation-wide branches. Moreover you will find a branch of a small regional chain, Landmann's (including an artisanal butcher's counter run by the Biometzgerei Pichler), many small independent supermarkets, often equipped with a Biomarkt sign, and even some homely, surviving corner shops.
During the past few years, both, Basic and Vollcorner, have made efforts to support zero-waste shopping. If you want to be sure not to (indirectly) support huge, globally operating multinational concerns you're safe when shopping at Vollcorner which consistently delists brands when sold to such companies. So you will find neither Logocos brands (Logona, Lenz, Sante, Heliotrop, Fitne) anymore since the company was bought by L'Oreal (which is partially owned by Nestle), nor Pukka tea (Unilever). Wine-lovers may also collect the corks made from natural cork and return them in for recycling at any Vollcorner shop.
On weekdays all chains and most other supermarkets keep open between 9 am and 8 pm, Vollcorner and Basic markets open at 8 am (later during the current covid-19 pandemic, Saturday opening hours vary, the big retailers and Vollcorner close at 8 pm. All groceries except the Biokultur supermarket in the basement of the central train station are closed on Sundays.
Apart from these full range retailers there is a small local food only chain, not offering any toiletries or detergents: Herrmannsdorfer specialises in meat products, bakery items and beer produced in the Herrmannsdorfer Landwerkstätten in Glonn, somewhat outside Munich. The shops close quite early, but if you come during daytime they stock sufficient dry food, dairy products, fruits, veges, sweets and more to spare you the trip to a second shop. Unlike the Basic chain Herrmannsdorfer allows you to buy meat in your own containers.
In 2015 a branch of the hyped Italian Eataly delicatessen chain opened within the architectonically interesting glass and iron construction of Schrannenhalle near Viktualienmarkt. It's true, they offer a good range of organic products, and organic food items are labelled as such on the shelves, but it's nevertheless a disappointing experience: Almost no fresh organic fruit and veges (not even the fresh herbs are organic), only pre-packaged organic meat (forget about the well-assorted meat counter), and the organic wines and spirits in the basement are not marked "bio" on the shelves, so it's very hard to find them.
Independent full-retailers
If you want to support the local economy, both Vollcorner, Munich-based Basic and Herrmannsdorfer shops are all fine, but you may prefer to support independent markets where the owners are actually running the stores and create a homely and personal atmosphere. Often you will find products not on sale by the big chains.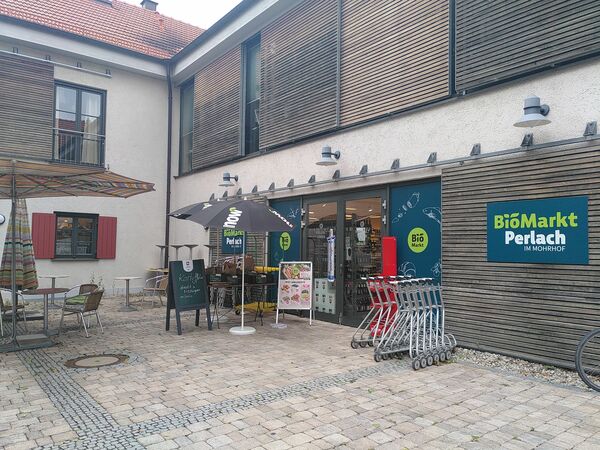 When traditional Grüner Markt chain closed down end of September 2014, their main house in the Altperlach neighbourhood made an exception. Housed in a vault it has a pleasant italophilic, somewhat venerable atmosphere, definitely worth a visit. The perfect surroundings when shopping for delicatessen, and a must-go during the Christmas season. It's now dubbed Mohrhof Perlach.
The other big independent is Schmatz ("smack") in the Glockenbach neighbourhood. Step by if only for the lovely decoration of their bodycare section. Kids are invited to play in an old-fashioned corner shop, and selected items are lovingly set on display. It's the only organic supermarket playing music in the background. By the end of 2018 they issued a ban on fresh herbs in plastics packing, and in 2022 there's a dedicated unpackaged shelf with dry food in deposit glasses.
For the picturesque yet upmarket farmshop feeling in the city aim for Stemmerhof on top of the Sendlinger Berg. Once upon a time a wealthy village farm opposite the village church the nicely restored houses are now the home of an organic supermarket (as well as an organic fashion and toy store for smaller children dubbed Natur und Kind). Their butcher's cum delicatessen disk will happily sell lunch snacks to eat on the spot or to take-away. The same enterprise also runs a second branch in the suburb of Grünwald, just a street crossing opposite of Alter Wirt hotel and restaurant.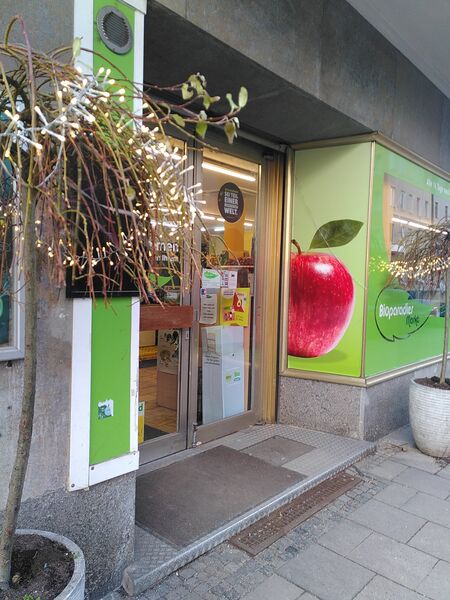 In the posh Lehel neighbourhood near the Eisbach river within the Englischer Garten park you'll find an independent organic supermarket with a touch of a spice and greens bazaar, the Bioparadies Biomarkt. Its friendly staff was even willing to open after closing time, to sell me a left-over bread on a Saturday afternoon. The serviced bakery and cheese counter is also the place to refill your spice jars with loose-weight herbs and spices. The supermarket is conveniently located opposite the tram stop "Paradiesstraße".
The former Erdgarten supermarket a ten-minutes walk away from Pasing train station (or two minutes from Pasing Marienplatz square) reopened as a branch of the local Vollcorner chain September, 2019 and continues to serve organic and vegetarian wholefood lunch as well as coffee and cake. They also have a nicely decorated bodycare section. Whether they'll continue to serve knitters with a fine selection of organic wool I am not aware of.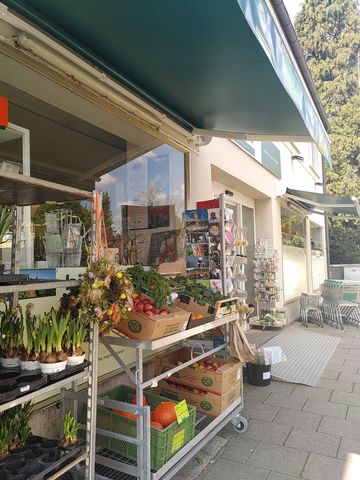 If you by chance happen to strand near the Klinikum Harlaching hospital, don't dispair: two tramstops in North-Eastern direction on the left side (just follow the tram line along Grünwalder Str.) you'll find Biowelt, a crammed independent organic supermarket with a superb selection of both, bodycare and frozen convenience products: All you need if visiting a friend or relative in the hospital in urgent need of a proper meal. Starting with lunch time they offer a helping of organic soup and a small selection of snacks. You may ask for a sandwich made on the spot. The shop also has a zero waste corner with dispensers for legumes and a small selection of other dry food as well as an assortment of dried fruit. Make sure to step by check-out to weigh your containers before you fill them.
Attending a conference at one of the huge Bogenhausen hotels near Effnerplatz? Your lunch break should be sufficient to follow Bülowstraße in Western direction to Herkomerplatz. Here you'll find not only a Herrmannsdorfer butcher's shop cum grocery cum eatery and the Hofpfisterei bakery branch next to it, but also a pleasant family-owned organic supermarket dubbed Biovolet. The Riemensberger family placed some bar tables in the entrance area to have a snack, and there is a second branch in Eching (formerly a Grüner Markt branch). Pay with your EC (VPay) debit card, and they donate a few cent to the BioBoden co-operative which buys farm land in order to lease it to organic farmers. On Thursdays you will receive a 10 percent discount if your shopping cart is worth more than 50 euros.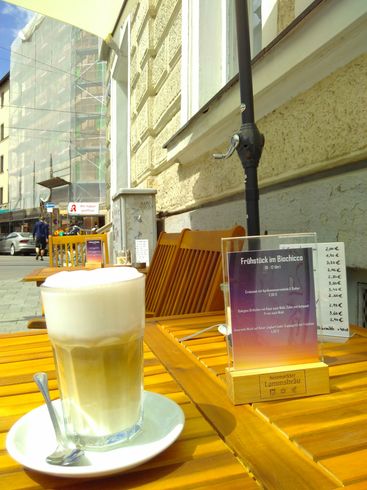 A short walk from the shores of the river Isar near the Southern end of the island housing the Deutsches Museum into the neighbourhood of Au you will find Biochicco cafe and convenience store. Formerly dubbed Auryn it was one of the first organic supermarkets in town which took over the premises of a conventional one. The shopping area has diminished since, and so has the superstore feeling in favour of a personal, homely atmosphere. In 2016 a young team took over from the previous shopkeeper and has put a lot of effort into refurbishing the then somewhat worn location. They opened a vegan snack bar cum cafe facing Ohlmüllerstraße where you can sit down for an organic breakfast (from 8 till 12), lunch or coffee and home-made cake. (Note that there's no lunch in August, but there's always free wifi.) The shop was one of the first ones to print its receipts on paper not containing bisphenol A plasticiser, and if you forgot to bring your own bag you may buy a locally sewn one made from leftover fabrics.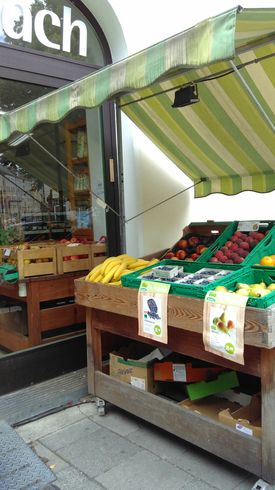 Crossing Ohlmüllerstraße and continuing south along Entenbachstraße you will bump into Entenbach Naturkost, an organic convenience store of old which is now driven by a young family. The location is clean and spacious, and at the same time preserves the homely atmosphere of small owner-run organic corner stores.
In the neighbourhood of Schwabing one of the oldest organic groceries in town is located, these days rather boringly dubbed Echt Bio Markt which is the brand of a network of small-scale independent organic supermarkets. The pleasant, traditional shop in Tengstraße offers refill for organic household detergents.
However. not all supermarkets of this brand have been long established: The independent owner-run Echt Bio Markt in Nymphenburg was opened durig the lock-down of the covid-19 pandemic: As its name suggests Bio am Romanplatz is the perfect place to shop for provisions at the tram hub at Romanplatz.
Another cosy neighbourhood with many small-scale shops and interesting food places is the Westend at the Western side of Theresienwiese (in)famous as the Oktoberfest location. Right at the border to the Schwanthalerhöhe neighbourhood, at the North-Eastern corner of the park at Georg-Freundorfer-Platz another bunch of young people is running a neighbourhood grocery dubbed Nicos Naturkost. It's just a friendly, clean and unspectactular shop with a superb selection of teas and tisanes of two small-scale organic brands usually not to be found in Munich organic supermarkets. If you stay in the vicinity for a longer period of time: They have a whiteboard where regular customers can co-ordinate orders of products which the shop usually does not stock.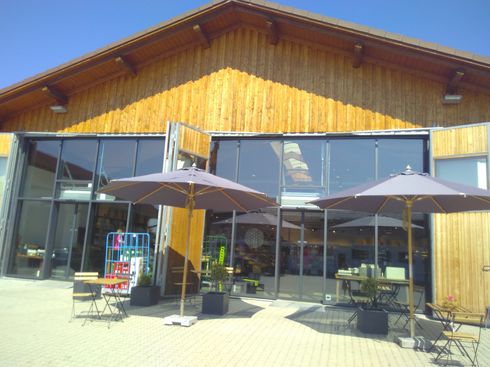 If you happen to take the S7 urban train in southern direction to the municipality of Höhenkirchen-Siegertsbrunn take the time to visit Roberts Bio-Genussmarkt on the premises of a former farmyard. The spacious, pleasantly refurbished and nicely decorated barn with its dark wooden shelfs makes it easy to spend some time on a coffee and cake in the included cafe area. When the weather is nice sun-shaded outdoor seating is provided. The former village of Höhenkirchen is part of the Mangfall bicycle route from Munich to Rosenheim, and this is a pleasant place for a break.
Waste-free supermarkets
By 2016 the first wrapping free supermarket made it into town: Check the zero-waste post for reviews. That post also has details on the zero-waste efforts of both, Vollcorner and Basic supermarkets.
For members only
In the 1970ies and 1980ies many organic neighbourhood shops in Western Germany were co-operatively organised and sold to members only. In the 1990ies most of the surviving shops like the "Abakus" in Bremen opened to the general public, with discount schemes for members. To my knowledge, there's no such surviving shop in Munich, but recently established co-operatives such as "Deine Alternative" in Zorneding also obey this inclusive approach.
But as community supported agriculture (CSA) has an increasing appeal to city dwellers (the biggest one in Munich is the Kartoffelkombinat), the concept of an organic supermarket for members only came back to town in 2016, with the Ökoesel ("eco donkey"), by now a small, yet full-fledged organic supermarket in Nymphenburg near Leonrodplatz, focussing on package-free food.
When the founding generation of Munich's oldest organic supermarket, Lebascha in Haidhausen, was to pass over the shop to a younger generation in summer 2022, the Ökoesel folks stepped in and are running it as a combined membership cum neighbourhood grocery open to everyone.
In summer 2021, another approach followed with the establishment of the Foodhub co-operative in Giesing, next to the lovely cafe "Shotgun Sister" and an organic bakery shop.
If you live in the vicinity you may consider joining this special organic food co-op which runs on the principle of solidarity: every member works three hours per month for or in the project and what's sold in the supermarket (predominantly regional produce) is decided democratically by its members. The shop concentrates on pre-packaged food, household and toiletry items, with the exception of loose weight fruits and veges, a small number of dry food gravity bins offering grains and nuts, and the self-service bread and rolls section. The household cleaning and bodycare shelves are filled with products in environmentally friendly packaging and focus on re-use (like the bamboo paper kitchen paper which can be washed and thus used several times) or little packaging through bigger volumes. There are plans for a zero-waste station to refill cleaning agents.
When I visited the shop at their open day in autumn 2021 I was surprised to not find a serviced fresh food counter given the fact that Karl Schweisfurt of Herrmannsdorfer Landwerkstätten is one of the three legal heads of the co-operative, most likely due to the fact that such a counter needs to be staffed.
No membership fee is required for becoming a member of the on-line market platform Marktschwärmer. There's a Marktschwärmerei pick-up hub in the developing neigbhourhood of Werksviertel, South of the Ostbahnhof train station, and if you decide to join, you can order food, beverages, sweets and more from predominantly organic producers in and around Munich. Note that the friendly Guamaltecan cafe hosting the pick-up point does not offer organic food, not even drinks.
Vollcorner, usually Mon–Fri(Sat) 9(8)–20
Vollcorner Bogenhausen, Warthestr. 1, Mon–Sat 8–20
Vollcorner Haidhausen, Innere Wiener Str. 52, Mon–Fri(Sat) 9(8)–20
Vollcorner Westend, Kazmairstr. 26, Mon–Fri(Sat) 9(8)–20
Landmanns Biomarkt, Barerstr. 54-56, Mon–Sat 9–20
Eataly, Schrannenhalle, Viktualienmarkt 15, Mon–Sat 9:30–20
Mohrhof Perlach, Ottobrunner Str. 133, Mon–Sat 8–20
Schmatz, Holzstr. 49, Mon–Sat 9–20
Biomarkt Stemmerhof, Plinganserstr. 6, Mon–Fri(Sat) 8–20(16)
Biomarkt Grünwald, Südliche Münchner Str. 2a Grünwald, Mon–Fri(Sat) 8:30–19(14)
Erdgarten, Planeggerstr. 9a reopened as Vollcorner, Mon–Sat 8–20 (10–20 during covid-19 period)
Bioparadies, Lerchenfeldstr. 10, Mon–Fri(Sat) 8–19:30(16:30)
Biowelt, Autharipl. 8, Mon–Sat 8–20, during covid-19 regulations also Sun 12–18
Herrmannsdorfer Bogenhausen, Bülowstr. 3, Mon–Fri(Sat) 8–18:30(13:30), eatery open Mon–Fri 11–15
Biovolet München, Herkomerpl. 2, Mon–Fri(Sat) 7:30–20(19)
Biovolet Eching, Schlesierstr. 2 , Mon–Fri(Sat) 8–20(19)
Biochicco, Ohlmüllerstr. 19 corner Zeppelinstr, Mon–Fri(Sat) 9–19:30(18)
Entenbach Naturkost, Schlotthauerstr. 16, Mon–Fri(Sat) 9(8:30)–19(18)
Echt Bio Markt, Tengstr. 31, Mon–Fri(Sat) 8–19(14:30)
Bio am Romanplatz, Notburgastr. 19, Mon–Fri(Sat) 7(8)–20(14)
Nicos Naturkost, Kazmairstr. 38, Mon–Fri(Sat) 9–18:30(13)
Roberts Bio-Genussmarkt, Rosenheimer Str. 4c, Höhenkirchen-Siegertsbrunn, Mon–Fri(Sat) 9(8)–19(14)
Ökoesel, Helene-Weber-Allee 17, Mon,Wed,Fri(Sat) 10–19(15) (members only)
Foodhub München, Deisenhofener Str. 40, Tue–Sat 8–20 (members only)
Marktschwärmerei Werksviertel, c/o Cafe Guatemuc, Atelierstr. 1, Thu 17–19 (pre-order required)
Closed down
The following organic supermarkets do no longer exist although you will still find references to them on the web:
Alnatura Innenstadt, Sonnenstr. 23 (to re-open after reconstruction work)
Biomarkt CM, Schlüsselbergstr. 13 (Berg am Laim)
Die Bio-Bäuerin, Peter-Wolfram-Str. 31 (Gronsdorf)
Johannisgarten Naturkost, Johannisplatz 21 (Haidhausen)
Gut zum Leben, Motorama Ladenstadt, Rosenheimer Str. 30-32 (Haidhausen)
Tagwerk-Bioladen Hofgut Riem, Isarlandstr. 1 (Riem)
Veganz, Baldestr. 21 corner Auenstr., including self-service cafe Goodies
Radix, Thalkirchner Str. 88 (Isarvorstadt)
Munich, Au, Bogenhausen, Haidhausen, Harlaching, Lehel, Maxvorstadt, Nymphenburg, Schwabing, Pasing, Hoehenkirchen-Siegertsbrunn, Englischer_Garten, Mangfallradweg, Mangfall_cycle_route, organic, supermarkets, grocery, lunch, snacks, deli, Italian, covid, corona, CSA] Link