The rough and pittoresque sandstone hills of Saxon Switzerland did not only inspire painters and componists of romanticism, but have been valued for centuries by both, alpinists as well as walkers and ramblers. Located at the border to the Czech republic it takes an urban train ride from Dresden (or a bicycle tour along the Elberadweg cycle route) to get here, either for a wee day out in the countryside or for a vacation inside the National park. If you get off the S1 urban train in direction Schöna at the stop Hirschmühle Schmilka, and take the ferry to the Northern shore of the Elbe river you'll reach the village of Schmilka which, to a large degree, has been developed into an organic resort during the past years. The ferry is operated on demand, so simply go down to the landing stage and wait until the coxswain will see and fetch you.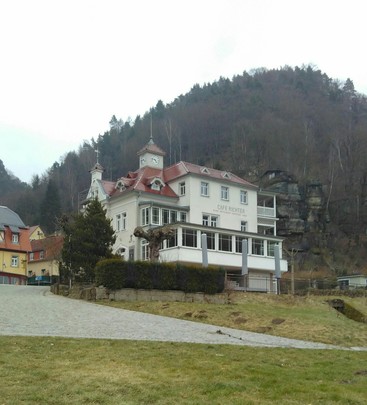 The nucleus of the organic village is Hotel Helvetia which you will find, turning West (i.e. to the left), after a five minutes walk along the river shore. Its organic cafe and restaurant dubbed Strandgut ("stranded goods") serves fine seasonal food drawing from the kitchen traditions of the region. If you stay overnight the hotel bar will be able to provide you with an organic nightcap. The hotel reception serves as check-in for all eco-friendly overnight options in the village, among others Villa Thusnelda next to the ferry stop with its luxury rooms. The latter houses a certified all organic, vegetarian and vegan-friendly restaurant and cafe, historical Café Richter with its air of a classical spa coffeehouse. Here they serve organic pasta, crepes and light lunches as well as tarts, cakes and (vegan) ice-cream made by the confectionery in house.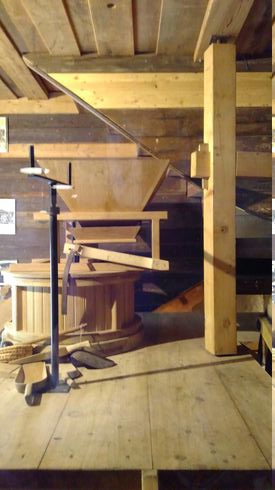 Off-season (and on Tuesdays and Wednesdays) when the cafe is closed a sign will guide you to the village's operating water mill, the Schmilk'sche Mühle further up the road in the direction of the forest, with its rustic mill restaurant, the Mühlenstube of Gasthof zur Mühle at the right hand side. Hearty local stews and soups (one vegetarian, one omnivore), pizza, bread and cake from the artisanal organic bakery opposite and tasty, heavy beer from the Braumanufaktur brewery which you cross on the way from the river are served here, either inside or in the beer garden. Order at the bar inside where you also can buy beer as well as bread and cakes to take home.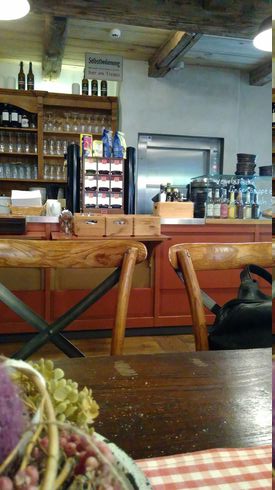 The bakery itself is open to the public, opening at dusk, and what hasn't been sold on closing time will be sold by the Mühlenstube. Opening hours of the brewery however are restricted to the guided tours on Wednesdays and Sundays. If you stay overnight at the mill (or another place within the resort) a small tour inside the mill and the brewery is included in the package.

Dresden, Bad_Schandau, Schmilka, Saechsische_Schweiz, Saxon_Switzerland, organic, vegan, coffee, breakfast, lunch, dinner, snacks, restaurant, pub, cafe, bakeries, breweries, hotel, accommodation, ice-cream] Link