Perhaps even more than in Europe an environmentally friendly lifestyle seems to primarily concern (a fraction of) the more affluent, and hence you will not be surprised that buying organic is best done in the well-off neighbourhood of Kowdiar. It's here that the city's only fully organic grocery, the Organic Bazaar, is located. Climbing the stairs to the first floor you will find a neat and clean farmer's shop driven by friendly staff and backed by an NGO, Thanal. Good for the traveller: Everything on sale can be carried home safely since none of the items needs cooling. Apart from a huge selection of pulses, grains (among others types of rice the average European has never heard of), flours, sugar, cereals and spices from all over India you will find honey, chutneys and other preserves as well as locally grown fresh fruits, herbs and vegetables. They do not offer juices or other refreshments since these would need the addition of preservatives, but you will find a sufficient selection of household detergents, washing powder, toothpaste, shampoo, soap bars and skin care. As local customers tend to shop their veges on Wednesdays be prepared to find a diminished selection of greens on Wednesday afternoons. If you stay long enough to consume your purchase make sure to return the plastic packing to the shop (fresh veges will be packaged in bags made from recycled newspapers). In case you happen to go wild and, in search of the place end up in Thanal's office in OD-3, Jawahar Nagar (the former home to Organic Bazaar) don't hesitate to ask for the way -- we were even accompanied the ten minutes walk to the shop.
More spices, pulses, grains, dried and candied fruit, teas and tisanes as well as natural body care products can be found a 15 minutes walk away at upmarket Fabindia, with upmarket price tags. Fabindia specializes in handmade Indian fashion and home textiles made from natural Indian fabrics -- very colourful and of high quality, but -- apart from some clothes for babies -- these are not (yet?) made of organically produced cotton or silk. A pleasant and quiet shopping retreat, one wonders howewer how fairly the profit of this exquisite boutique is distributed among the growers and makers of these beautifully and tastefully done textiles. Note that their "Organics" trademark for food items does not guarantee certified organic ingredients, for these to find you have to watch out for the keyword "organic" on the labels and ingredients lists.
Another -- local -- chain supposed to trade in pesticide-free, partially organic grocery is Aroma Fresh which also operates a branch near Kowdiar. Let me know if you can give an account on it.
As always in India you cannot always trust in names. Also in Kowdiar you will find Organic One cafe, but although they serve very tasty milkshakes, ice-cream, lassis and juices made of natural ingredients only, they are not serving anything organic.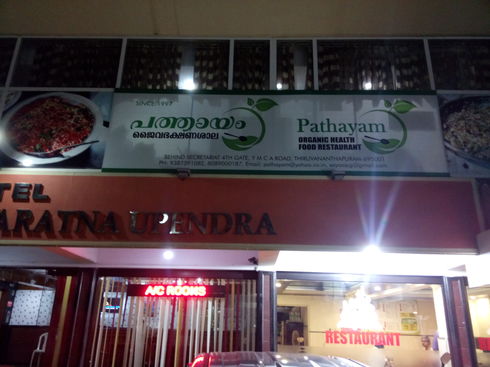 A five minutes walk from the State Secretariat of Kerala (go Y.M.C.A road to Southern block and swing to the left) you'll find what appears to be the city's only organic restaurant, purely vegetarian (predominantly vegan) Pathayam. Take the outside stairs to the right of the entrance to Hotel Navaratna Upendra, and you'll find a South-Indian eatery where you can have a traditional South-Indian meal and freshly pressed fruit juices. Boiled herb water is being served as a complementary refreshment if you ask. The Organic Special Meal consists of cut fruit and a veges salad, a soup, a chappati plus rice blended with veges served together with chutneys and curries of the day as well as three small cups of rasam, payasam and (in our case ginger-)flavoured buttermilk. The Ordinary Meal omits the salad (which also can be had separately) and fruit starter while the Chapati Meal consists of soup, four chapatis, curries, condiments and a slice of fruit. When you finish off your curries and chutneys a second helping is promptly filled onto your tray. The place focusses on health food, with one of their slogans being "taste comes second" which explains the rather bland taste compared with other Kerala food.
The restaurant consists of two rooms -- an A/C cooled room with a hand wash in the back and a lively non-A/C entrance hall where you can eat watching the fruit juices being prepared. The latter also houses a small organic grocery where you can shop all the ingredients used in the restaurant kitchen. Most supplies come from a Coimbatore farm, and the place is supplied by KADA, an organic online delivery service operating out of Trivandrum.
Another organic delivery service in town (which I haven't used though) is Sabarimala. Not only does it act as a grocery but also as a pizza delivery service. I did not have the time to visit neither their nor KADA's locations within Technopark (near train stop Kazhakootam) and hence am unable to tell whether they have shops on premise. Let me know if you happen to be there!
Closed
Thanal also operated a Zero Waste Centre in Kovalam which, apart from organic food, body and homecare products, offered recycled artisanal stationary and other items made from handmade paper, textiles, bags as well as household items made from coconut shell, natural fibres, cane and bamboo. This office cum shop was however shut down in April 2016 and is now working out of Thanal's office:

Thiruvananthapuram, Trivandrum, Kovalam, organic, grocery, supermarkets, fashion, bodycare, household, restaurant, pizza, zero_waste, vegan] Link