Dresden's Wilhelminian neighbourhood of Neustadt is dominated by independent shops and venues, many of them run by female entrepreneurs as recently documented by an art project of local photographer Christine Starke. So it comes as little surprise that it is here where you have the best chance to discover a lot of gems, driven in accordance with the personal principles of the shop keeper which often include social and environmental aspects. Keep your eyes open, and you will discover a lot more than I have to suggest here.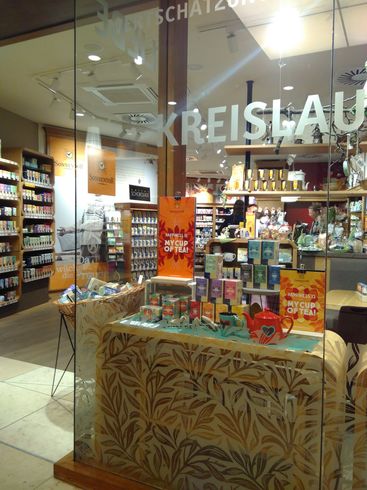 Herbalists and beauty
The old town does not have much to offer in terms of independent and surprising shops, and the Altmarkt-Galerie mall is as boring as these shopping centres usually are. A notable exception is the Sonnentor shop directly located at the mall's entrance at Postplatz, next to the tram-stop at Wallstraße. Franchises of this Austrian producer of organic and fairly traded herbs, teas, condiments, bodycare products and spices are usually located in malls or main shopping areas, neatly designed heavens offering products that are good for both, you, and the farmers and producers involved when you're in the mood for shopping.
If you're on the outlook for herbs, remedies, bodycare and food items based on ingredients described by medieval healer nun Hildegard of Bingen pay a visit to the Marone herbalist shop on Bautzner Landstraße directly located at the east-bound tram stop Pulsnitzer Straße. Not all of the products on sale (which among others include chestnut products and a small selection of biodynamic wine) in this small specialist shop are certified organic though.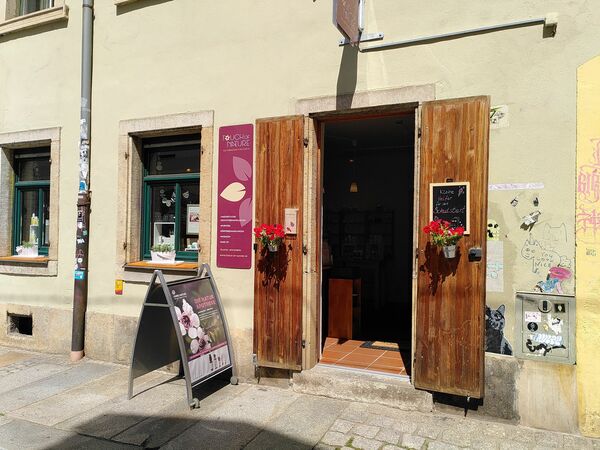 Leaving the tram tracks and entering the more pedestrian-friendly quartier natural and organic bodycare products can be found at the Touch of Nature beauty parlour cum shop in Böhmische Straße east of Rothenburger Straße. Note that this shop is closed on weekends.
If you take a little detour into Rothenburger Straße -- near the crossing with Bautzner Straße you'll find O'Shea, the factory outlet of a small local manufacturer of vegan natural lip care. But it's more than that: In addition to their own products the shop sells and nicely presents natural body care products of other small-scale producers who use organic and fairly traded ingredients. A real gem to discover new products!
For Indian-style and ayurvedic tea, chai mixtures or herbal teas head for the Indian Shop next to the organic fashion boutique Populi described further down. Unfortunately this owner-driven Indian convenience store isn't generally organic.
Bicycles
A few steps from Touch of Nature there's a second hand bicycle shop cum workshop, Elbcycles, where you can buy a used or recycled bike if you're staying longer, or get your own one fixed.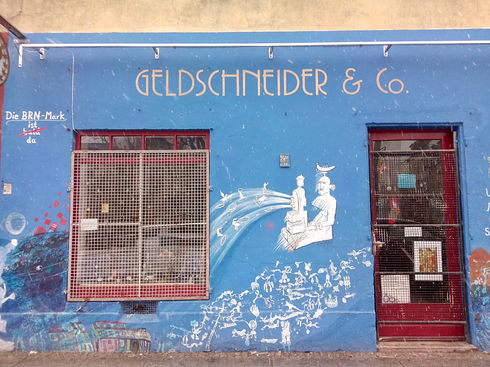 Jewellery
If you follow Böhmische Straße until it ends at Alaunstraße. A luminous blue wall indicates the location of the Geldschneider & Co. steam-punk workshop. Among others you will find beautiful jewellery made from recycled parts of abandoned analog wrist watches. The place has somewhat erratic opening hours, so step by when nearby (if you need to plan ahead: Saturdays seem a safe bet). If closed during regular German shop opening hours you may call the phone number given on the entrance door.
Fair trade
As in many other German cities the first address for colourful gifts as well as organic sweets, spices and condiments are fair-trade shops founded as grassroots activities by Christian parish members in accordance with the conciliar process of mutual commitment (covenant) to justice, peace and the integrity of creation (JPIC). As the host for pioneering regional ecumenical plenums in 1989 and 1990 the city of Dresden has been playing an important role in this process. The spirit of this movement lives on in local fair trade initiatives like Quilombo which for almost 25 years had run a fair-trade shop in the entrance area of Dreikönigskirche in Hauptstraße which played host to the first democratically elected local parliament in Saxony after East Germany's peaceful implosion in 1989. Today the initiative still has a shop in the neighbourhood of Löbtau while their former place in the "Haus der Kirche" ("house of the church") has been converted into fair-trade Cafe Dreikönig.
Sharing their roots with the Quilombo NGO the team of Cafe Aha opposite Kreuzkirche runs a fair-trade shop in the heart of the city. It is located in the basement of the cafe and offers an impressive selection of fairly-traded gifts, body care and dry goods. This initiative also runs a fair-trade ...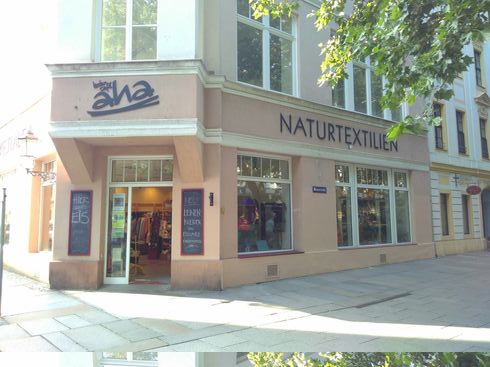 Fashion
... boutique, Aha Naturtextilien, on Hauptstraße, offering a great selection of fairly traded fashion made from natural materials. Here you will also find a good selection of stationary, jewellery, eatable fair-trade goods and more. By the way: the name "Aha" is an abbreviation for "trade/act differently" ("anders handeln" in German), and implies a huge effort in not only selling fairly traded goods but offering fair conditions to their own employees.
Another centrally located fair-trade shop specializing in fashion and household accessories as well as coffee and chocolates is Contigo near the central train station.
For more ethically produced and sustainable cocooning items visit Tranquillo, a likewise colourful fashion-and-things boutique cum fashion label in the Neustadt neighbourhood, at the crossroad Louisenstraße/Rothenburger Straße. They produce their own women fashion entirely made from organic textiles focussing on basic colours -- if you like Aha Naturtextilien don't miss this one. There's also an outlet in Louisenstraße where you can find bargain buys and (even further west, behind the Äußere Neustadt) a sustainable furniture store which opens on Fridays and Saturdays only.
Dresden's first fashion boutique exclusively selling fairly produced clothing from fairly traded, organically grown materials is dubbed Populi and can be found at the Western end of Louisenstraße, just before you reach the tram tracks of Königsbrücker Landstraße. Both, streetware, denim and designer labels can be found here, for men and women. The interior of the shop is to a great deal made from upcycled furniture.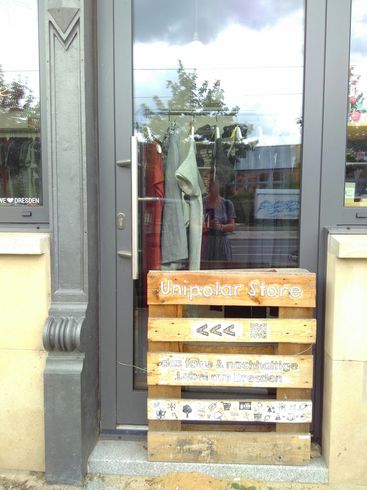 Students and nerds find fairly traded organic cotton t-shirts and sweaters with unique scientific prints at Unipolar, and everyone else organic streetware for both, men and women, aside fairly traded and sustainably produced accessories and kitchen items. This small, Dresden-based fashion label is the brain-child of a former physics student, and has two outlets (in addition to the on-line shop). The original store is located between the Bahnhof Mitte train station and the "Carl Maria von Weber" College of Music, next to the VG warehouse with its well-assorted organic fashion section upstairs. The second Unipolar shop is located in the Neustadt neighbourhood and can easily be found by spotting a bath tub opposite a tram stop in Rothenburger Straße. Note that both Unipolar stores are closed on Mondays.
Ever fancied a nice custom-tailored dress, blouse, skirt or shirt made from natural materials? On Bautzner Straße at tram stop Pulsnitzer Str. gentlemen's tailor Hüpenthal and ladies' tailor Naumann share a shop formerly known as "Mein schönes Kleid" where they sew pret-a-porter items as well as custom orders from linen, silk, cotton and wool, both evening and casual dresses. Some of the linen is even woven in the greater vicinity of Dresden, in the region of Niederlausitz near the border to Poland. If you take the opportunity to hear a classical concert in Dresden chances are high to meet musicians wearing shirts by Herr Hüpenthal which, although custom-made are recognisable by their unique signature collars. Prices for men shirts start approximately at well invested 175 EUR, and cards are not accepted. The opening hours listed below usually apply but since the shop also serves as workshop you may be lucky enough to find one of the tailors at work on Mondays and Saturday afternoons, too.
Babies and toddlers
If you have a crush on individually made upcycled fashion accessories pay a visit to Ex Animo at Martin-Luther-Platz. The shop specializes in clothes and accessories for babies, toddlers and younger children, but you will find nice gifts for grown-ups (like cigarette wallets), too. Also this shop is closed on Mondays.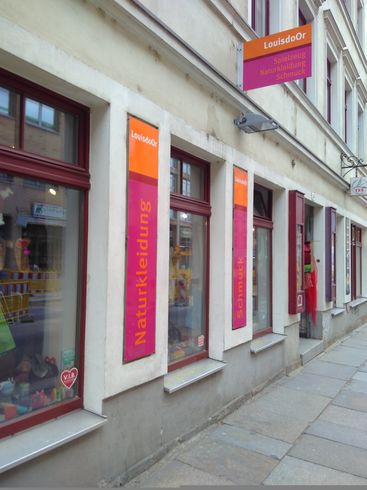 Those on the look-out for beautiful, not overly sweet organic fashion for toddlers and smaller children should step by Elvida in Louisenstraße approximately opposite Planwirtschaft pub and cafe. There you'll find the small flagship store of a Dresden-based sustainable kids fashion label -- and a source for organic sewing things.
Sustainable toys can be found further west at LouisdoOr, just opposite of Populi. This charming, owner-run shop also sells organic clothing for babies and toddlers. The somewhat erratic opening hours allow the owner to take out her dog, so when the door is closed during regular working hours take a look at the shops nearby and come back a little later.
Die Marone, Bautzner Str. 46, Mon,Tue,Thu,Fri(Wed,Sat) 10(9)–18(13)
Indian Shop, Louisenstr. 3, Mon–Fri(Sat) 11(10)–19(14)
Touch of Nature, Böhmische Str. 9, Mon–Fri 11–19, during covid-19 Mon,Wed(Thu,Fri) 11(14)–15(18)
O'Shea, Rothenburger Str. 1, Wed–Fri(Sat) 11–18(16), during covid-19 Mon–Sat 11–16
Sonnentor, Altmarkt-Galerie ground floor, Webergasse 1 (entrance from Postplatz), Mon–Sat 11–21, during covid-19 Mon–Sat 10–18
Elbcycles, Böhmische Str. 3, Mon–Tue,Thu–Fri(Sat) 12(11)–19(15), special covid-19 opening hrs
Geldschneider & Co., Alaunstr. 29, usually Mon–Sat during the day
Quilombo, Schillingstr. 7, Mon–Sat 9–19
Laden Aha, Kreuzstr. 7, Mon–Fri(Sat) 9(10)–18, during covid-19 Mon–Sat 10–18 8
Aha Naturtextilien, Obergraben 2 (corner Hauptstr.), Mon–Fri(Sat) 9:30(10)–19(18), during covid-19 Mon–Sat 10–18
Tranquillo, Rothenburger Str. 43, Mon–Fri(Sat) 10–20(18)
Tranquillo Outlet, Louisenstr. 45, Mon–Fri(Sat) 11(10)–19(18)
Tranquillo Furniture Warehouse, Lößnitzstr. 14, Haus 1, Fri(Sat) 14(11)–19(16)
Populi, Louisenstr. 5, Mon–Fri(Sat) 11(10)–19(16)
Unipolar Neustadt, Rothenburger Str. 38, Tue–Fri(Sat) 11–19(17), Mar through May and Oct through Dec also Mon 11–19, during covid-19 Mon–Sat 11–14:30, Mon–Fri(Sat) 15–19(18)
Unipolar Mitte, Jahnstr. 1, Tue,Thu,Fri(Wed) 11–19(17), Sat 11–15, during covid-19 Wed–Fri(Sat) 11–18(15)
Naumann/Hüpenthal Boutique, Bautzner Str. 63, Tue–Fri(Sat) 10–18(13)
Elvida, Louisenstr. 29, Mon–Wed(Thu) 10(16)–18, summer-closed until Sep 06, 2021
LouisdoOr, Louisenstr. 4, Mon(Sat) 13(10)–18(14), Tue–Fri 10–12.30, 13–15:30, 16–18
Ceased to exist
The following places shut down, so don't be mislead when you find references to them on the web:

Dresden, Neustadt, shopping, organic, fair, fashion, shoes, spices, tea, herbs, delicatessen, gifts, upcycling, steampunk, bodycare, furniture, household, children, toys, Indian, covid, corona] Link