The city being more or less a lively and living outdoor museum has one major disadvantage compared with other Italian cities: When it comes to eating out it is difficult to follow the rule: "Follow the natives". Arguably it might be the only place in Italy where spotting tasty, or even reasonable food is a real challenge -- especially when your tastebuds are used to organic food.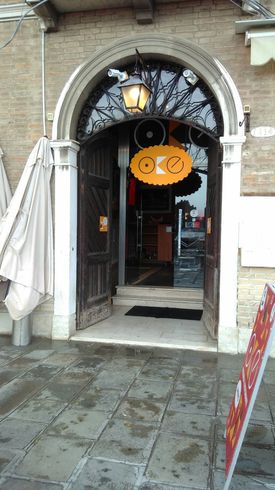 But things have improved vastly since I first visited Venice.
For a decent lunch or dinner with a romantic view of the Giudecca island try Pizzeria Oke on Fondamento delle Zattere between waterbus stops Zattere and S. Basilio. The place looks quite touristy, with US-nostalgic interior, but in fact it is not just a decent pizzeria using organic kamut flour for the dough and organic veges, but a full-blown restaurant. They serve tasty, local-style food prepared with high quality ingredients. If you like give their seafood dishes a try. Wine lovers should try "Calaone'", the product of a pleasant organic vineyard in the nearby Euganean hills, and there are more organic wines on the menu.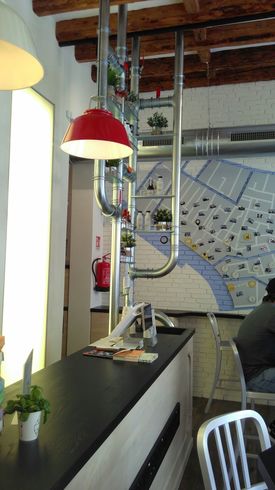 For the informal pizza snack head for Bella&ampBrava, a 100 percent organic fast food pizzeria. Although you may sit down on a bar stool to have a crispy, tasty pizza and an organic softdrink, beer or filtered tap water they do not own any real dishes, not even a single glass for water. Whether you eat on the spot or order to take away -- your pizza is always served in stylefully designed alveolar cardboard boxes, producing a lot of waste. Although comparatively small the pizza itself is surprisingly filling since the dough is made from aromatic wholemeal. Apart from the seafood pizza "Venexiana" all pizze are vegetarian, and four of the six varieties are vegan. Loves for taste and first class ingredients, the organic soap in the bathroom as well as for the tasteful and clean interior but thumbs down for the throw-away mindset.

Venice, Venezia, biologico, organic, pizza, dinner, lunch, Italian, restaurant, eatery, takeaway] Link