As a university city Trondheim has had a few places offering partially organic lunch for almost a generation, both, of the home-made vegetarian food kind, and those with a fine dining approach. Some of the pioneers closed their kitchens only a year ago, others re-opened in larger locations after a closing period and fostered an entire cluster of restaurants based on ingredients from organic farms in the greater region. Coffee houses and cafes serving fairly traded coffee drinks with organic milk have been coming and going, but if you put a little effort in where to go you will find both, places for a quick coffee or sandwich, places to have a great time with friends, and inspiring eating experiences.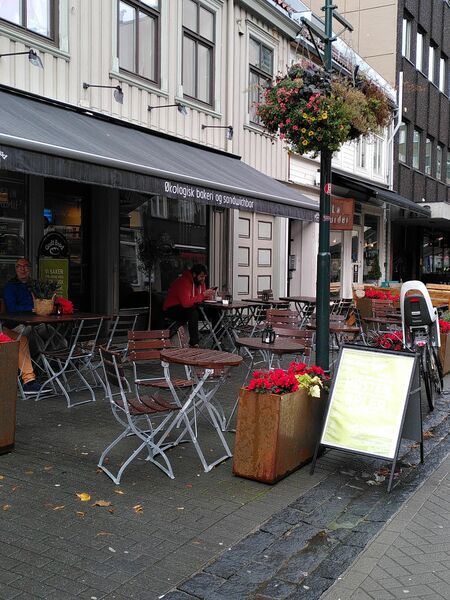 For a lunch or breakfast sandwich head for the cafe in the backroom of the organic Godt Brød bakery near Nordre gate, one of the pioneers of organic food in Norway. Choose the filling of your sandwich or savory bread roll (all ingredients except the Italian-style salami cut are organic), have a decent coffee drink (the milk is organic), tea, a sweet organic bread roll ("bolle"), and/or an organic juice (e.g. from the nearby Rotvoll juicery in Ranheim which has its own organic grocery on their premises). About half of the cold drinks are not organic, so check for the "økologisk" keyword. During the warm season, treat yourself with a pre-packaged organic ice-cream from Reins Kloster. Everything is offered to take away, too. Notable fact for vegans: The dough for the sweet bread rolls is dairy-free, the bakery uses porridge made from oat and water and rapeseed oil instead of milk.
The company has expanded vastly in the past few years, with shop openings in Oslo (which by now also hosts the headquarter), Stavanger, Bergen and a few other places and last but not least at its birthplace: If you cannot find a spare seat in the cafe where it all began simply walk a few more steps to Dronningensgate. With its upmarket shop front it's the perfect place for a coffee date.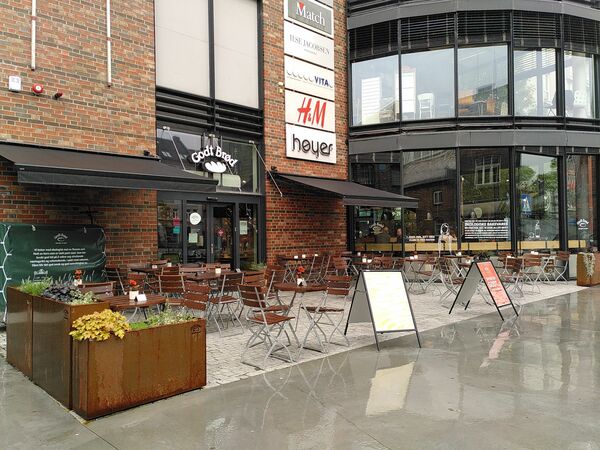 A short stroll over the bridge there's a third branch by the waterfront, inside the Solsiden shopping mall with even longer opening hours. They have a spacious sitting area outdoor, although its use is limited due to the ever changing weather in Trondheim. Good to know: All Godt Brød branches accept anonymous payments without data traces, using cash.
Heartier food like organic egg and bacon for breakfast or lamb burgers for lunch or dinner, together with organic softdrinks can be had at Ramp Pub and Spiseri at Svartlamon. Vegetarian options are available. Service at this shabby-homely place may be a little slow, and not all of the ingredients are organic. Formerly entirely furnished with formica tables and chairs the interior has improved since, but gentrification hasn't replaced the proletarian chic yet. The kitchen closes at 9 pm.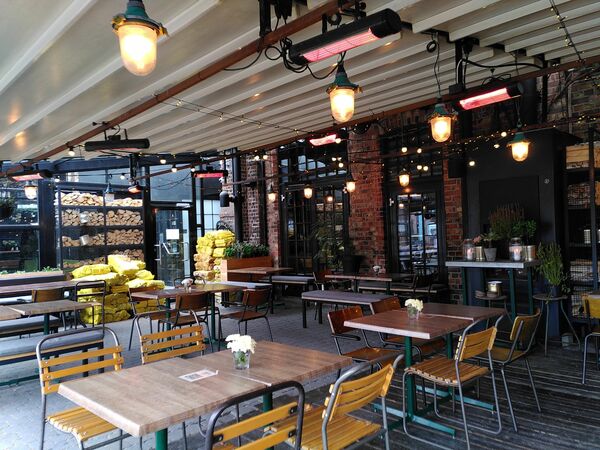 For pizza and beer head for Selma, one of the many pubs in the former ship repair workshops at Solsiden. Unfortunately none of the drinks (apart from a fresh cassis-flavoured nordic sour) is organic, and most of the food isn't organic either, but they use organic flour for the best pizza dough in town and have some organic ingredients among the toppings. Their store cupboard being a part of the interior you can see that they, among others, use both, organic and conventional tomatoes, organic vinegar and syrup. Some of the fresh herbs are organic, although the basil wasn't at my visit. The best pizzas here aren't the classical Italian ones but their own creations which go extremely well with beer. They happily omit the meat toppings if you ask so but expect to pay the full price anyway. Make sure to place your orders at the bar (and pay at once), taking with you the drinks. The food will be served.
Real organic food, vegan and vegetarian, is served at neighbourhood Cafe Stammen in Kongens gate. Unfortunately their opening hours are rather limited, so I haven't been able to pay a visit yet. Let me know about your experience if you happen to eat there before me.
Simple seasonal lunch with the little extra, home-made predominantly from produce of small-scale organic (though not necessarily certified) farms from the Trøndelag region, sourdough bread of traditional grains from the adjacent bakery, coffee and books, this is Sellanraa next to the city library and Kunsthall museum. Unfortunately they do not serve dinner and are closed on Sundays.
Fine dining based on local organic produce started with restaurant Credo in an old narrow street in the city center of Trondheim many years ago. The place had to close, but after a break, master-mind and chef Heidi Bjerkan started anew on new, formerly industrial locations in Lilleby. There are now three restaurants for various budgets, and a bakery: fine dining at Credo, informal rustic brunch, lunch and dinner at Jossa, and ramen soups with a Norwegian touch at Edoramen, run by different chefs who all share the love for unadultered, sustainable food. All places are closed on Mondays and Tuesdays as well as during the Easter holidays.
At the airport
Airports generally aren't the place for a conscious lifestyle, but if you cannot avoid to fly from Trondheim Airport Værnes you may at least have an rganic coffee past security at Haven next to gate 35.
Permanently closed or no longer organic
The following places are either closed, with references remaining on the web, or ceased to offer organic items:
Credo, Ørjaveita 4 (partially organic gourmet restaurant, re-opened on new location)
Kafé Soil, Nedre Bakklandet 20d
Makro Buffet og Restaurant, Prinsens gt. 4c (partially organic macrobiotic eatery)
Trondheim Mathall, Prinsens gt. 30 (partially organic restaurant and delicatessen)
Persilleriet, Erling Skakkes gt. 39 (one of the pioneers of organic vegetarian food in Trondheim, replaced by a vegan lunch bar, Erlings, where you perhaps also will find some organic items if you ask)
Persilleriet St. Olavs Hospital, Olav Kyrres gt. 13
Dromedar Kaffebar (various places, do no longer have anything organic)
Trondheim, organic, fair, vegetarian, vegan, bakeries, cafe, takeaway, coffee, ice-cream, snacks, lunch, dinner, pizza, airports] Link