A university city and a cultural hotspot in Norway it does not come as a surprise that Trondheim offers sufficient opportunities to almost effordlessly adhere to a 100% organic and eco-conscious lifestyle. This hasn't been always like this, but during the past few years more and more shops and eateries offering organic items have opened, and the availability of organic products in general has increased dramatically.
Eating out
For a sandwich for breakfast or lunch head for the cafe in the backroom of the organic Godt Brød bakery near Nordre gate, one of the pioneers of organic food in Norway. Choose the filling of your sandwich or savory bread roll (most ingredients except the meat-based ones are organic), have a decent coffee drink (the milk is organic), tea, a sweet organic bread roll ("bolle"), and/or an organic juice (e.g. from the nearby Rotvoll juicery in Ranheim which has its own organic grocery on their premises). About half of the cold drinks are not organic, so check for the "økologisk" keyword. During the warm season, treat yourself with a pre-packaged organic ice-cream from Reins Kloster. Everything is offered to take away, too. What you probably would not expect: The dough for the sweet bread rolls is dairy-free, the bakery uses porridge made from oat and water and rapeseed oil instead of milk.
Heartier food like organic egg and bacon for breakfast or lamb burgers for lunch or dinner, together with organic softdrinks can be had at Ramp Pub and Spiseri at Svartlamon. Vegetarian options are available. Service at this shabby-homely place may be a little slow, and not all of the ingredients are organic. Formerly entirely furnished with formica tables and chairs the interior has improved since, but gentrification hasn't replaced the proletarian chic yet. The kitchen closes at 9 pm.
For pizza and beer head for Selma, one of the many pubs in the former ship repair workshops at Solsiden. Unfortunately none of the drinks (apart from a fresh cassis-flavoured nordic sour) is organic, and most of the food isn't organic either, but they use organic flour for the best pizza dough in town and have some organic ingredients among the toppings. Their store cupboard being a part of the interior you can see that they, among others, use both, organic and conventional tomatoes, organic vinegar and syrup. Some of the fresh herbs are organic, although the basil wasn't at my visit. The best pizzas here aren't the classical Italian ones but their own creations which go extremely well with beer. They happily omit the meat toppings if you ask so but expect to pay the full price anyway. Make sure to place your orders at the bar (and pay at once), taking with you the drinks. The food will be served.
Real organic food, vegan and vegetarian, is served at Cafe Stammen in Kongens gate. Unfortunately they are closed for refurbishment until January 18, 2018, so I am still unable to pay a visit. Let me know about your experience if you happen to eat there before me.
Fortunately an organic pioneer in the city, vegetarian eatery Persilleriet is not far away. It has been offering predominantly organic wraps and sandwiches since 2005, both to eat at the spot and to take away. There is a second self-service lunch restaurant on the premises of St. Olavs hospital which unfortunately is closed not only on Sundays, but also on Saturdays.
For a cosy, almost entirely organic and Sunday-open cafe take a stroll through the Bakklandet neighbourhood with its small and beautiful wooden houses on the Eastern shore of the Nidelva river. Kafe Soil on the premises of former "Annas Kafe" serves yummy organic cakes, cinnamon rolls, lemonades, juices, smoothies, tea and more. The coffee is often organic, too, and there's usually a vegan soup or stew for the hungry on the entirely vegetarian, generally vegan-friendly menu. When the cafe was opened it shared its venue with a micro brewery. The latter has moved since but as a result you still can come here for a beer (although the organic beer is imported from Germany). Also worth a note: The soap in the bathroom is organic, which takes an extra effort in Norway where certified natural body care isn't sold by conventional supermarket chains yet. Kafe Soil occasionally plays host to intimate concerts, vegan community arrangements, clothes exchange gatherings and other grass-roots sustainability arrangements. Closed for holidays until January 10th, 2018.
Food and daily necessities
The city's first address for zero-waste shopping is a cosy fair-trade grocery, Etikken: Bring along your own bottles and boxes to refill with organic detergents, grains, and dried fruit. This not-for-profit undertaking partially run by volonteers offers a good selection of organic food, drinks and sweets, along with household necessities like eco-friendly baking sheets and detergents. They offer a decent selection of preserves and vegan alternatives, but no fresh fruit and veges. The shop is also a reliable source of organically certified make-up, skin and hair care, organic wipes, tampons and menstruation cups.
In 2016 Etikken moved to a new and bigger venue in Olav Tryggvasons gate between Nordre and Søndre gate (next to the Norwegian handicraft shop "Husfliden"), but many sources on the web still list its old address in Fjordgata.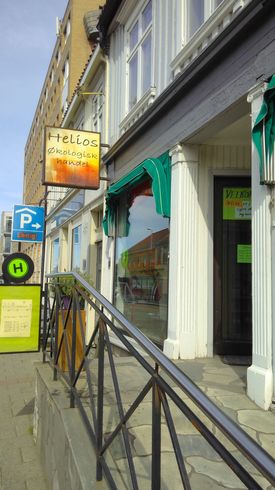 For fresh food head for the city's organic pioneer, the Helios convenience store in Prinsens gate. At the end of 2016 the shop closed down but was taken over by new owners immediately and is now as reliable as before. You will find all daily necessities -- food, toiletry, detergents etc. -- in organic quality, including frozen pizza, ice-cream, unhomogenised fresh milk and Norwegian caramelized brown cheese. The frozen "lefser", Norwegian "pancakes" topped with butter, cinnamon and sugar and folded together, are not organic but nevertheless worth trying -- simply defrost and enjoy.
At Trondhjem torv a farmers' market, Bondens marked is being held every second week on Saturday. Local small scale farmers sell their produce, but it takes a little effort to find the organic ones.
When it comes to conventional supermarkets, a quite impressive range of organically certified food is on offer at the Meny hypermarket Solsiden and the various Coop supermarkets with their Änglamark own brand (see also here). To avoid green-washed products and misleading marketing while cherry-picking through these markets check for the "økologisk" keyword and organic labelling (mainly Debio, KRAV and the European organic label, but you will also find Soil Association and USDA certificates). Dairy products by Røros meieriet, meat products by Grødstad Gris, ice-cream and beer from Reins Kloster, "Helios" and "Manna" products as well as "Go green" grains and pulses are all safe. Some of them can also be found in Sunkost or Life healthfood shops.
Shopping
A few steps from Godt Brødt the Miss Organic perfumery offers the city's biggest selection of natural and organically certified body care and cosmetic products in a styled shopping environment.
For fashionable clothing and yarn made of organic wool take a stroll to Baklandet where you find Nøstebarn. As the name hints babies and toddlers were the original focus, but the product range has extended since to cater for adults, too, and not only for those who enjoy knitting. So here's the place to look for woollen underwear and other accessories for the Nordic winter.
Where to stay
The hotels of the Choice chain advertise with organic breakfast items and are certified with the Debio label in bronce which is awarded to food places offering at minimum 15 percent organic items. In the case of the otherwise boring conference hotel Augustin at the corner of Kongens and Prinsens Gate this allowed for an organic breakfast consisting of apple juice, crispy oat-cerials with a tasty type of sourmilk ("tjukkmjølk") or low-fat milk from Røros meieriet, alternatively soy milk, crispbread with honey, peanut butter, brie and a blue-mould cheese as well as hard-boiled eggs a few years ago. On a recent stay at Comfort Hotel Park at the corner of Prinsens gate and Bispegata the 15 percent mixture consisted of all organic coffee and fat-free cow milk (but conventional oat and soy milk), organic Earl Grey tea, dark rye bread and one type of crisp bread, a good selection of organic cerials, raisins, apples, orange marmelade, peanut butter, honey, and boiled eggs. The Park hotel bar's fridge next to the entrance offered organic lemonade and cola (of the "Oskar Sylte" brand) as well as canned organic iced coffee mixes.
Unfortunately the city's hotel institution Britannia in Dronningens Gate, once a certified eco lighthouse is closed for renovation until minimum spring 2018. During my last stay a few years ago they offered a small selection of organic veges and bread at the breakfast buffet, and I'm confident that they will do even better after reopening.
Just a few steps west, crossing Nordre and Jomfrugate you will find Hotel City Living Schøller a budget option which was recommended to me by Alicia from Portland, Oregon after reading this blog. She described her room as having "zero perfume -- none on the sheets nor in the cleansers. The room felt fresh and healthy, if quite simple." The hotel provides guests with a 15 percent discount at nearby Godt Brød bakery cum cafe for breakfast, and offers a kitchen for guest use.
At the airport
If you happen to strand at Trondheim Airport Værnes spend your airline food vouchers at Caffè Ritazza between gate 31 and 32 (behind security) which uses organic full-fat milk for their coffee drinks. They also offer a selection of fair-trade (though not organic) chocolates.
Permanently or temporarily closed
The following places are closed, with references remaining on the web, or ceased to offer organic items:

Trondheim, organic, fair, vegetarian, vegan, zero_waste, bakeries, cafe, grocery, market, supermarkets, takeaway, coffee, ice-cream, snacks, lunch, dinner, hotel, accommodation, pizza, fashion, airports] Link